Did anyone else read the book How to be a Perfect Person in Just Three Days in elementary school?  The gist: a young boy reads a self-help book on "how to be perfect" and comes to realize, by the end, that perfect people are boring because all they do is sit around and drink weak tea.
According to the book, they also have to wear broccoli necklaces. I'm not sure how that goes along with being perfect, but Broccoli Girl approves of the idea 🙂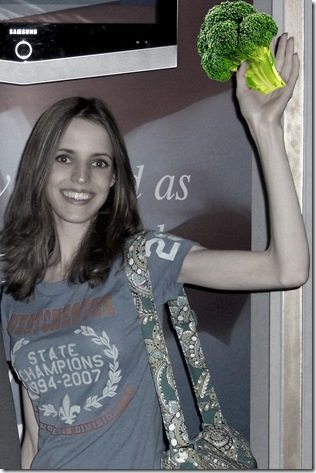 In any case, it's a cute book for kids.
I get stressed just like anyone else.  And I feel pressured for time just like anyone else.  Just because I'm not writing about my flaws doesn't mean I have none. Maybe the fact that I don't like to share them is a flaw in itself?
I'm going to have to cut back on my own posts, too.  I just can't continue to blog every single day and still have the amount of time I want to spend with my real-life friends. (I love you guys in the blogworld… but I want to spend more time in the real world too, ya know?)