A perfect Easter morning
When I stepped outside for an early-morning run, there was a bunny in our front yard. I'm so serious! I could not believe it!! This put a huge smile on my face for the entirety of my run… and pretty much for the entirety of my whole day.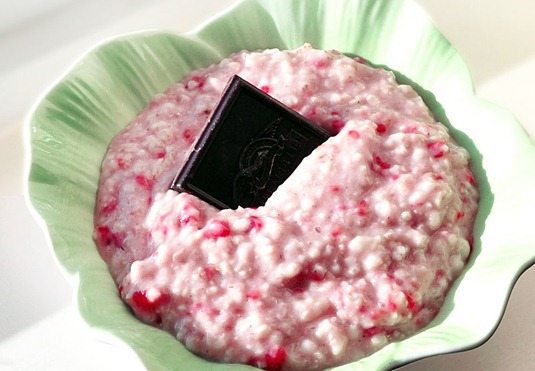 Breakfast made me smile too: Raspberry-Truffle Oatmeal
One must eat chocolate on Easter, yes?
I ate my breakfast with the rest of my family. It's always so nice to have everyone together again… just like when we were little. Now, the only times we're all together, sadly, is during holidays and sometimes in the summer.
Their Easter breakfast was the most un-vegan creation you could ever dream up! It's a pie known as "pizza rustica," and the ingredients include: salami, pepperoni, ham, ricotta cheese, and eggs. I loathed the pie even as an omnivore and therefore have absolutely no plans to create a vegan version (if such a thing would even be possible!). In my book, chocolate beats salami any day!
After breakfast, I used a new nailpolish (Easter gift) to make my fingers festive: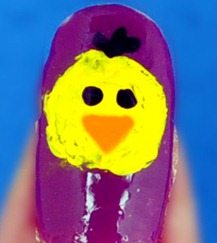 However, I ran outta time and only drew chickies on the thumbs.
True, it's no watermelon manicure.
Finally, after three years in a row of cold, we got a gorgeous Easter of 80 degrees. (Last year, I had to change into fleece pants!)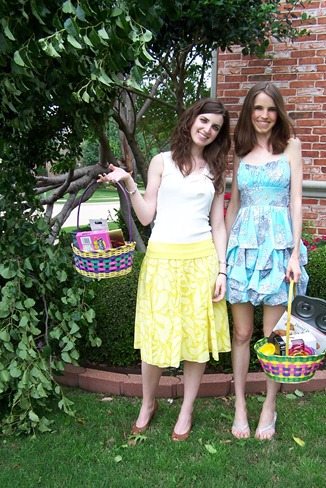 My mom says she's going to continue to give us Easter baskets until we are 70 years old.

Can one be "in love" with a dress? If so, I was in love with my Easter dress this year. It was fun and frilly, only $50, and–most importantly–my favorite color. Love.
What colors do you normally wear?
And are there any colors you will never wear?
I am a blue girl! If a shirt comes in different colors and one of them is blue, you can bet your jeans (blue jeans!) I'll be buying that color. I also love wearing dark green and light purple; I wish companies would make more in these colors. As for a color I avoid at all costs? Yellow!! It's a beautiful color, and if I looked like Kate Hudson in How to Lose a Guy in 10 Days (or even like my lovely sister, above), I'd wear it all the time. But I don't. And therefore, if I see a yellow shirt or dress, I run the other way. Fast.
For Easter, normally I wear pink.