Did you ever play the Name Game?
The one where you have to say, "My name is _____ and I like ______ (filling in the blank with something that starts with the same letter as your name)? Growing up, I got stuck playing that game a lot.  It seemed like every time I was with a new group of people (summer camp, a new school class, etc.) the teacher or group leader would have us play the dreaded Name Game.  Why was it so "dreaded"?  Simple: nothing starts with K, except kittens, kit kats, and kites.
Or so I thought. Turns out there are quite a few wonderful entities that start with K!  Maybe it's a good thing that I didn't know about them when I was a child.  Can you imagine what my peers would've thought of me if I'd said, "My name's Katie and I like Kale"?
A few weeks ago, I was shopping with Whole Foods Boy.
(Have you met him yet? I've finally revealed his identity.) As I gathered my beloved butternut squash in my arms, WF Boy threw something else into my cart as well.
Me: "What on earth is that big ugly green thing, and why is it in my cart?"
WF Boy: "You HAVE to try this."
And so Kabocha came into my life, giving me another favorite thing that starts with K.  The only entity unhappy about this new union is Mr. CCK's Wallet, as those heavyset kabochas can be expensive!  (Hint: I've since discovered that kabochas at Asian markets are about 1/2 the price of the ones at WF!) So what exactly does one do with these green monstrosities?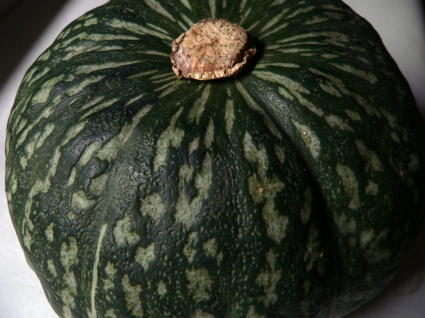 First of all, it'll help if you can find a burly guy to cut the squash for you (I've already introduced you to my personal Squash-Cutter in this post:  Little Miss Butternut).
Just like anything else, I'm sure there are many different ways to cook a kabocha squash.  What follows is my method, which I devised using that ingenious strategy known as "trial and error".
.
Katie Cooks Kabocha
(Ooh look, another tongue twister!)
Cut your kabocha squash in half (See "burly guy" note, above)
Place the squash (so the seeded part is up or sideways, not facedown) on a piece of tin foil and put in a not-preheated oven at 405 for 40-50 minutes.
When the time is up, wrap the squash lightly in a paper towel or two and microwave for 3-5 minutes.  (I once tried skipping the oven step and just microwaving the squash longer, but the finished product was more "steamed" and less "roasted" than I liked).
Scoop out the squash out of the shell, discarding the seeds.  I like to store it in the fridge and eat it cold.
The squash should have a thick, luxuious texture that sends your tongue into ecstasy.  If, however, you accidentally cooked it too long—making it dry and crumbly—all is not lost.  Simply add a little water and mash the squash up until it's moist again.
What to do with Kabocha:
Hands-down, my favorite way to eat kabocha squash is absolutely plain-jane.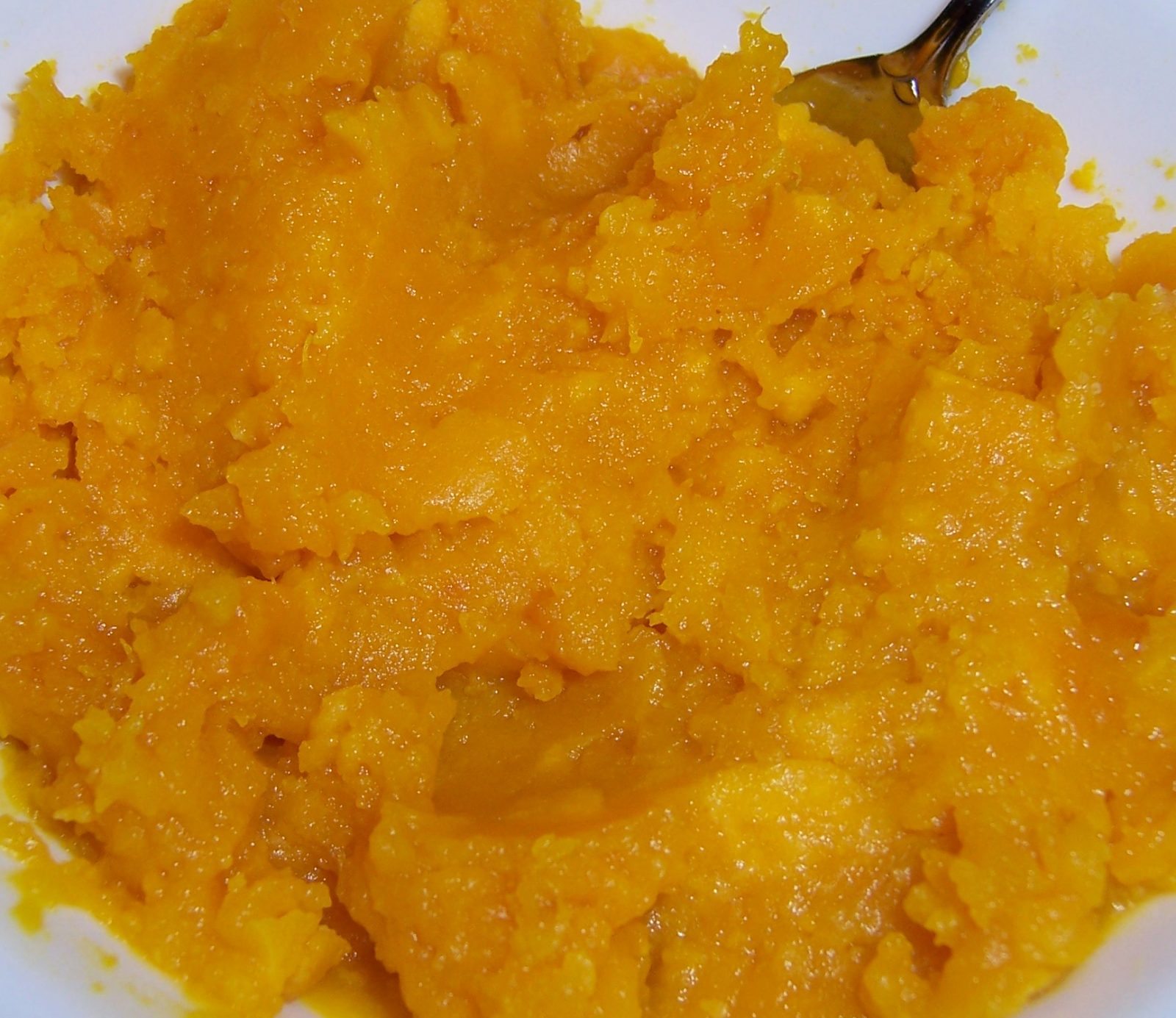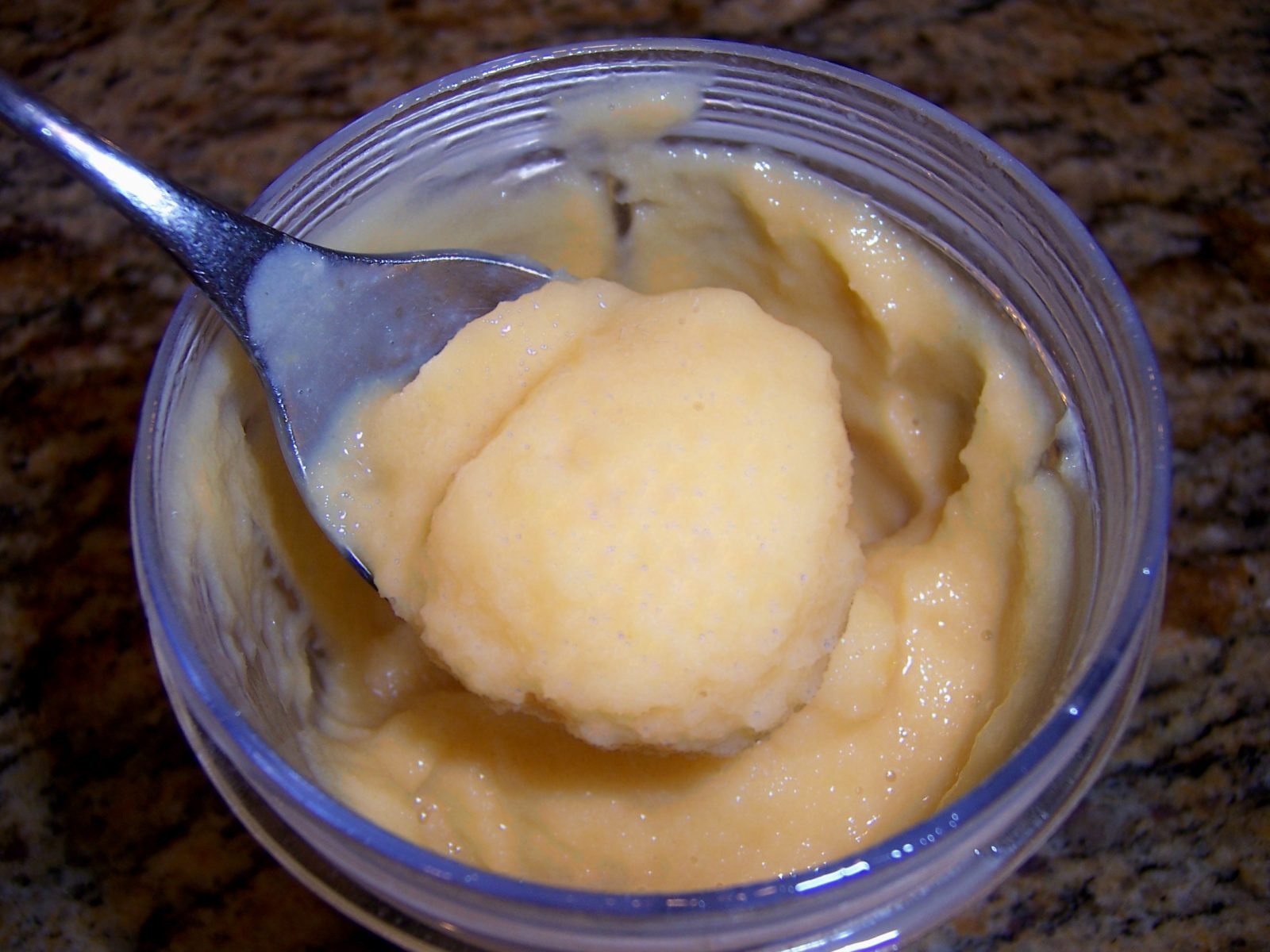 But you can also make mousse, or stir it into oatmeal. And kabocha is a terrific substitute for Fiesta Sweet Potato Burritos  (or the Deconstructed version).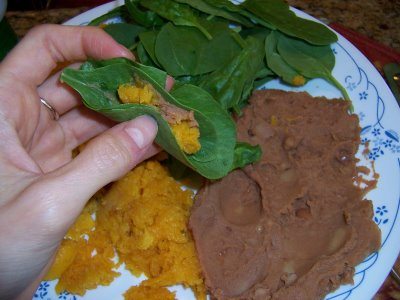 I also love to eat kabocha in the following recipe (I use the term "recipe" loosely, because it's so easy to make!)
/
Kabocha-Broccoli Bowl
(serves 1 broccoli LOVER)
230 grams raw broccoli
140 grams cooked kabocha
vegan butter (such as Earth Balance or Smart Balance Light)
Salt, to taste
Put your broccoli in a lidded, microwave-safe dish and cover halfway with water.  Steam for about 9-11 minutes (I like my broccoli to be very soft). Melt the butter, then pour it over the broccoli and stir to mix.  Also add your salt at this time.  (I add a bit over 1/4 tsp. I also like to add a little onion powder.) Throw this mixture over your kabocha.  I usually leave the broccoli on top and eat it first, but you can definitely opt to mix the two components together.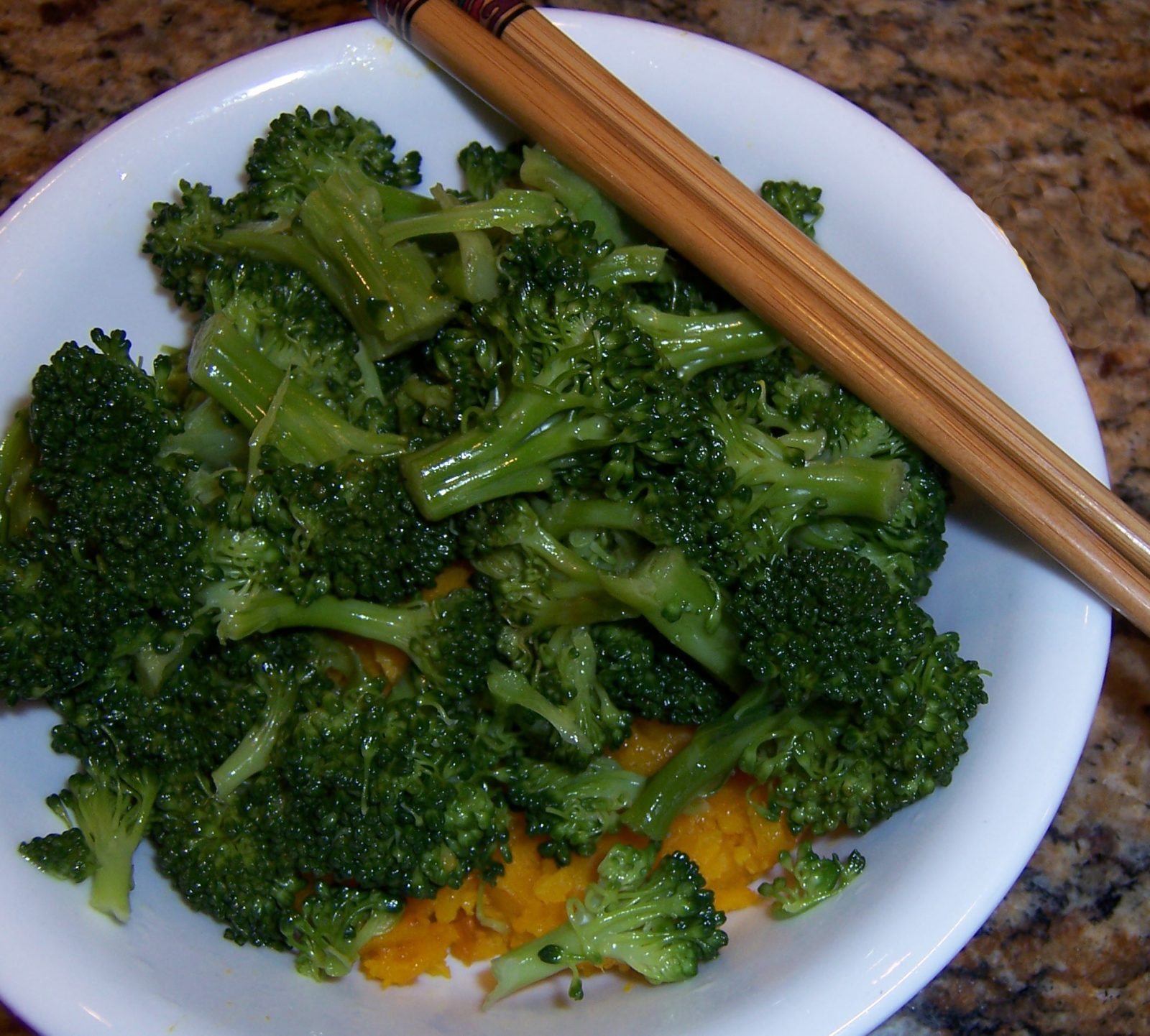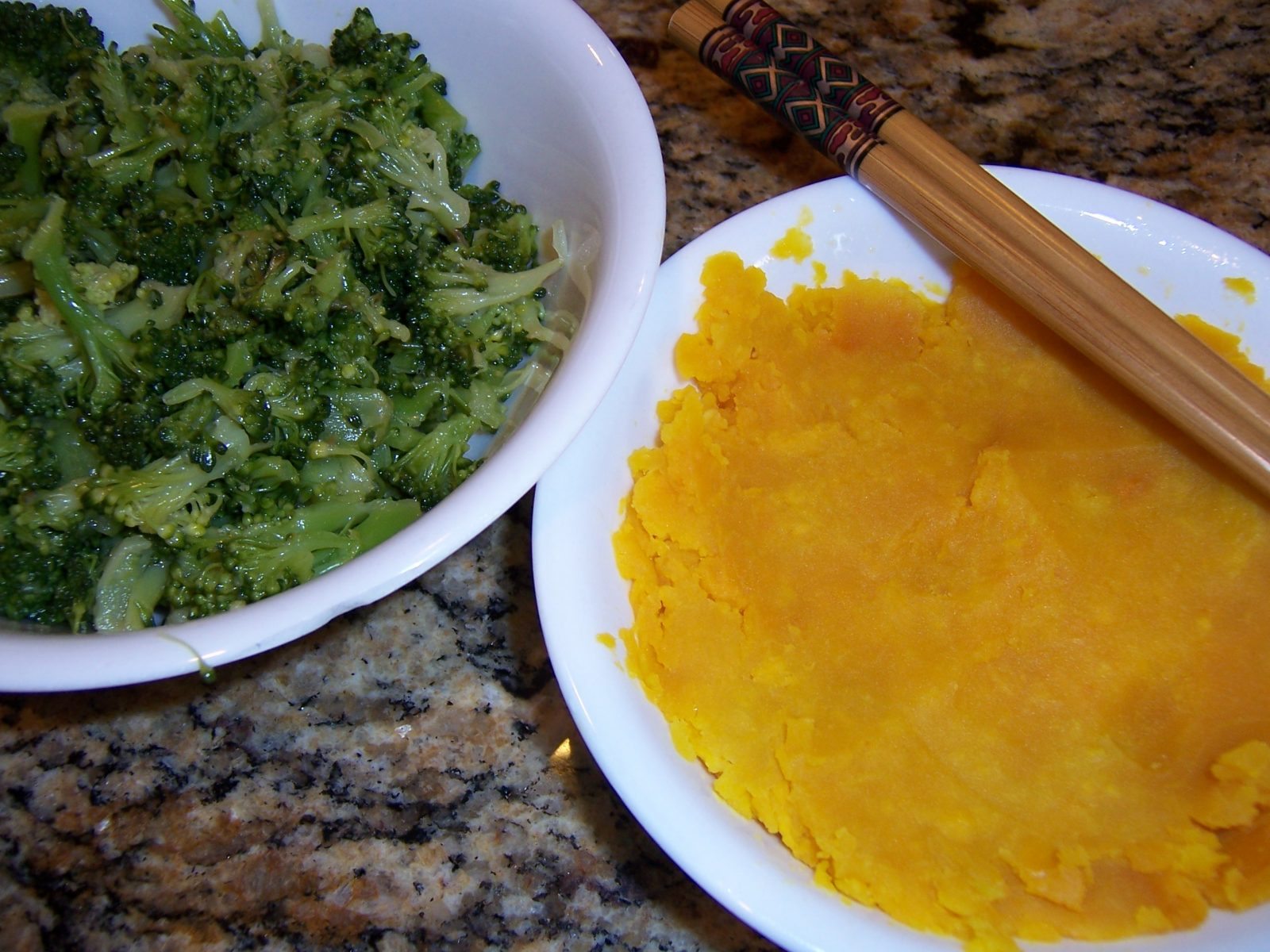 (This also works with other veggies subbed for the broccoli—I've used an asparagus-mushroom mixture before—but broccoli is my favorite.  After all, I am Broccoli Girl!!)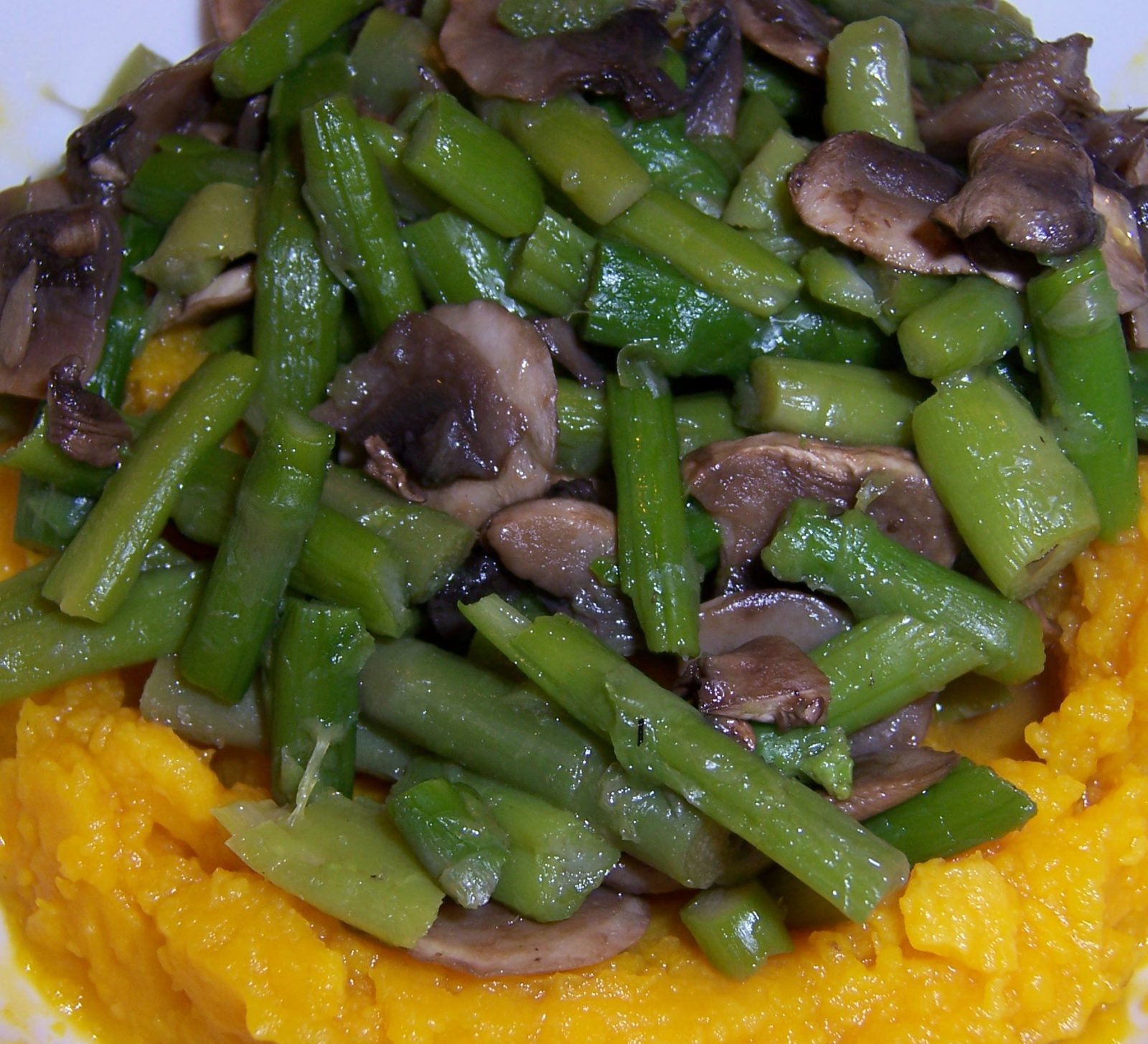 .
So… does anyone want to play the Name Game?  I'll go first!  My name is Katie, and I like Kabocha, Kiwi, Kohlrabi, Kale, Kombucha, and Kamut Flakes (just to name a few).
Now, let me go thank my mom for not naming me Xavier!
.