Fashionable Foods
Certain edible entities are so much easier to photograph than others. Strawberries, whipped cream, and pancakes all fall into the first category, whilst oatmeal and chocolate brownies definitely go into the second.
One of my favorite photos ever is the Ice Cream Sandwich Pancakes.
They were just so photogenic! Today's breakfast, however,  features a subject I've had trouble photographing in the past. It's the fashion reject of foods, but this doesn't make it any less yummy: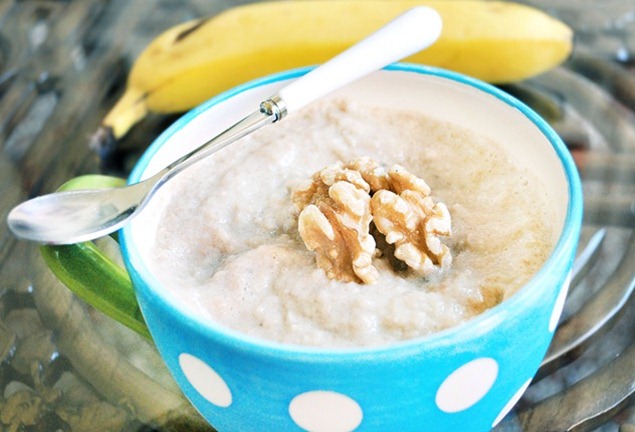 My breakfast this morning: Banana Bread in a Bowl.
Or rather, banana bread in a mug.
What's better than banana bread in a bowl? How about banana bread in a giant blue mug that only cost $3? I never, ever pay more than $20 for a dish. (I usually won't pay more than $10.) I'd rather save my money up for coconut butter… or chocolate bars. Mmmmmmmm chocolate bars.
It's also difficult for me to justify splurging on clothing, although I try to remind myself that sometimes a shirt from a store like j.crew is a better investment than something cheaper because it holds up longer.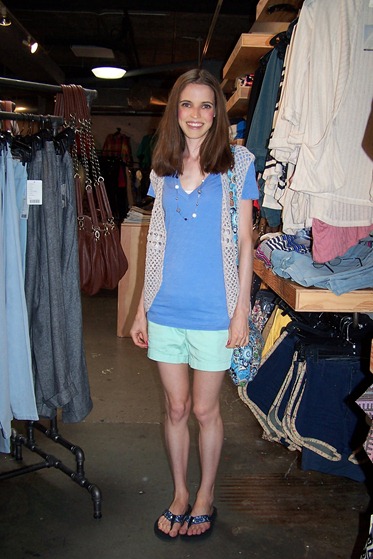 Fashionable? What's that?
It's an effort to be fashionable now that I stay home for my new job.
The thought of lounging in my pajamas all day is very enticing. Since my dog is my only co-worker, no one would care. (Well, maybe Henry cares; but he wears the same thing every day, so he's in no position to judge.) Can't say I don't sometimes give in to temptation… it's not uncommon, these days, to find me wearing slippers at 1pm, without so much as a brush through my hair!
Luckily, I have friends who drag me out of the house. Yesterday, we went shopping and I discovered some cute (not-so-expensive) items at Urban Outfitters. That offbeat store is awesome; one time I actually purchased a shirt that says, "Bite Me, I'm Vegan." Here's what I came home with this time: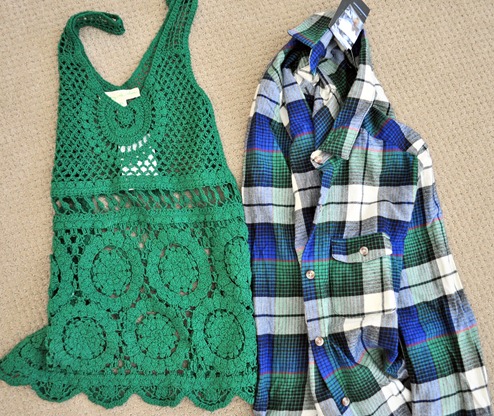 Comfy flannel.
Love flannel!!!
Love love love!
P.S. It is ridiculous how much blue and green I have in my closet.
After shopping, we came home and made cookies: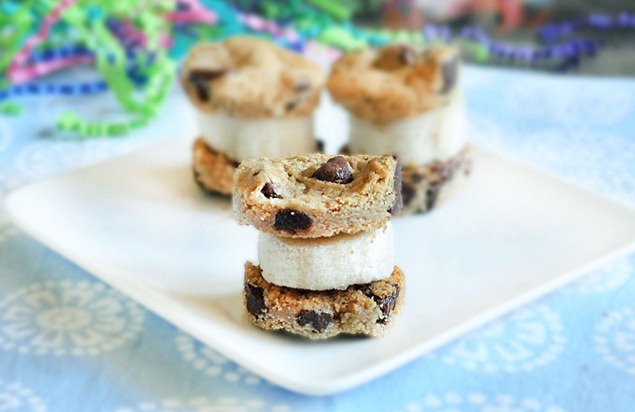 Surprisingly good-for-you Chocolate Chip Cookie Bites .
My friend couldn't get over the fact that they are healthy cookies. I had to remind her that even healthy cookies aren't healthy anymore if you eat ten!  Sadly, she didn't heed my advice, and she ate all the extra cookies… so after she left, do you know what I did? I made more cookies. Peanut butter cookies.
Flourless peanut butter cookies.
Flourless peanut butter cookies that taste like cookie dough.
I'll post the recipe tomorrow.
Don't you wish it was tomorrow?
Questions of the Day:
Would you consider yourself "fashionable"?
And are there ever days where you're still in your pjs after noon?
Every now and then, I try to look fashionable. But normally, my "fashions" consist of clothes that are comfortable, like yoga pants, fleece, and flip-flops. And pjs after noon? Definitely yes!
If you can't wait for tomorrow: try a Peanut Butter Cookie for One!