Ok, so it's not really Greek. And if you want to get super-picky on me, it's not really yogurt either. (It's not made from dairy milk, and it doesn't have any bacteria.) But I'm claiming "creative liberties" and sticking with my title, thank you very much.
Whew; now that that's out of the way, let's proceed with the vegan yogurt-making lesson, shall we, class?
Vegan Yogurt 101
As stated earlier in this post, my "vegan Greek yogurt" isn't really yogurt as far as Webster's Dictionary is concerned. It's also not really vegan Greek yogurt, although I'm sure such a thing must exist somewhere. While it is possible to make vegan yogurt that contains live cultures, I'm too timid to attempt working with yogurt starter at present time. (Someday, I'm sure the courage will come to me!) But lack of probiotics aside, this vegan yogurt recipe is still very healthy thanks to the tofu and fruit it contains (not to mention the fact that it is much lower in sugar than commercial vegan yogurt). It's also easy-peasy to make!
.
Yogurtlicious

Vegan Yogurt
(Makes 1 serving, but you can easily double the recipe)
60 grams silken firm tofu (I recommend 

Mori

-Nu)
60 grams fruit of choice (or more or less, depending on the fruit, but 60 grams seemed to work well for al the fruit-combinations I tried.  Also, I've only tried this recipe with frozen fruit.)
2 tablespoons liquid (water or juice)
Sweetener of choice, to taste
Optional extracts or spices
Optional yogurt toppings, such as granola, wheat germ, shredded wheat, chocolate chips… oops, how did that last one get on there?
Put everything in a Magic Bullet or food processor and blend. That's all there is to it!
*Note about the measurements in this recipe: I've recently fallen in love with my mom's food scale; it saves me from having to dirty-up (and thus clean) a bunch of measuring cups, and I can even measure liquids with it! For someone who doesn't like the hassle of measuring (if I'm not making a recipe for the blog, I often don't bother measuring at all), this machine is a blessing.
Yogurt-licious Pictures:
Simple Strawberry vegan yogurt

Spicy Peach vegan yogurt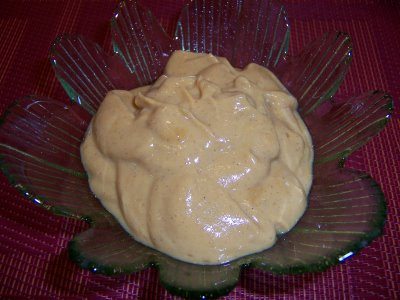 Rockin' Raspberry
Just in time for Valentine's Day, how about indulging in some Chocolate-Strawberry vegan Yogurt (Simply add cocoa powder to the strawberry recipe.)