I'm warding off Alzheimer's!
This whole blogging process challenges my mind every single day. I was never a tech-savvy person. In fact, when one of my tech-y friends found out about my blog, he laughed and said, "Of all my friends, you are the last one I would've predicted to have a successful online pursuit."
I still don't consider myself tech-savvy. But I'm constantly learning new skills, through trial and error (emphasis on the error). Last week, for example, I wrote some html coding! Many of you will probably think what I did was really easy–and somewhere, my computer genius friends are laughing at me—but I am proud of myself for figuring it out.
Anyway, I now have some prettylicious buttons on my sidebar:
                         Raw Chocolate-Fudge Cake                       Single-Lady Cupcakes
.
                            Chocolate-Chip Blondies                                   Fudge Babies
The blondies had to be on there. Even though they're from such a recent post, they are quickly becoming one of my most-popular recipes. It's crazy; I really believed no one would try them! But I also wouldn't have expected shows like Real Housewives or Jersey Shore to become popular… so don't ask me to predict trends!
I also made a new "about me" button. The old photo was like three years old!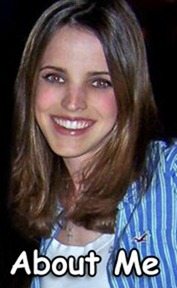 I might change the buttons, or add more… now that I know how! 🙂
As I said, some of you are probably thinking, "Making sidebar pictures with links is so simple!" But really, it took me an hour to figure out how to do it! That "Thesis open hook" thing? Mucho confusing!
Questions of the Day:
How do you challenge your mind?
With school work? Learning blog skills? Trying to figure out your i-phone?!
I think, in this day and age, it's impossible to not learn something each day. We're constantly being presented with new technological gadgets—Garmins, i-phones, digital cameras—and more and more activities can now be done on the web (online banking, blogging, youtube, skype). But obviously, challenging one's mind is not a sure bet against Alzheimer's. My grandpa still got it, and he knew five languages and did crossword puzzles every day! Hopefully we can someday (soon!) find a sure-fire cure for this devastating disease.
I wanted to take a moment to thank y'all just for being here these past two weeks.
Obviously, blogging isn't going to stop me from missing Molly. But keeping busy has been a really good distraction; when I'm working hard, I have no time to think about the sadness I still feel.
So thanks for talking with me on Twitter, leaving comments on my blog, and especially for trying my recipes. When I see someone posting about a CCK recipe he/she's tried, it makes me super-excited. And when I'm super-excited, I'm not sad… or, at least, I don't realize I'm sad. (That's as much as I can hope for right now.)
Upcoming posts: There will be frosting. And cookie pie. 🙂