This is a chocolate-covered blog
Yet, up until a few weeks ago, it included neither a recipe for chocolate brownies nor one for chocolate cupcakes. Some chocolate blog!
Last month, I took on the brownies: Ultimate Fudge Brownies.
(Side note: I wish I'd created those brownies a long time ago! They're so fudgey and chocolatey that they have quickly turned into one of my absolute favorite desserts.) Today it's time to tackle the cupcakes.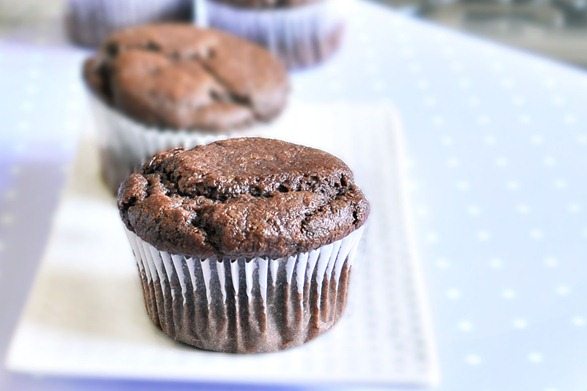 These cupcakes are so soft and fluffy! No one will ever guess they're healthy.
They'd also be really good with some Cashew Butter Frosting.
Chocoholic Cupcakes
1/4 cup cocoa powder
1 cup flour (I used white-whole-wheat. You can use white or spelt.)
3/4 tsp baking powder
1/2 tsp baking soda
1/2 tsp salt
3/4 cup sugar or evaporated cane juice (see note below, for sugar-free version)
1 and 1/2 tbsp cornstarch
1 and 1/2 tsp pure vanilla extract
1/2 cup vanilla yogurt of choice (such as SoDelicious)
1/4 cup applesauce
3 tbsp coconut or canola/veg oil (See note below, for a fat-free option)
optional: add a few handfuls chocolate chips to the batter!
1/2 cup milk of choice
Directions: Preheat oven to 350 degrees. Mix dry ingredients, then add wet. Don't overmix. Pour into cupcake tins, and bake for 15-20 minutes.
I put in 3/4 cup sugar, because these cupcakes were being served to people who are used to standard cupcakes. However, if you prefer a less-sweet baked good, or if you want more of a chocolate muffin, feel free to cut back on the amount of sugar. If you like the taste of stevia-sweetened baked goods, you can use 5 Nunatural stevia packs, or a combination of sugar and stevia. These cupcakes might work with liquid sweetener: just cut back on the other liquid a little bit.
Notes about the oil:
You can leave out the oil completely if you want to make these cupcakes even lower in fat and calories. Add extra applesauce in the amount of the oil. However, do know that the cupcakes will taste much less light and fluffy. I opted to use some oil for a few reasons: First, I believe healthy fats are extremely important to our bodies. Also, my recipes are healthier versions of traditional recipes, not necessarily low-calorie versions. And finally… taste! Fat-free baked goods can sometimes be gummy. So to those of you who are watching your fat intakes: Leaving the oil in only adds about 3 grams of fat (healthy fat) to each cupcake.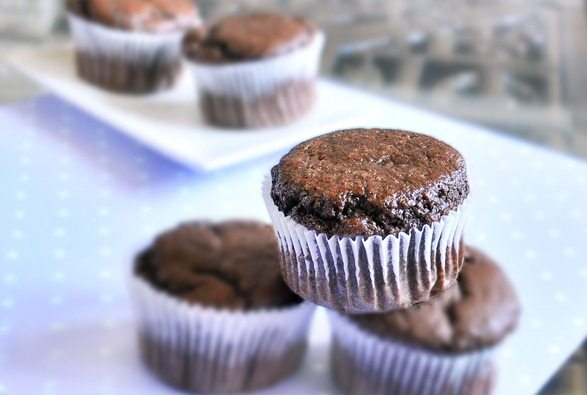 Have you ever made cupcakes?
And do you like to decorate cupcakes?
I've made everything from penguins to Mermaid Cupcakes.