Click for the winner of the Healthy Chocolates' Giveaway.
Costume Party
My friend went all out for Saturday's Halloween party. Seriously, all out. When we arrived, there was a grim reaper statue next to the door… only it wasn't really a statue. As I knocked on the door, the statue reached out and grabbed me (and then laughed when I screamed). Inside, he'd decorated with spider webs and pumpkins, and he'd stuck plastic bugs all over the stairs. It was creepy and gross. And really awesome.
I usually like to be creative when it comes to Halloween costumes, but on the morning of the party I still didn't know what to wear. Without time to shop, I went on a search through my old closet at my parents' house: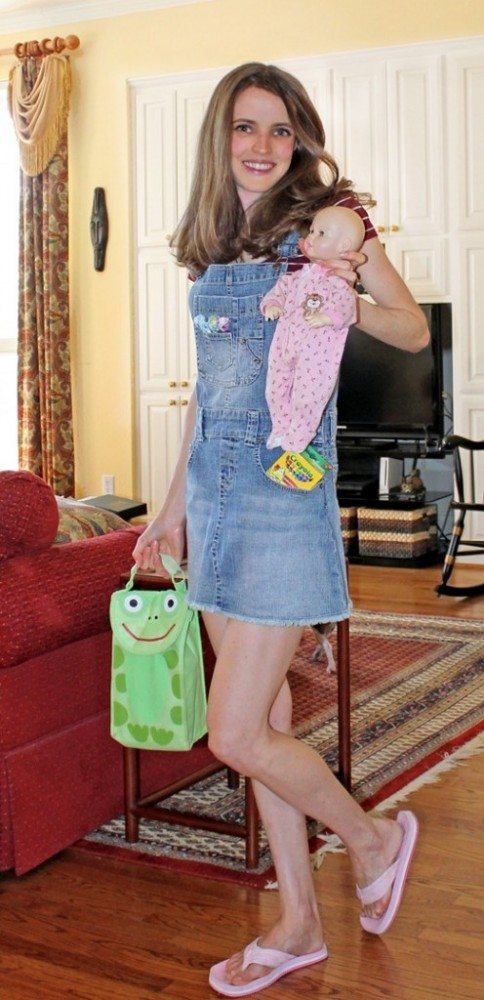 I have absolutely no clue why I still own this old overall jumper, but it gave me the idea to dress up as "My Inner Child." I found the baby doll in my sister's closet. (Michelle, do you remember this doll?? What was her name again?)
Also part of the costume: Crayolas, dum dum lollipops, and a frog lunch box. I really wanted to wear a pair of those light-up sneakers with the Disney characters. But I don't think they make those in my size. Too bad.
The best costumes at the party were worn by my friends who'd gotten married last year. They went as each other, and they made us all call them by the other's name all night. It was hilarious.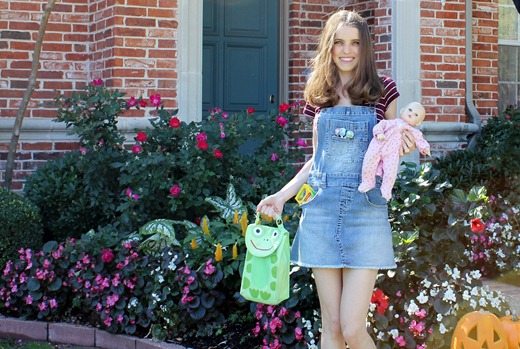 Party Desserts:
I made two desserts. One was the Apple Crumble Bars.
I brought them in the lunch box! And, as I wrote yesterday, the bars were a big hit. But the other dessert I brought was an even bigger hit. Any guesses as to what it was? (Hint: it involves chocolate!) I'll get that recipe posted tomorrow.
Tonight I'll probably just sit home—in my comfy pjs—and hand out PlayDoh to trick-or-treaters. I got this cute PlayDoh idea from my blog friend, Jennifer (JCD).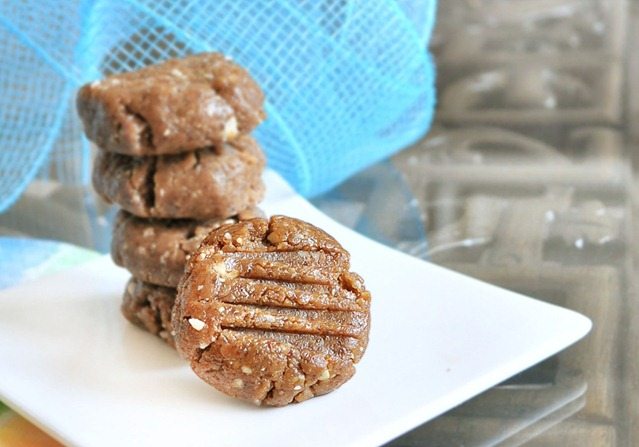 I'd love to give the kids PB Cookie Dough Cookies.
It's sad that we live in a world where giving homemade treats to trick-or-treaters just can't be done. On the other hand, it means I get to keep all the cookie dough for myself. And my roommate has to work tonight, so I really get all the cookie dough to myself. Muahahahahaha!
Update:
By popular request, I added calorie counts to the mint cupcakes.