It's all about peanut butter and maple now.
.
I'm so so happy that you all liked the "Liquid Oatmeal" recipe.
D'ya know what goes well with oatmilk (or any milk)? Peanut butter! Yesterday, I made a sandwich that I'm now planning to recreate many times in the future.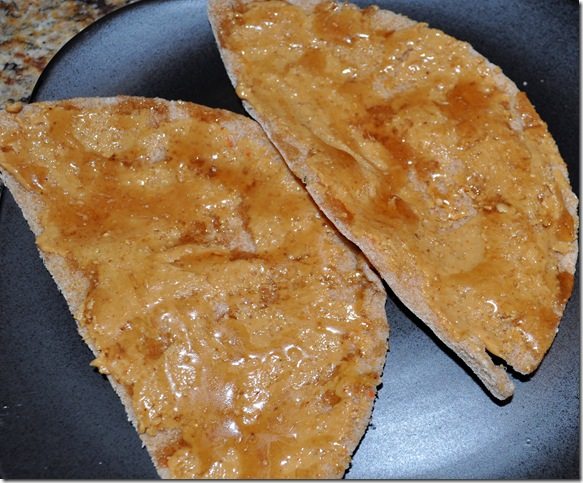 For the sandwich:
I first warmed up some of my favorite peanut butter and spread it onto half of an Ezekiel 7-grain pita*. Then I added just a touch of pure maple syrup (Maybe a teaspoon? That stuff is strong!) before closing the baby up with the other 1/2 of the pita. True, I haven't eaten a pb-honey sammie in years, but I'm telling you: pb-maple > pb-honey any day. The maple flavor took the peanut butter to a whole new level. Above: Bottoms up! (i.e. a close-up shot of the pita "bottoms"… scandalous!)
*Side note: If you haven't tried Ezekiel 7-grain pitas, I highly recommend them. They're 100% whole-grain, high in fiber and protein, and–most importantly–they taste yummy. But I'm not going to lie: ya gotta like the whole-grain taste to like these. My mom thinks they are abominable (her word hehe).  I, however, think they taste like heaven on a plate when paired with peanut butter and maple. But then again, what doesn't taste good slathered in peanut butter?!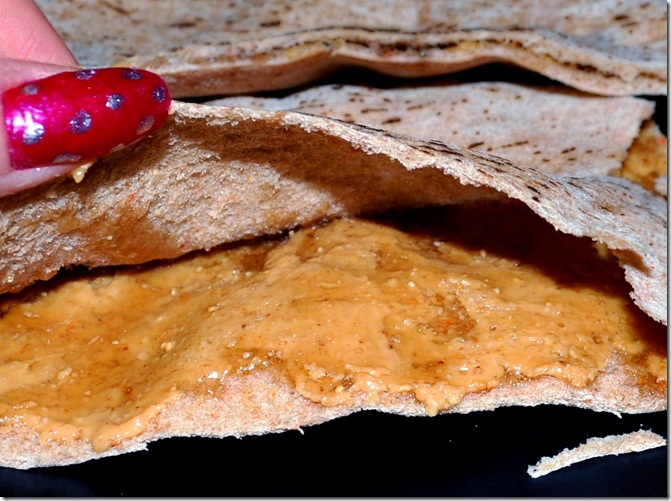 Peek-a-boo pee-enn-bee
.
Next time, perhaps I ought to invite my friend, Buddy, to lunch.
Below, my lunchtime spread: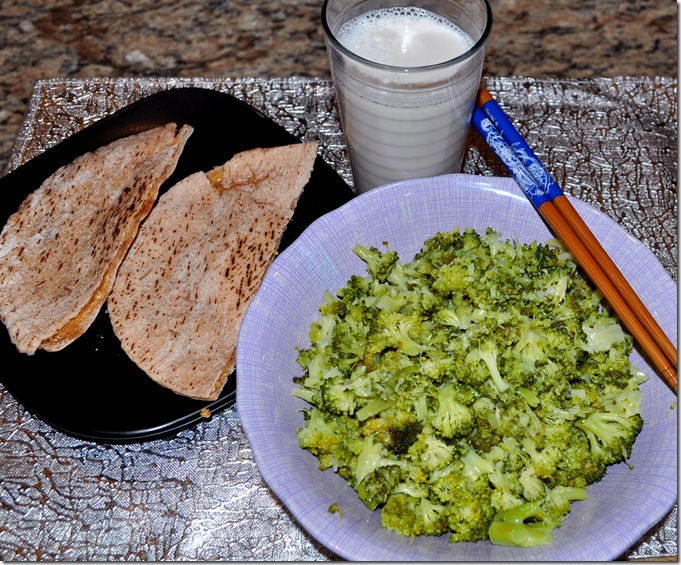 With a broccoli bowl and almond milk.
Are you tired, yet, of seeing the famous BBBs, or buttery broccoli bowls?
Oh, but I'm not tired of eating them. 🙂
.
.
Sharing time!
What's your fave sandwich or the most-creative sandwich you've ever seen/eaten?
Sandwiches, in general, aren't the love of my life: All that bread standing in the way of me getting to the yummy fillings! But I do have a few favorite sammies; when you're pressed for time (or needing to eat on-the-go), they can't be beat for their convenience or portability.
One of my favorite creative sandwiches is my "Somewhere Over the Rainbow" sandwich.
But I've also blogged before about my love for carrot cake sandwiches, strawberry shortcake sandwiches, and pb-banana sandwiches. And as far as the bread goes, Ezekiel pitas rock my vegan world.
.