Break out your Canned Pumpkin! And fish out those goggles, because it's time to dive, head-first, into a pool of chocolate protein icing. Chocolate icing so healthy you can eat the entire bowl in one sitting.
Kind of like with the recipe for Whipped Cream in a Bowl.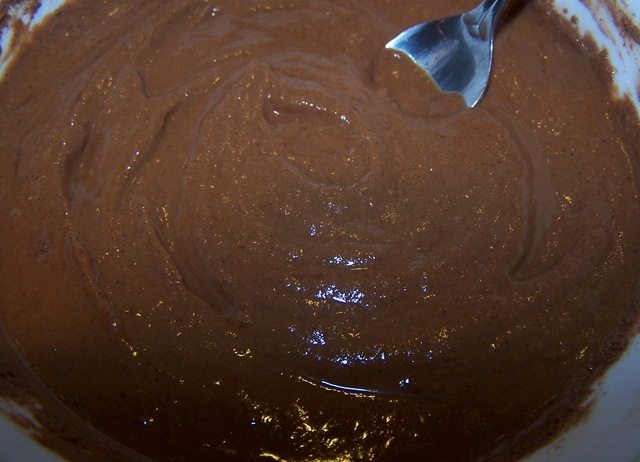 (See, you want to dive in, right?)
"Fudge You!" Chocolate Protein Icing
Makes 1 bowl, to be used as icing, pudding, fudge sauce, pancake sauce, face paint… Wha?? Maybe scratch that last one…
1/8 cup (24g) chocolate protein powder (I used NutriBiotic)
a bit over 1/16th tsp salt
sweetener of choice, to taste
2 tbsp canned pumpkin or pumpkin puree (about 30-35 grams)
1/4 cup water, or other liquid (60 grams) Or more or less, depending on the thickening capabilities of the brand of protein powder you're using
Optional spices and extracts if desired (I used 1/4 tsp cinnamon, to go with the pumpkin theme)
Also Optional cocoa powder, chocolate syrup, or melted chocolate, if you want it more chocolatey. And you can also always add fruit: banana, strawberries, raspberries…
Combine everything and mix very well. Eat cold. I don't bother using a blender for this. A fork works fine. Dorm-room readers, rejoice!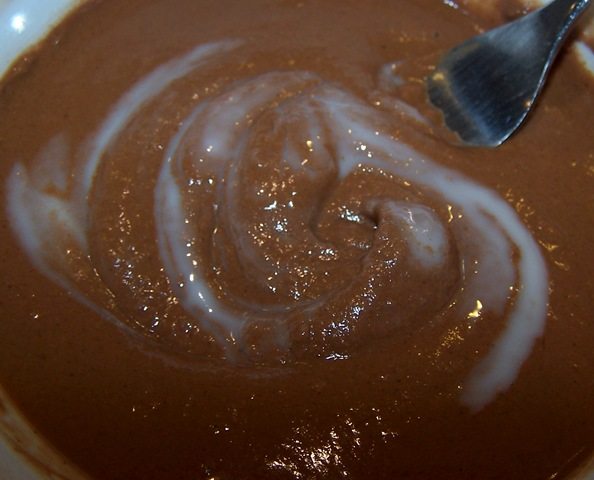 Other ideas: Swirl into oatmeal, top with granola, use as a cupcake-topper, use in place of hot fudge sauce on ice cream… As usual, the possibilities are endless! A word of caution: If you don't like the protein powder you start with, you won't like this icing/pudding. And it's not meant to taste like the normal hot fudge sauce you buy at the store; I don't really know how to describe the taste, but I love it!