Hello vegan chocolate doughnuts!
Normally, when I think about doughnuts, I think about Boston Cream Pie. Boston Cream Pie was one of my sister's and my favorite doughnut flavors when we were little. I even turned it into oatmeal one day: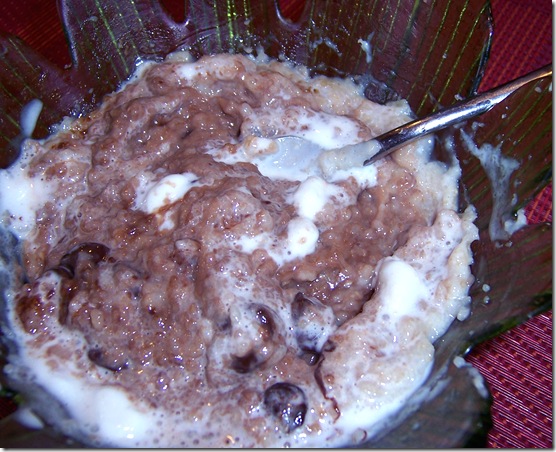 But today's little creations are more along the lines of Dunkin Donuts' munchkins. Do you remember those? Kids often brought them in for birthdays, at least in my elementary school. I actually didn't like the chocolate ones. Can you believe it? They tasted too cake-y and not chocolate-y enough. Hehe even as a little kid, it was all about the chocolate with me! So my favorite munchkins were the glazed doughnut holes. And now that Alexandra's planted the doughnut idea in my mind, I'm thinking I should perhaps try my hand at healthy glazed doughnuts… stay tuned!
Honestly, today's recipe doesn't really taste doughnut-like. But the pumpkin balls sure do look like doughnut holes. Observe: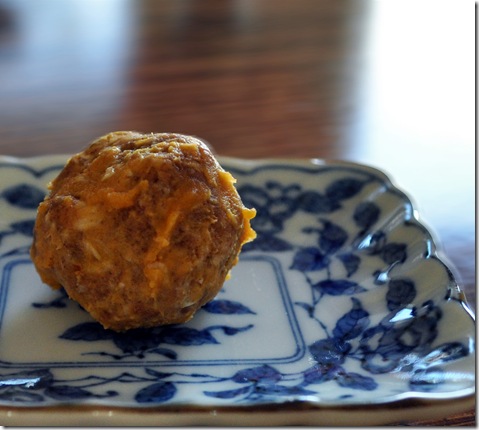 They were fantastic! I might like 'em better than the 3 Ingredient Peanut Butter Balls!
I wasn't the only one who loved the doughnut holes, though. A friend stopped by in the afternoon, so I gave her a few to take home. She could not stop raving about them. I think she sent no fewer than three text messages thanking me for the little gems.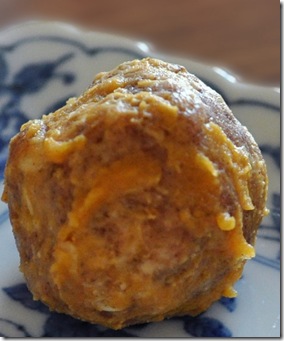 Pumpkin Doughnut Holes
Very scant 2 tbsp oats or oat bran (12g)
2 tbsp peanut butter OR allergy-friendly alternative (30g)
Optional, depending on the sweetness of your nut butter: 1-2 tsp agave or a few stevia drops
1-2 tsp canned pumpkin (5-10g)
Optional: salt (once again, depending on your pb)
Directions: First measure the oats into a bowl and crush them a bit (with your hands, a fork, or even the Magic Bullet). Then add the pnb, pumpkin, and optional sweetener. If you take the pb straight from the fridge, you might want to microwave 20-30 seconds (or just leave the pb out for a bit so it gets soft enough to mix). Mix well, then form into balls… or eat the dough! Here are the ingredients I used for the doughnut holes I made yesterday: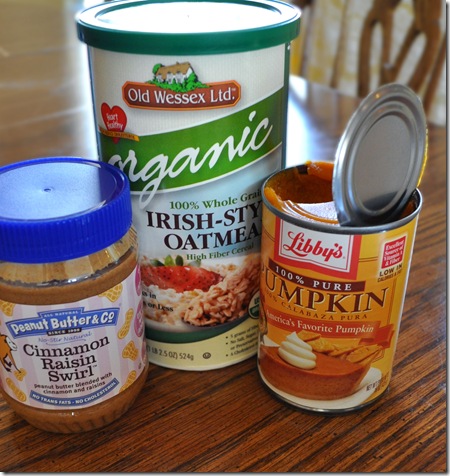 I also added a dash of salt, so my doughnut holes were really four-ingredient balls. I can't recommend the Cinnamon-Raisin Swirl variation highly enough!! If PB&Co butters aren't available in your area, simply use regular pb and add cinnamon and sugar (and raisins if desired).
If you're still in the mood for balls…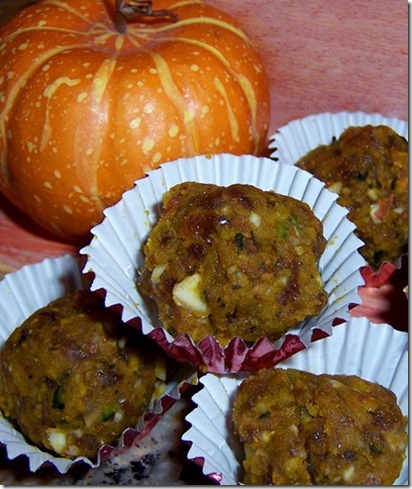 Don't forget Pumpkin Pie Babies.