I have to laugh when people ask me that question. It's just so ironic that, 90% of the time, the same people who are asking me where I get my protein have absolutely no idea where they get any of their nutrients.  If they're asking out of genuine curiosity, I'm happy to list vegan sources of protein. However, if they're just asking to sound annoying/combative/superior, my answer goes something like this:
Where do you get your 5 servings of fruits and veggies per day?
Where do you get your serving of leafy greens per day?
Where do you get your recommended amount of fiber?
Your Vitamin A? Vitamin C?
Or I just point out that gorillas and elephants are vegans.  They certainly don't seem to have a problem getting enough protein!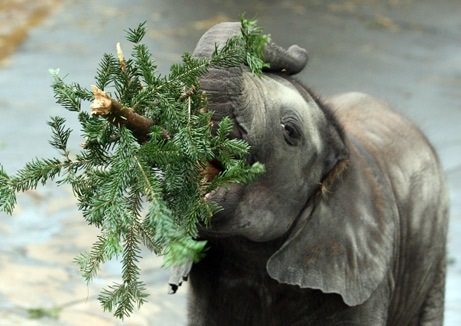 (Christmas trees have protein? Who knew???)
In actuality, it's not true that vegetarians have a difficult time getting enough protein in their diets.
The meat industry has perpetuated the myth that people need animal protein, especially if they're athletic.  In reality, Americans get too much protein, which leaches calcium from the bones.  That's the main reason why we have one of the highest rates of osteoporosis in the world even though we also have one of the highest rates of dairy consumption.  It's not just calcium intake that's important, it's calcium balance.
Also, it's easy for vegetarians to meet the RDA for protein; it exists in places you wouldn't expect.  For example, 1/3cup of oatmeal has 6 grams!  Pasta too.  And–surprise—even broccoli has quite a bit of protein! There's a vegan body-building movement, too, with a website and everything.  I have two good friends who are vegan body builders.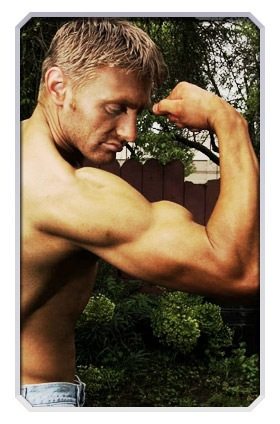 Anyone want to tell my friend, Robert Cheeke (above), that vegans don't get enough protein?  Watch your back, Jay Robb!! (Robert's going to be a guest on the blog in the near future.)
Plus, there are the crazy-energetic marathoners like Brendan Brazier, ultramarathoners like Scott Jurek, and even some NFL, NHL, and MLB-playing vegans (such as Georges Laraque of the Montreal Canadians, who is known as "Big Georges") . No shortage of muscle there!