That's what Banana Spice Pudding (or yogurt) is made of.
.
"Everything Nice" Banana Spice Pudding
(I call this "yogurt" since it's healthier than traditional pudding)
Ingredients:
3 level teaspoons agar flakes
1 and 1/3 cup milk of choice (I use almond milk)
1/4 tsp cinnamon, or more if desired
a tiny dash salt (1/16th tsp)
frozen banana (I only use about 1/4 of a large banana, as I wasn't looking to make a banana pudding, rather more of a spice yogurt with a hint of banana. For a strong banana flavor, use more banana.)
sweetener of choice, to taste
To make the base, measure the milk of choice into a pot. Mix in the agar flakes and let the two sit together for about 5 minutes before you turn on the heat. Slowly bring to a boil, then lower to a simmer until the agar flakes pretty much dissolve (about 5-8 more minutes). Turn off heat and leave for a few minutes to cool, then put in the fridge (uncovered is fine). When it's cooled and gelled, the fun part begins… Scoop out the agar base into your blending gadget-of-choice (the Magic Bullet is GREAT for this). Add the banana, cinnamon, salt, and sugar (if using), and blend away. Scoop the creamy pudding into a bowl. At this point, I like to put it in the freezer for 10-20ish minutes, because I like it super-cold. But that's just a personal preference. It's just as yummy at room temperature or even heated. For more on how to work with agar, check out: "Working with Agar" Tutorial.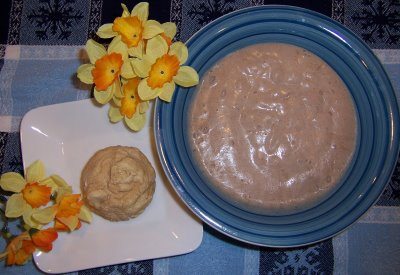 Banana Spice Pudding accompanied by a Love Muffin (recipe to come in a future post) and some fake flowers (I'm such a dork!)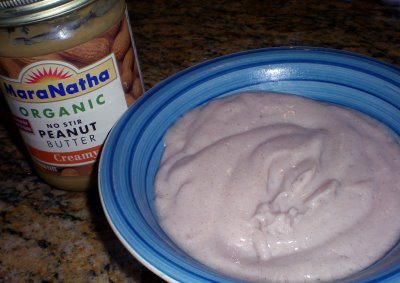 Ah, peanut butter, my true love (don't tell chocolate!).