I'm bored of doing the same old "leave a comment, enter to win" giveaways all the time. And the Pancake Roll Up challenge of a few months ago was so much fun that I thought we could do something similar this time: Sundae-style!
.
Magic Bullet Contest
Yes, it's a bit more complicated than the easy-peasy "leave a comment" giveaways.
BUT this also means that your chances of winning increase by quite a lot, since you'll probably be competing only against 20 or so others as opposed to hundreds.
So it might just be worth the extra effort :).
.
Rules:
Make and blog about a Breakfast Sundae. (Read below for ideas.)
Or, if you don't have a blog, send me a photo (and then leave a comment, so I can ensure I received your email). Bloggers get three entries, because it takes more effort to write a post than send an email.
.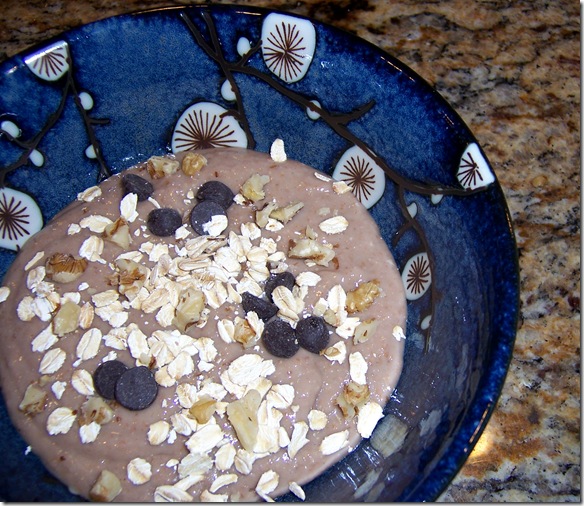 (Above, the chocolate chip Cookie Dough breakfast sundae)
.
.
Sundae School
The way I see it, a good ice cream sundae has three things:
whipped cream (especially good with the whipped cream trick!), sprinkles, and chocolate sauce. So, naturally, the same rule should follow for an oatmeal "breakfast sundae."
.
Ideas for the makings of a breakfast sundae:
Whipped Cream
pumpkin pie mousse
homemade vegan whipped cream
mashed sweet potato or squash
soy yogurt
coconut butter
.
Sprinkles
slivered almonds
raisins
actual sprinkes
shredded coconut
cinnamon or cocoa dust
raw oats
.
Optional add-ins:
.
And don't forget the chocolate syrup! (Melted PMS chocolate)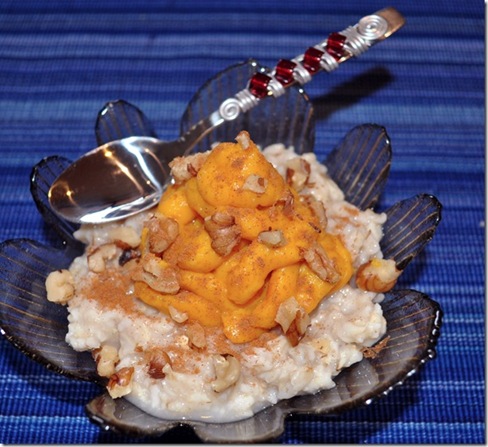 (Above, the Pumpkin Breakfast Sundae, using the "Voluminous Oatmeal" trick)
.
.
Recap of the Giveaway Rules:
Blog about a Breakfast Sundae, linking back to the Breakfast Sundae post.
That's it! 🙂 (Or send me an email, if you don't have a blog)
Contest ends in TWO weeks.
.