Forget fro-yo.
.
Now it's all about the Faux-Yo!
Yesterday, I enjoyed an afternoon pick-me-up that was especially blogworthy: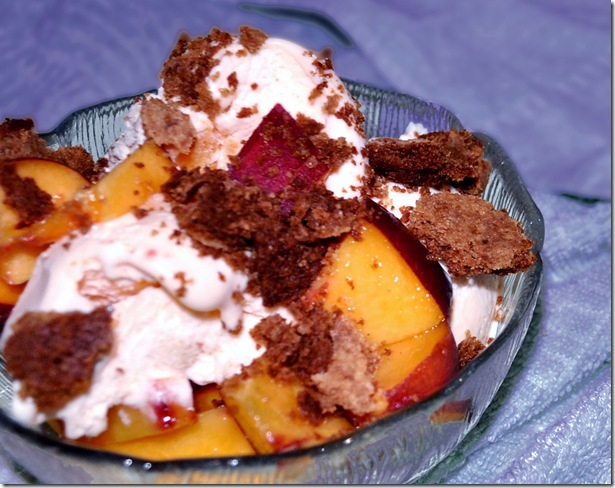 Coconut butter cookie crumbles, Peach Faux-Yo, and sliced peaches
.
Wha? Coconut butter cookie? Oh yes I did!
It's the newest of my coconut-butter creations, and I'm sooooo excited to share this one. The taste is like a cross between a sugar cookie and shortbread. Basically: a melt-in-your-mouth sugar cookie! I just want to do one more test batch before publishing the recipe, so hopefully it'll be up next week. The cookie crumbles above are from my first test batch, which didn't stay together. But why cry over crumbled cookies when you can use them to garnish your ice cream sundae?
I'm all for turning kitchen failure into success. Remember my Blueberry Pizza in a Bowl?
.
It's hard for me to throw food out that's gone bad, which is why I try so so hard to only buy a food if I have a specific plan for it (i.e. no picking up that yummy bok choy just because it looks good at the grocery store!). But when it comes to foods I've purchased that don't taste good, I have to remind myself that it's a choice between wasting the food and wasting an opportunity to eat something I'll enjoy. It's silly to suffer through eating something just so I can feel like I didn't waste money on it; who wants to pay for the privilege of eating something that tastes bad?! And the whole "there are starving kids in China" thing? Well, sadly you can't feed your leftovers to them (although I do try, before throwing out an offending item, to see if anyone else around me might like it).
Sharing time: How do you feel about wasting food?
.
.
.