Did you know that yesterday was the Chinese Moon Festival?
.
You'd think, having lived in China, I would've known this, but the truth is I had no idea until a friend called me up a few days ago and asked if I wanted to come over to celebrate. Celebrate? Heck, when someone says celebrate, I hear party. And I never pass up an excuse for a party (especially on a school night!). Something else I never pass up? An opportunity to share food, showing others that healthy, vegan food can taste delicious. Therefore, last night I brought the variation of Secret Raw Cheesecake mentioned in my last post, peanut butter cup pie: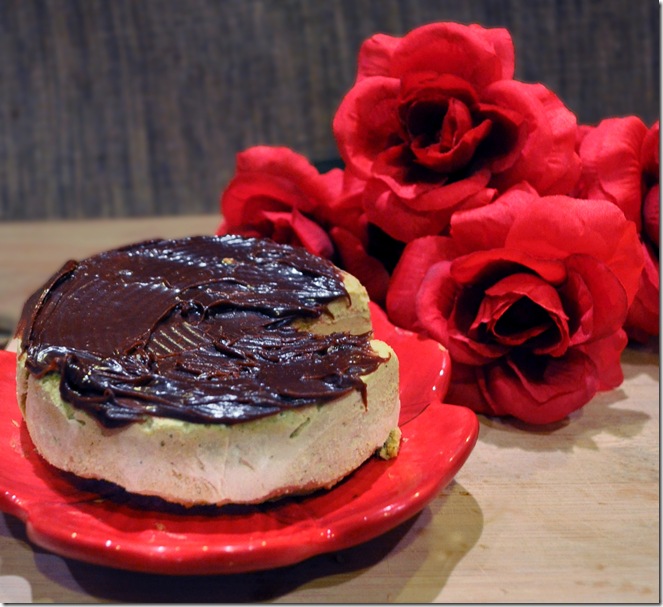 Katie, Arisana doesn't make pnb; how is this post relevant to Artisana Week?
I've got it covered. Literally. My pie is covered in homemade Artisana Cacao Bliss! 🙂
Pb and chocolate were meant to be together. My friends all seemed to agree, as they gobbled up the vegan pie faster than you could say "Zhongqiu" (the Chinese word for the moon festival). In retrospect, I probably should've made a bigger pie as opposed to a miniature version. But my friend said to bring finger food, as it was a snacky-type party, not a main-dish one. Plus, there were only six of us. So I figured everyone would be happy with a mini slice. That way, they'd save room for all the other delicacies people would bring (which turned out to be an array of non-vegan moon pies and dumplings). Boy was I ever wrong-o! "Is there any more of that peanut butter pie?" seemed to be the mantra of the night. Even the pale green hue (from the zucchini) didn't phase them. Guess I'll be making another peanut butter pie in the near future. That's okay; it only takes a total of about five minutes to make. And the peanut butter variation is much cheaper than the original cashew cheesecake version (thanks to my favorite peanut butter being only $2.50 a tub).
And now I'm going to totally ruin the gorgeousness of the photo above with the abomination below: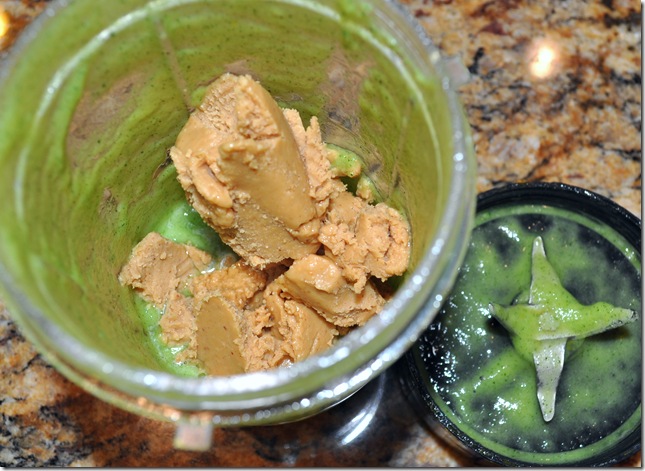 Seriously? They wanted more of this stuff? Perhaps I should have shown the above photo first; then I could've had an entire pie to myself!
.
Healthy "Peanut Butter Cup" Pie
1/2 cup (110g) peanut butter
1/2 cup (80g) chopped zucchini (or you might sub banana!)
Optional: choc. chips or melted chocolate
Other ingredients for the

"Secret Veggie" Cheesecake
Make this pie the same way you'd make the veggie cheesecake, but exchange pb for the cashew butter and cut back on (or omit) the lemon juice.
.
Do your friends like to eat?
Or do you have a lot of  "salad only" friends on diets? I swear, I think my girl friends like to eat more than my guy friends, especially when it comes to dessert. (Beer, now that's another story.) I've even had two ex-boyfriends who didn't like chocolate! Remind me again why I dated them… oh yeah, 'cause it meant more chocolate for me!
Finally, a shout-out to Erica, who also already made this pb pie!
.
.