It's beginning to feel a lot like Fall.
Yup, even in Texas. The temperatures were actually in the 70s all day yesterday. Nice change from those summer 100s! I celebrated with some roasted veggies, which seem to epitomize Fall in my mind.
.
But the star of my lunch, yesterday, was 3-Ingredient Alfredo Sauce.
I love Alfredo so much, I sometimes "forget" to put it over anything. Come on, how good does Alfredo soup sound?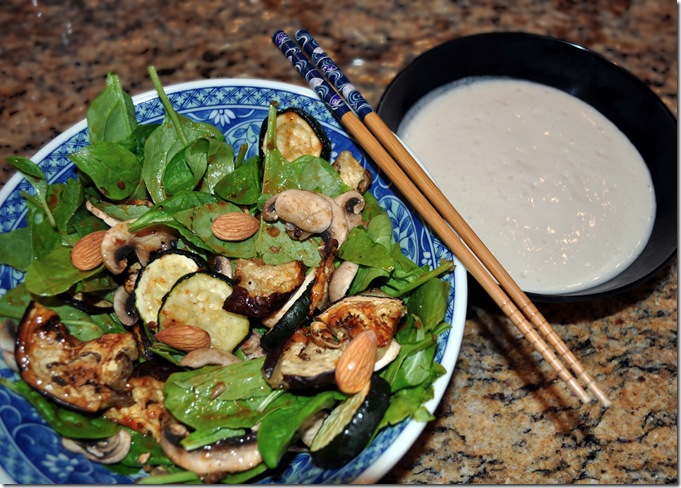 I made a quickie salad to go along with my 3-Ingredient Alfredo soup.
This salad was basically a "use up all the leftovers in the fridge" salad. As I've said before, I loathe wasting food, especially when it's perfectly-delicious food! So, when I'm planning a meal in my mind, I try and incorporate as many leftovers as possible.  Let's see if I can remember everything that went into the salad: roasted eggplant + zucchini, steamed mushrooms, spinach, mâche, almonds, and my newest favorite BBQ sauce. Super-yum, and now I can feel happy knowing the leftovers found a good home—my tummy!
But Katie, where are the carbs??? Not to worry; a few hours later, I had a carb-o-licious snackie. Check it out: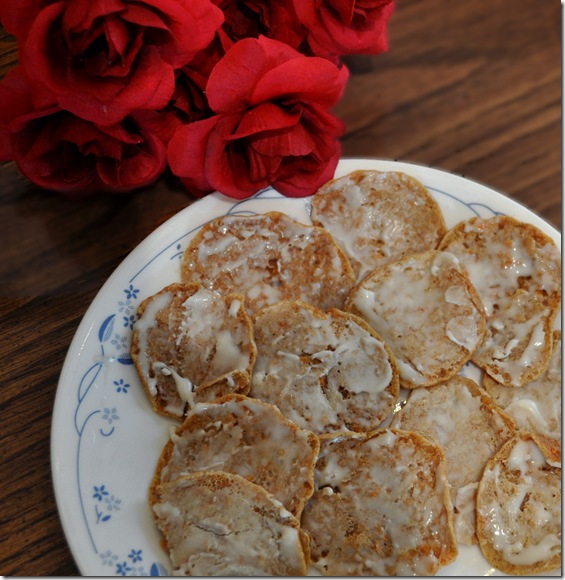 Another Fall favorite?
Cinnamon, which appears in my 24-Carrot Cake Pancakes.
Today, I smeared them with coconut butter, natch!
.
.

Do you ever eat breakfast foods at other times of the day?
Y'know, oatmeal for dessert, cereal at snacktime…? Anyone who reads my blog knows that I often do! Pancakes make an especially good snack. Just because they don't do a good job of filling me up at breakfast doesn't mean they're banished from my life. A life without pancakes? How sad would that be?
Side note: Shout out to Lisa, who made Chickpea Butter… and liked it! 😉
.
.