Hmmm, I guess the joke doesn't work when it's written out. How sad.
What is black, white and read all over?
Well, I don't know about read all over, but raw Chocolate Macaroons are black and white. Yesterday, I made up a batch for a friend.
Well, they were supposed to go to a good friend. But the macaroon babies never actually made it to their intended destination. While sampling the chocolatey macaroon batter (You have to sample the batter, right?), I decided to be selfish and keep them for myself. What can I say? It's very dangerous to have me around chocolate. I didn't forget my friend, though: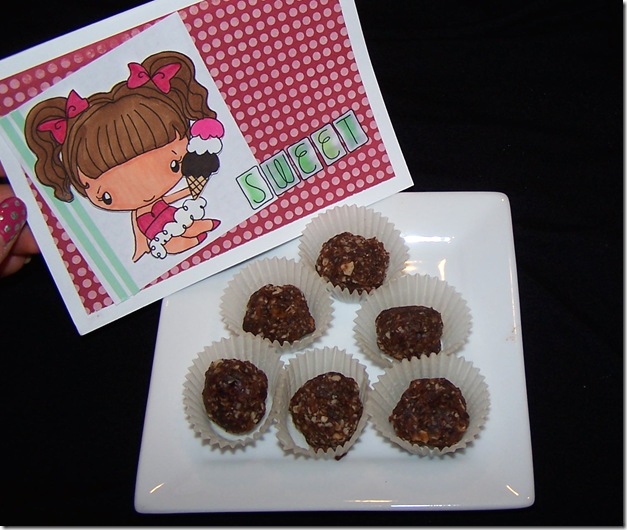 She ended up with a homemade Afri-Card and some Raw Snickerdoodles instead.
So I doubt she minded in the slightest that I ate her original babies. (Ooh that sounds so wrong.) I'm terrible at getting presents. Even when shopping for others, I always think, "Would this be a present I'd be happy to receive?" Then, if the answer is yes, a new problem presents itself: I want to buy the present for me! Christmas shopping is so hard; I end up buying a lot of my own presents. Oh well, at least that way I know I'm getting something I really want! 😉
Do you ever worry what others will think of your healthy food?

Do you worry something you make won't be well-received by people who are accustomed to fries and Twinkies? Fudge Babies have become my go-to dessert to prove to people that healthy food can taste good. Parties, gifts, outings with friends… I never worry anymore that people will think the babies taste too "healthy." Everyone, from my guy friends to my grandma, is in love with the little gems. No one can believe they're health food!