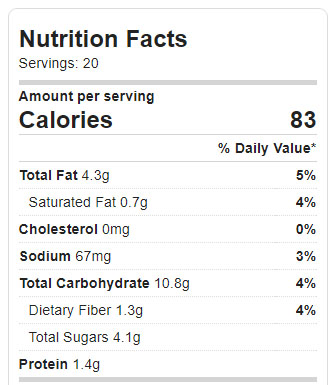 Weight Watchers SmartPoints: 3
Nutrition facts are based on each of 20 stuffed cookies. According to caloriecount, these cookies are also low in sugar, high in manganese, and high in selenium, with more than a gram of protein per cookie… who knew?!
Substitutions:
For the oil: I definitely can't vouch for the results if you cut back on—or omit—the oil called for in any of my recipes, but feel free to experiment at your own risk.
For the filling: I haven't tried this with any low-fat cream-cheese-type spread, so I can't vouch for that. But as mentioned in the recipe, you can omit the filling if you desire. Or you can experiment and try stuffing the cookies with something else entirely! For example, peanut butter would be fun!
For the flour: While I can only vouch for the results of these cookies (and any of my recipes) if you use one of the flours listed in the recipe, some readers have reported success with different flours:
Amy's gf experiment: I made them GF using Bob's Red Mill all purpose gf mix. I felt like i needed to add a little more milk, but the end product was super yum. yay!
Karen: I just made these gluten free by substituting 3/4 cup sorghum flour plus 1/4 teaspoon xanthan gum for the flour. Used 2 Tablespoons of plain unsweetened soy milk ( I find most gf flours are drier than wheat flour). Otherwise followed your recipe. The dough was soft and a little crumbly. I got 18 small balls of dough, flattened them and added the cream cheese filling, they did not roll into a ball very well so I pinched the edges together as well as I could and sprinkled the cookies with the cinnamon sugar.  Baked for 15 minutes ( at an altitude of 5 thousand feet most things take longer to bake here).  A couple are very crackled on top with the filling showing through, so had to eat the worst looking one. Very tasty and worth the trouble of forming them. Thanks for the recipe.
Tina: I made these using Jukes Gluten free flour, worked well, but quite dry and crumbly. I had to add more milk, probably about a tablespoon more, could have used a bit more, but still very yummy.