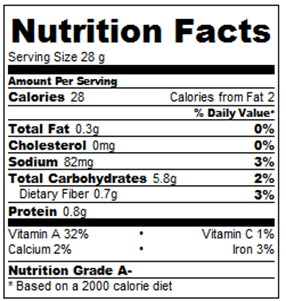 WW Points (new system): 1 point per muffin
Nutrition information above is based on each of 12 chocolate VitaMuffins. If you add in the optional-but-recommended chocolate chips, each muffin will have 45 calories, 1 gram of fat, 8 grams carbohydrates, 1 gram of fiber, and 1 gram of protein (still just 1 WW point per muffin). If you use the oil and add all of the recommended chocolate chips, each muffin is 65 calories, 3.5 grams fat, 8 grams carbs, 1 gram fiber and 1 gram protein, for 2 points.
Substitution Notes:
I've not tried subbing applesauce or banana for the pumpkin or prunes. Texture-wise, it should work, but I can't vouch for the taste. I also can only vouch for results if you use one of the flours listed in the recipe. Feel free to try another flour, but be prepared for the possibility of less-than-stellar results.
Click to Return to the recipe.