For the entire recipe:
Calories: 120
Fat: 2.5 g
Carbs: 25 g
Protein: 2 g (more if you add the optional protein powder)
Fiber: 3.5 g
ww points (new system): 1 point (since bananas are free)
This shake is 100% free of added sugars! Stats are for the recipe with Silk almondmilk and will vary depending on your choice of milk. The recipe is also high in potassium, thanks to the banana.
Substitution Notes:
For the banana: You can sub an equal amount of Thai coconut meat (the triangle coconuts, which you can find at Whole Foods or in an Asian market). Or you can sub 1/2 cup of your favorite ice cream, such as So Delicious brand. Or perhaps you can try frozen mango, for a tropical twist.
All other substitutions: I can't tell you if something will "work" since I've only tried the recipe as written. But feel free to experiment!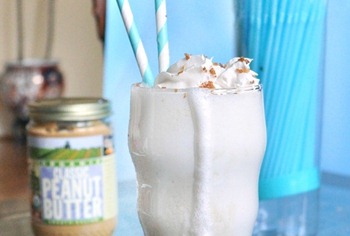 Click here: Shakes and Smoothie Recipes.