Per cupcake: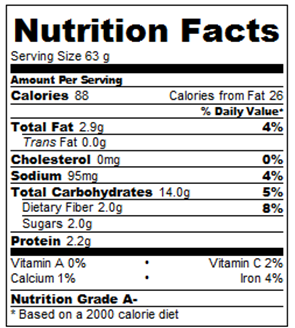 For more recipes like these cupcakes see the following link:
Click here: Healthy Breakfast Recipes 
WW Points (new system): 2 points per cupcake. As mentioned in the post, I don't mean to suggest that a person eat just one cupcake–and nothing else–as breakfast (although that would definitely be a step up from skipping the meal altogether). Feel free to pair one or two cupcakes with something like a piece of fruit and a little container of nut butter, for a balanced breakfast on the go.
Substitution Notes: For the banana: Applesauce will work, but you might want to add a little extra sweetener (and decrease the water according to how much extra liquid sweetener you add).
For the rolled oats: I haven't tried quick oats, nor have I tried steel-cut in this recipe. So I have no idea how either would work.
For the oil: I haven't tried subbing more banana for the oil. I am sure you can do it, and it will be fine texture-wise. No idea about the taste, though.
Protein Powder? Perhaps you could add some protein powder to these (or replace some of the oats with protein powder). If anyone tries before me, I'd love to hear the results.
Click to Return to the recipe.