Lower-Fat Version
2 cups red onion, chopped (360g)
2 tbsp minced garlic
3 1/2 cups water
1 1/2 tbsp Thai red curry paste
3 1/2 tbsp fresh ginger, chopped
1 tsp salt
2 1/2 lbs peeled butternut squash or sweet potato, chopped (6 cups)
1 cup full-fat canned coconut milk (not lite or carton… cashew cream might work for a coconut-free version)
2 tsp lime zest
2 tbsp lime juice
sweetener of choice, if desired
optional: 5 oz raw spinach (1 box)
In a large soup pot, heat the onion and garlic with some oil or oil spray until the onion is soft, about 10 minutes. Add the water, curry paste, ginger, salt, and squash. Bring to a boil. Continue boiling on a low boil, uncovered, until the squash is soft, about 10-15 minutes. Turn the heat off and add the coconut milk, lime juice and zest, and sugar of choice, if using. Either transfer the soup to a blender or use a hand blender to completely puree. If using a blender, do this in two batches. If adding the spinach, return the soup to the pot and stir in the spinach. Bring back to a boil and cook just until spinach wilts. Taste and add more sweetener if desired.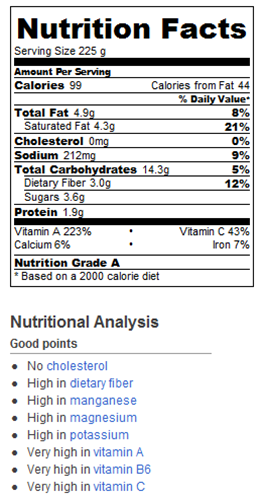 Butternut Squash Soup Weight Watchers Points Plus: 1 point per cup
Note: Nutrition information per cup does include the optional spinach. Red onion and butternut squash are included as well; however these foods are considered to be free foods on Weight Watchers and therefore are not factored into the point value of the soup.
Nutrition Facts for the original version, including the pure maple syrup:
200 calories, 14g fat (mostly from the coconut), 19g carbohydrates, 5g fiber, and 3g protein. Vitamin and mineral numbers are almost identical to those in the lower-calorie version.
Return: Butternut Squash Soup Recipe