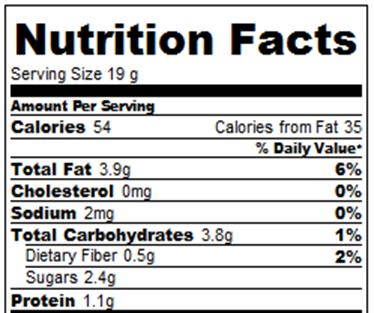 The info above does include all of the maple syrup, and it is is based on 10 bigger cut-out cookies of 19 grams each. Note that the yield on this recipe will vary greatly, depending on the size of the cookie cutters you use and whether you bother to re-roll extra dough after making the first cut outs.
For one batch, I did mini ones and got as many as 25 cookies!
This recipe is a great source of Vitamin E, of which many people don't get enough.
Substitution Notes:
For the almond meal: I haven't tried this recipe with any other flours. I'd be interested to know if it would work with finely-ground cashews or hazelnuts or even pistachios!
I doubt the recipe would work with a real (non-nut) flour, so if you'd prefer traditional sugar cookies or cookies that are nut-free, I'd recommend sticking to my traditional recipe.
It's possible (and apparently very easy) to make your own almond flour by simply grinding blanched and slivered almonds in a vita-mix or blender. Be sure they are finely ground.
For the maple syrup: This does work with agave; I just preferred the taste of the maple version better (it's only a slight difference). I didn't try honey, but I don't see why it wouldn't work if you're not a strict vegan.
Troubleshooting:
I've made about 6 different versions of these cookies now. The first time, the dough was firm enough that I could cut out shapes before even freezing the dough. The second time (a warmer day), I needed to freeze the rolled-out dough for a 1/2 hour before I could cut shapes and transfer them to the cookie tray. I used the extra 2 tsp of milk both times that I made the liquid-sweetener versions.
Click to Return to the recipe.