They're only 45 calories per square…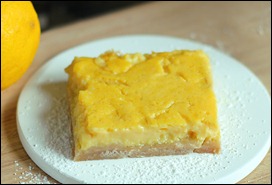 So feel free to eat a million.
Ok, maybe not a million.

Nutrition info per lemon bar:
Calories: 45
Fat: 2.5 g
Carbs: 6 g
Fiber: .5 g
Protein: 1.5 g
ww points (new system): 1 point per bar
The ww points are actually the same, no matter whether you use regular powdered sugar or xylitol. These bars were calcutaled with the sf powdered sugar, but xylitol actually does have calories. So the nutrition information shouldn't be drastically different if you make them with regular powdered sugar.
Substitution notes:
I can only vouch that these are the "best ever" lemon bars if you follow the recipe exactly, right down to the tsp. (You'd be amazed at how many people make substitutions to my recipes and then blame me for bad results! :-?)
However, feel free to experiment as long as you don't mind taking a risk. I've only tried coconut oil, but perhaps vegetable oil would work as a sub. And I would seriously love you forever if you want to try a gluten-free mix for the crust's flour and report back. (I think many of the readers would love you forever as well!)
Some of the commenters say they've had success subbing refrigerated tofu for the Mori-Nu in this recipe, but I can't personally vouch for the substitution. (Mori-Nu tofu is shelf-stable, and it's often in the Asian section of a store like Whole Foods. My Asian market also carries a generic brand of silken-firm tofu, which is fine to use for this recipe. Just make sure you get the shelf-stable kind, as opposed to the kind in the refrigerator section.) I'm already anticipating the onslaught of commenters wanting to know what can be subbed for the tofu. Sorry, I really don't know! Maybe try soaked, pureed cashews? To be honest, my advice would be to try a different recipe, and maybe I'll have to come up with a tofu-free version in the future.
Here's a list of all my Soy-Free Recipes.