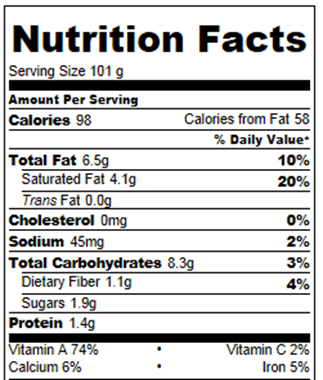 WW Points: 2 points (The carbs and fat from the pumpkin are included in the nutrition label, but not in the WW points, as pumpkin is a free food on Weight Watchers.)
Nutrition facts are based on the standard 1/2-cup serving size (of which this recipe yields about 7). However, I don't know anyone who actually only eats one serving of ice cream, so don't take this info to mean you need to stick to one serving.
Lower-Calorie Version:
The nutrition information above is for the full-fat version. You can substitute another cup "milk of choice" for the coconut milk or creamer; it'll just be less creamy and rich, and it's definitely best to eat it the day you make it.
If you make the lower-calorie sub: a serving will have just 35 calories and be 1 WW point.
No Ice Cream Machine?
Choice #1: Freeze the liquid mixture, then re-blend in a Vita-mix or Blend-tech.
Choice #2: Freeze the mixture in a shallow container. Every 45 minutes (for up to 4 hours), stir the slush. Yes, this takes a while, and it will also never yield as creamy of a result… So if you're really serious about ice-cream making, you might want to think about investing in a machine. My Cuisinart Ice Cream and Sorbet Maker was only $40; it's a one-time purchase that gives you enjoyment for years!
Choice #3: Forgo the ice cream and pour the liquid mixture into popsicle molds (or paper cups) instead.
Troubleshooting:
If you have a Cuisinart, make sure it has been frozen for at least 24 hours prior to using and is solid like a frozen brick. If the base is even the slightest bit unfrozen, you will only end up with slushy ice cream.
Homemade ice cream is best served the day it's made, but it still tastes delicious for up to a month in the freezer (in an airtight plastic container). If you freeze for more than a day, you'll probably end up with a frozen block, so just be sure to thaw the ice cream for 15-20 minutes prior to serving.