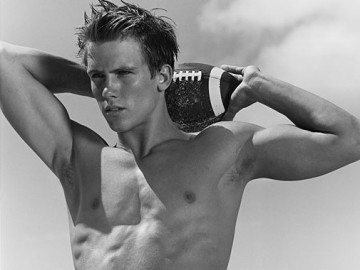 No, not that hot, young thang.
Naturally Nutty Peanut Butter! They sent the following flavors: Honey Roasted Cinnamon, Chocolate Peanut Butter Toffee, Vanilla Almond Butter, and Chocolate Cherry Peanut Butter. 
Guess which one I tried first. Chocolate Cherry? Wrong! For once, I strayed from my chocolate roots, opting to sample the Vanilla Almond Butter. Upon opening the jar, the contents looked unappealingly runny. But a quick stir took care of that, and it was paradise from there on out. The label claims the nut butter to be "creamy," but it has a slight crunch to it, which delighted my surprised tastebuds. The source of the crunch is crushed flax and hemp seeds—awesome news for vegans and everyone else looking to get some of those important but elusive Omega-threes into their diets!
The Naturally Nutty vanilla almond butter is everything I love about Mighty Maple PB&Co without being over-the-top sweet.  Oddly enough, its taste reminds me of graham crackers… or maybe vanilla wafers.  I can't quite pinpoint the flavor; but whatever it is, it's got me hooked!