The following info, calculated via Spark Recipe Calculator, includes both the chocolate chips and macadamia nuts.
Nutrition Facts per cookie:
Calories: 70
Fat: 4.5 g (mostly healthy fats from the macadamia nuts, which you can easily omit if on a low-fat diet)
Carbs: 10.5 g
Fiber: 1 g
Protein: 1 g
ww points (new system): 2 points (including the nuts)
These cookies are whole-grain, and the recipe has a lot less sugar and oil than traditional chocolate-chip cookies. But they do NOT taste healthy at all! 🙂
Substitution Notes:
For the oat flour, you can make your own by grinding rolled oats in a food processor or blender until they turn into a fine powder. Just be sure to measure the needed amount after blending. You could also sub spelt flour. Feel free to try other flours, but I can't vouch for the results.
For the macadamia nuts: you can sub chopped almonds or walnuts or pecans or any other nut you desire. You can also just leave the nuts out entirely.
For the oil: feel free to omit the oil if you wish… but I'm definitely not vouching for the results if you do!
For the sugar: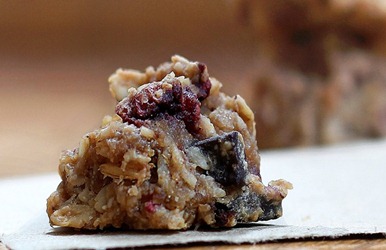 For cookies completely free of added sugar, try this recipe instead.
Return: Healthy Chocolate Chip Cookies