Cookies make me happy.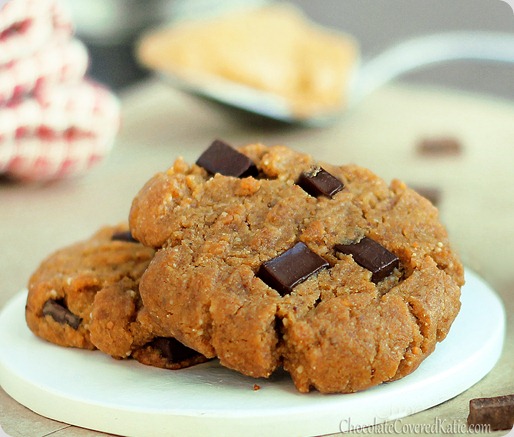 These homemade peanut butter chocolate chunk cookies taste like the love child of a gingerbread man and a jar of Skippy.
Please don't try to picture that in your mind. 😕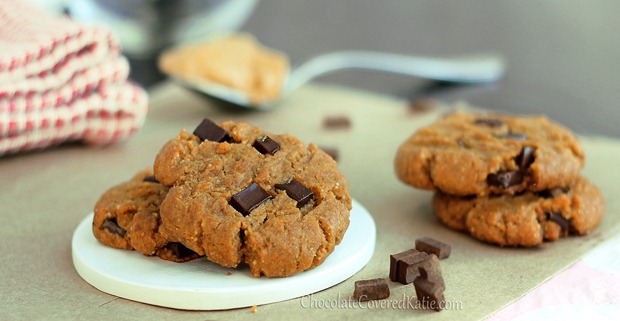 Try one and you'll be smiling all day. People will start to wonder about you. Why are you smiling like that? And of course you can answer:
I just like to smile.
Smiling's my favorite.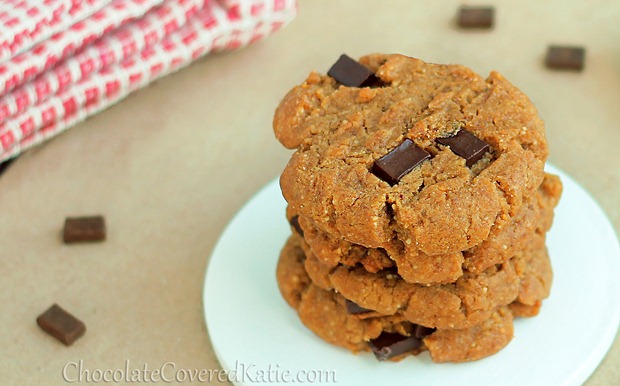 Or you could tell them the truth: you're smiling because you just made a batch of super-delicious chocolate peanut butter gingerbread cookies and are keeping them all for yourself. But be warned that if you go this route, they'll expect you to share. So honesty might not be the best policy.
Initially these were to be gingerbread cookies with a hint of peanut butter. However, they turned out awesomely peanut buttery and have just an allusion of gingerbread flavor.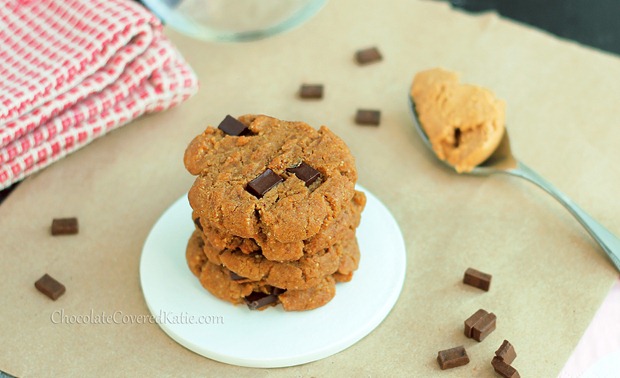 Peanut Butter Gingerbread Chocolate Chunk Cookies
(Peanut Butter Christmas Cookies)
1/2 cup peanut butter – or Sunbutter, almond butter, or cashew butter (110g)
1/2 tsp powdered ginger – less if you only want a slight gingerbread flavor
1/3 cup Sucanat – You can sub regular brown sugar; it just won't be nearly as gingerbread-y (45g)
pinch stevia or 1 extra tbsp of the sucanat or sugar
3/4 tsp baking soda
3 tbsp flour (spelt, white, ww pastry, and Bob's gf all-purpose all work) (24g)
tiny pinch of salt if desired (I add 1/16 tsp and use Whole Foods peanut butter, which is salted)
2-4 tbsp chocolate chunks, or chips, or broken-up chocolate bar
2 tbsp applesauce (30g)
1 tsp pure vanilla extract (4g)
In a mixing bowl, combine all dry ingredients and stir very well. Put the peanut butter in a separate bowl (and if it is from the fridge, heat it until you can more-easily stir it), then add the applesauce and vanilla to the pb bowl and stir well. Combine the two bowls, and stir to form a dough, then squish into balls with your hands. Chill the balls at least thirty minutes in the fridge or ten in the freezer, during which time you are preheating the oven to 350F. Then cook 8 minutes.  They will look quite underdone when they come out, but that's ok: let them cool and do not touch for at least another 10 minutes. For soft cookies, store in a plastic container. For crispier cookies, store in a glass container. Makes 12-16 cookies.
View Peanut Butter Cookies Nutrition Facts
Link Of The Day: