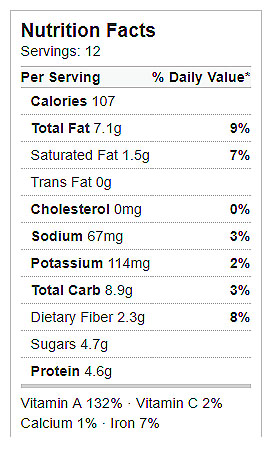 Weight Watchers SmartPoints: 3 points per brownie
Nutrition facts are based on a recipe made with regular sugar, unsweetened cocoa powder and protein powder, and almond butter.
If you'd prefer a recipe that uses a liquid sweetener instead of granulated sugar, try the following variation:
1 cup pumpkin puree
1/4 cup pure maple syrup, honey, or agave
2/3 cup nut butter of choice, or allergy-friendly sub
1/3 cup cocoa powder
3 tbsp chocolate protein powder or additional cocoa powder
1 tsp pure vanilla extract
1/4 tsp salt
1/4 tsp pumpkin pie spice or cinnamon
Note: Sunbutter or pumpkin seed butter can be used for allergy-friendly. You can use unsweetened cocoa powder or a combination of regular and dutch. (I use mostly unsweetened cocoa powder with about 2 tbsp dutch – you want it to be 1/3 cup total.)
Preheat oven to 325 F. Line an 8-inch pan with parchment. Gently warm almond butter until it is easily stir-able. Combine all ingredients in a bowl, stir until completely smooth, and spread into the prepared pan (see video in the main post). Bake on the center rack 20-25 minutes (20 for extra fudgy) – they will be undercooked when you take them out. Let them cool, then loosely cover with a paper towel and refrigerate overnight, during which time they will firm up without losing their fudginess. The brownies are also much sweeter the next day! Frost as desired – I used Pumpkin Peanut Butter. Refrigerate leftovers 2-3 days or cut and freeze for up to a month. You can eat them straight from the freezer if you want. As I mention in the original version, these are more of a healthy snack than something you'd make for a party. If you enjoy desserts that taste healthier than their traditional counterparts, hopefully you will love these.