Once upon a time, the dashing Mr. Skippy met beautiful Ms. Libbys.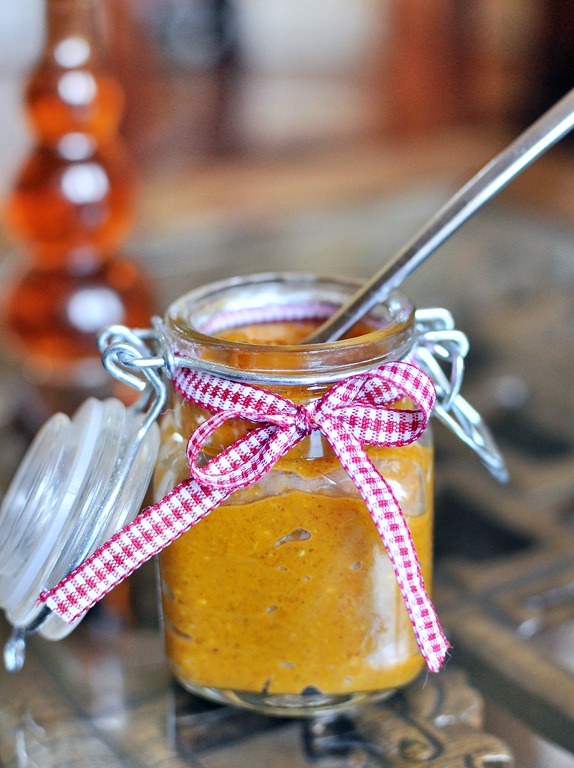 Nine months later, they welcomed a baby into the world.
If you want more info as to how exactly such a baby came to be, please go ask your parents. Or you can read about it in a seriously disturbing children's book.
This baby came about after my pumpkin-spice latte post last week, when people left such awesome ideas on how to use up a can of pumpkin. I think at least three of you mentioned pumpkin peanut butter as an option, so I had to play around with that idea first. Other recipes I'm working on include chocolate pumpkin brownies and pumpkin cream cheese bars. If the recipes turn out well, I'll post those in the near future.


Pumpkin Peanut Butter
1/3 cup canned or pureed pumpkin
1/2 tsp cinnamon
1 1/2 tbsp or more nut butter of choice, or allergy-friendly sub
optional sweetener to taste, such as 1/2 packet stevia or 1/2 tbsp brown sugar
pinch of salt
Mix all ingredients together, either with a spoon or in a food processor. If your peanut butter is hard, you might want to warm it up a little first. This spread is good on toast, in oatmeal, or even eaten straight-up!
Link Of The Day: