You can still make chili when it isn't chili!
*Ducks to avoid the tomatoes being thrown at her lame pun*
But then again, extra tomatoes could be useful for the following recipe… so keep throwing!
I was so sad that I couldn't make it to the Austin Chilifest that I decided to bring the Chilifest to me. Well, not really… but I DID make chili (even though it's been over 80 degrees here every day this week!). Years ago, our neighbor, Wally, brought this chili to a party, and everyone asked for the recipe. Since then, it's received rave reviews every time we've made it/brought it to an event. We affectionately call it "Wally's Tofu Chili"… Wally, however, says he hasn't ever made it again!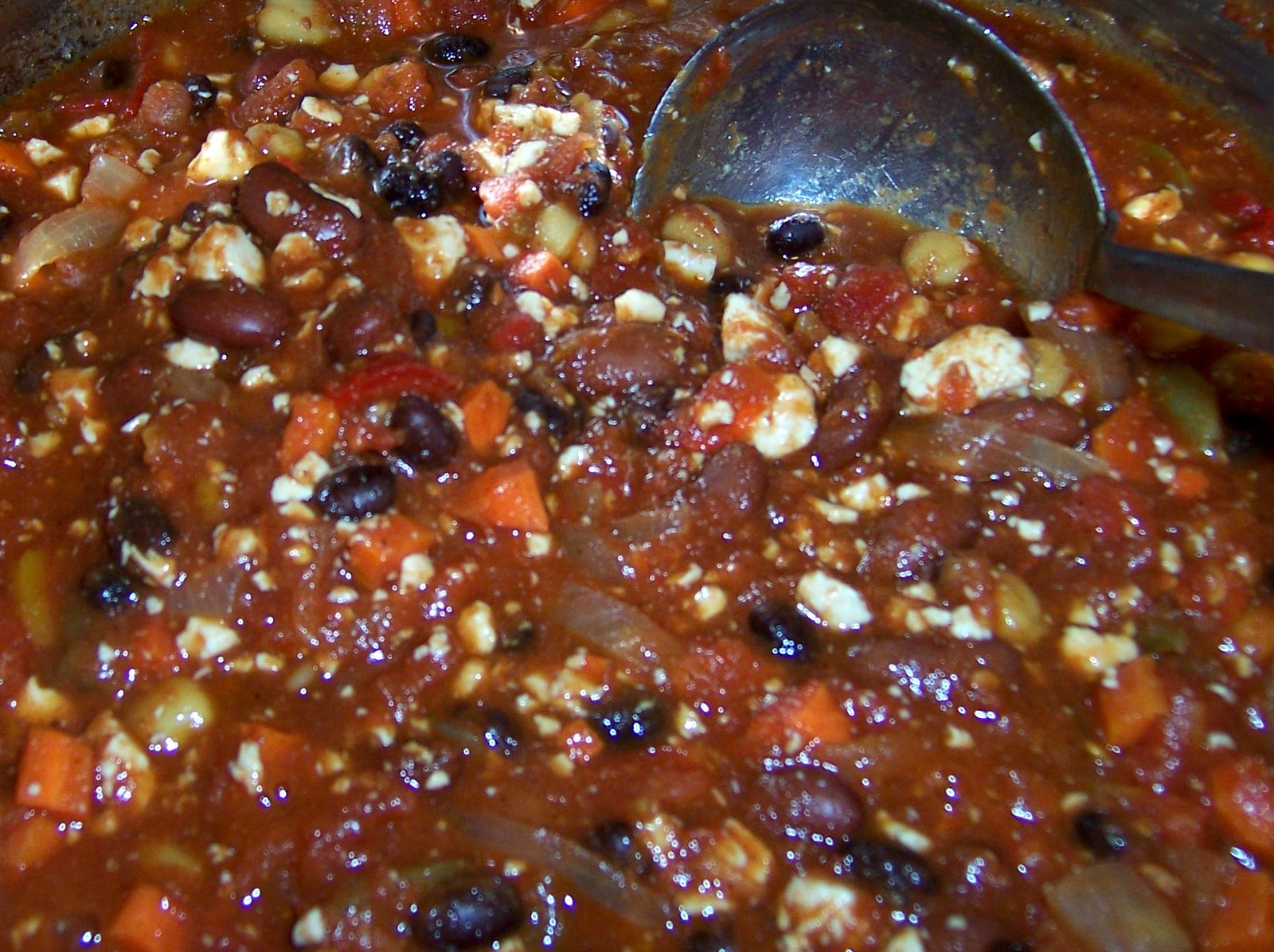 3 Bean Vegetarian Chili
1 diced medium onion
1 diced green pepper
2 garlic cloves, minced
2 tsps olive oil
16oz extra-firm tofu, drained and crumbled
1 tsp powdered cumin
1 tsp hot sauce (can be omitted)
salt and pepper to taste
1 19oz can red kidney beans, drained
1 19oz can pinto beans, drained
1 19oz can garbanzo beans, drained
1 28oz can diced tomatoes
2 14oz cans tomato sauce
3 medium carrots, sliced into coins
2 1/4 tbsp chili powder
Saute the first four ingredients over medium heat until the onion begins to brown. Add the tofu, cumin, hot sauce (if using), salt, and pepper. Saute until crisp and lightly browned (about 10 minutes). Add all remaining ingredients. Bring to a boil, then reduce heat and simmer 45 to 55 minutes.
Now, the BEST way to eat this chili is ladled over a soft pillow of polenta, made this way:
Polenta
1 cup polenta, whole-grain or regular
3 cups milk of choice
1/2 tsp salt
1 tbsp buttery spread or coconut oil, optional
Bring milk and salt to a boil. Add the polenta and buttery spread or oil, and reduce heat. Cook slowly for about 5 minutes, stirring occasionally and watching so it does not overflow. Remove from heat, cover, and let stand for a couple of minutes to thicken. Serves 3-4.