I just want you for my own.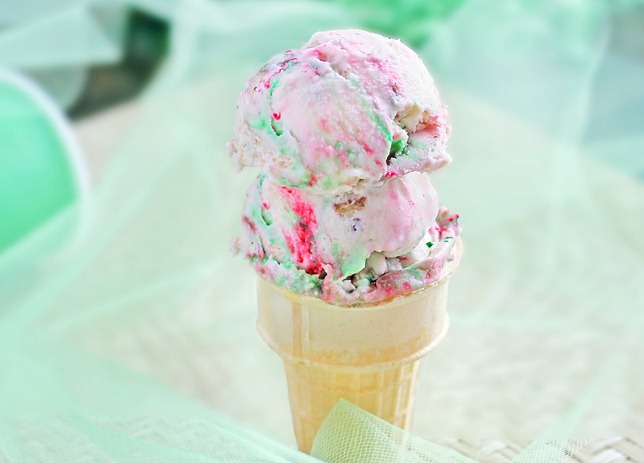 More than you could ever know. Make my wish come true…
All I want for Christmas is You!
When it comes to holiday decorating, I like to go all-out: sparkly garland hugging the banisters, stuffed snowmen adorning the mantle, no-nonsense nutcrackers standing guard at the kitchen table… Nothing escapes my holiday-happy hands. Nothing; not even the food:
<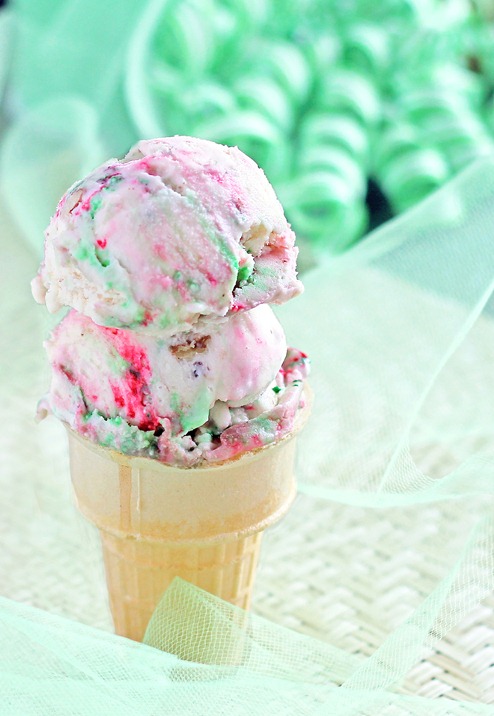 It's like a holiday on a wafer cone.
To get the beautiful swirls, all I did was mix the sprinkles into the ice cream. As I stirred, they melted into the base, causing the gorgeous colors above! I'm sure this would work with any sprinkles, not just Christmas ones.
Christmas Cookie Dough Ice Cream
Inspired by this recipe.
2 cups milk of choice or nondairy creamer or canned coconut milk (see note below)
1/4 cup brown sugar (or agave, maple syrup, or other such sweetener)
1 packet stevia (omit if using agave or maple syrup)
1/8 tsp salt
1 and 1/2 tsp pure vanilla extract
a few drops pure peppermint extract, if desired
raw sugar cookie dough (recipe linked below)
red and green sprinkles (I used tiny dots)
Mix the first five ingredients in a dish. Then transfer to your ice cream maker and watch the magic! (I have a Cuisinart, and it took 15 minutes to turn the liquid into ice cream. Warning: Make sure your ice cream maker's base is completely frozen before use, or it will NOT work!) After desired consistency is reached, turn off the ice cream maker and fold in pieces of cookie dough. I also stirred in a quick shake of sprinkles, as mentioned above.
For the cookie dough, I used this recipe: Healthy Sugar Cookies.
The texture of this ice cream will be richer if you use canned coconut milk or creamer. It will be more like ice milk if you use a lower-fat milk (such as Blue Diamond almond milk). Serve right away, or thaw before serving.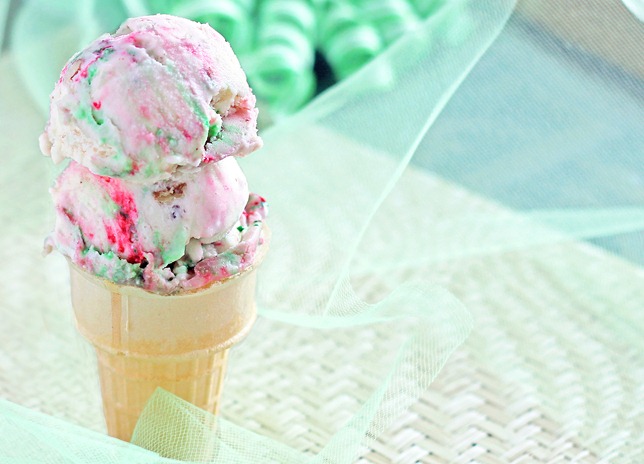 Question of the Day:
Do you have a favorite holiday song?
I really like Paul McCartney's "Wonderful Christmas Time." And classics, like "Santa Baby," or even "Jingle Bells." But nothing makes me smile as much as when that crazy song "I want a hippopotamus for Christmas" comes onto the radio.