This dairy free and vegan cashew ice cream recipe is ultra creamy and delicious!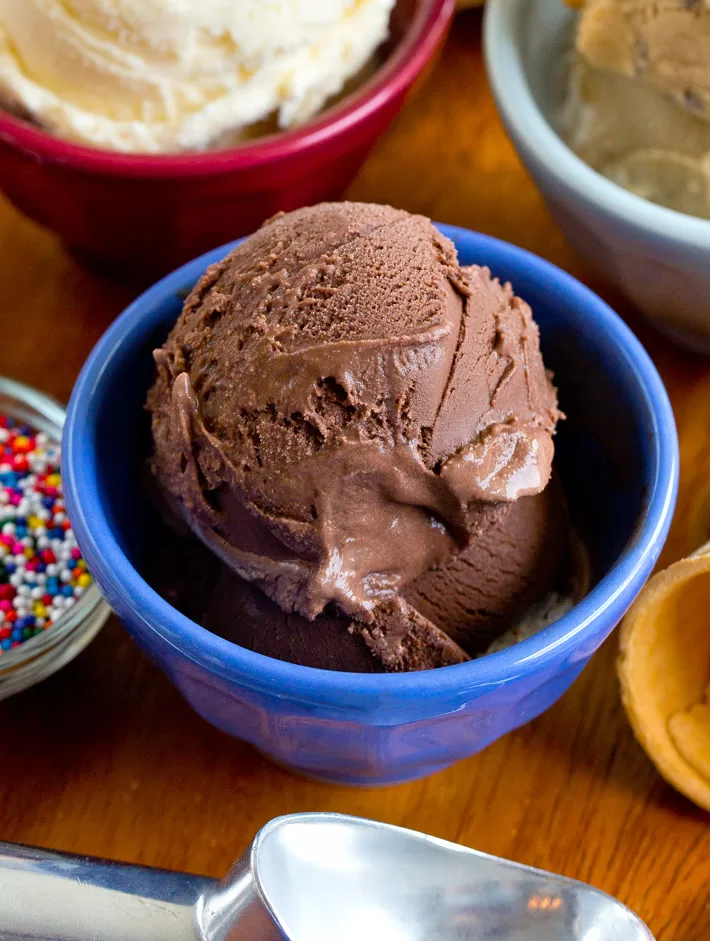 The best cashew ice cream recipe
If you've been disappointed by dairy free ice cream in the past, prepare to be amazed by the incredibly rich and creamy texture of this homemade cashew ice cream.
Unlike many other store brands or vegan ice cream recipes, this one isn't the slightest bit hard or icy, and it really and truly does taste just like real ice cream!
This very well might be the best vegan ice cream you will ever try.
Also make these Vegan Brownies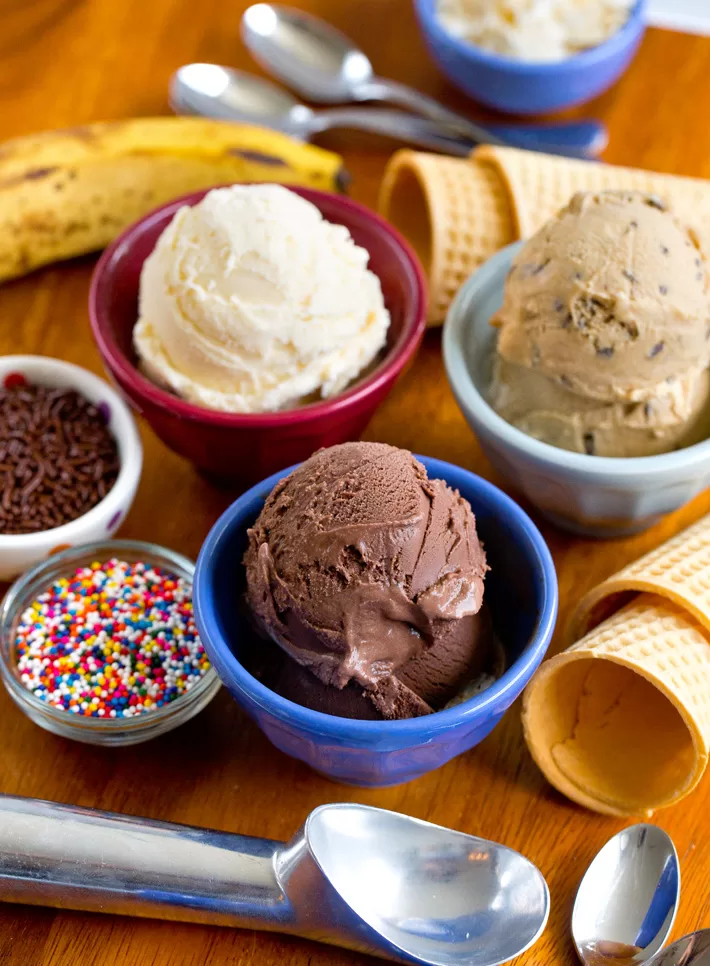 Vegan Cashew Ice Cream Flavors
Salted Caramel Ice Cream: For caramel cashew ice cream, add 1/4 teaspoon of caramel extract to the ingredients before blending.
Cookie Dough Ice Cream: Make just the dough for Vegan Chocolate Chip Cookies. Break off pieces and stir them into the ice cream right before serving.
Peppermint Ice Cream: Add half a teaspoon of pure peppermint extract at the very beginning, or increase to one teaspoon for a stronger mint flavor. For mint chocolate chip ice cream, add a handful of mini chocolate chips at the end.
Vanilla Bean Ice Cream: In addition to the vanilla extract in the recipe, also add half a teaspoon of vanilla bean paste or the seeds from one vanilla bean.
Nutella Ice Cream: Blend in a fourth cup of this vegan Homemade Nutella.
Chocolate Cashew Ice Cream: When stirring all the ingredients together, add a fourth cup of unsweetened cocoa powder and two additional tablespoons of sweetener.
Peanut Butter Ice Cream: Blend in a fourth cup of peanut butter or almond butter. Top with sliced bananas and dark chocolate syrup for a cashew ice cream sundae.
Cinnamon Snickerdoodle Ice Cream: Add half a teaspoon of ground cinnamon before churning. If desired, stir in the dough from these Vegan Sugar Cookies.
Coffee Ice Cream: Stir in 1 1/2 teaspoons of instant coffee granules before blending. For mocha ice cream, add a fourth cup of cocoa powder and two additional tablespoons sweetener of choice.
Other Flavors: Feel free to play around with different add-ins and toppings, such as raisins and oats for oatmeal raisin ice cream, chopped strawberries for strawberry ice cream, or cherries, raspberries, matcha, mango, avocado, shredded coconut, or Oreos to create your own cookies and cream ice cream.
Watch the cashew ice cream recipe video
Step-by-step recipe video, above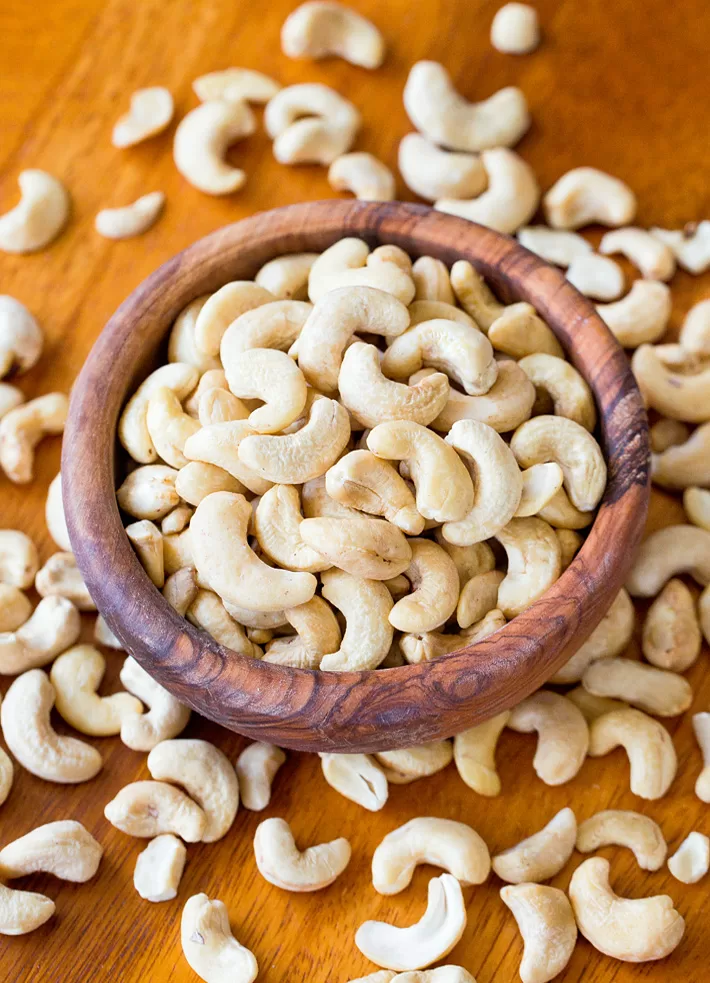 Ingredients for cashew ice cream
You need just five ingredients to make this easy recipe.
There's no dairy, no eggs, and no heavy cream. And in contrast to many other cashew ice cream recipes, it can be made with no coconut milk.
So there's no overbearing coconut aftertaste in the finished product and it can be low in saturated fat. (Full calories and nutrition facts are included below.)
All you need to make the recipe are raw cashews, non dairy milk of choice, sweetener of choice, a pinch of salt, and pure vanilla extract.
Pretty much any milk will work here, including oat milk, soy milk, cashew milk, coconutmilk, sunflower milk, macadamia nut milk, or almond milk.
The recipe works with granulated sugar, unrefined coconut sugar, or liquid sweeteners like pure maple syrup, honey (not vegan), and agave.
For sugar free cashew ice cream, use xylitol or try this Keto Ice Cream.
And yes, you can substitute other nuts for some or all of the cashews. I especially love the recipe with raw soaked macadamia nuts or pistachios.
If you try roasted cashews or salted cashews instead of raw ones, be sure to report back with results, because we have not tried these substitutions yet.
Leftover cashews? Make Vegan Mac and Cheese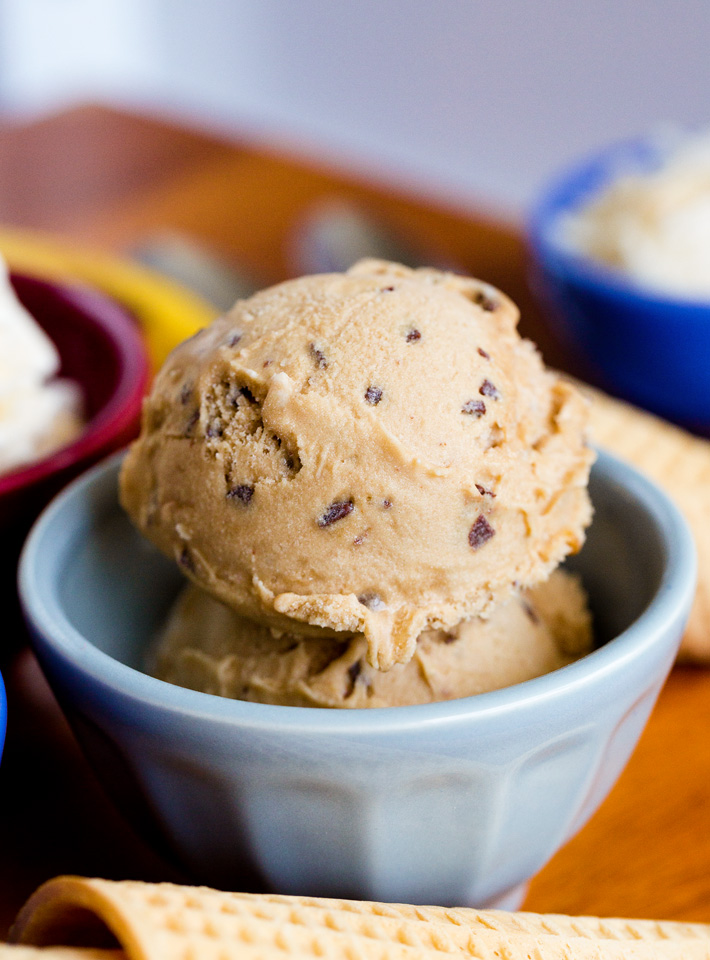 How to make dairy free cashew ice cream
Gather all of your ice cream ingredients.
In a medium mixing bowl, cover the nuts with water. Let them soak for about five to eight hours. Then drain and pat fully dry with cloth or paper towels.
Add all ingredients to a high speed blender, like a Vitamix or Blendtec. Process on high until completely smooth.
Blender Ice Cream Method
Pour the blended mixture into ice cube trays, and freeze until solid.
Once frozen, pop the ice cubes back into the blender. Blend on high, using the machine's tamper to press down until it achieves a soft serve ice cream texture.
Scoop out into bowls. Either eat immediately, or freeze each bowl for up to an hour for a firmer texture similar to that of premium ice cream.
Ice Cream Machine Method
Prepare your ice cream maker according to manufacturer's instructions for your particular model and brand.
After blending the cashews with the other ingredients, pour the blended mix into your chilled ice cream machine, and churn until it reaches a thick and smooth texture.
Scoop into individual bowls, and enjoy as cashew soft serve or freeze for up to an hour for firmer ice cream.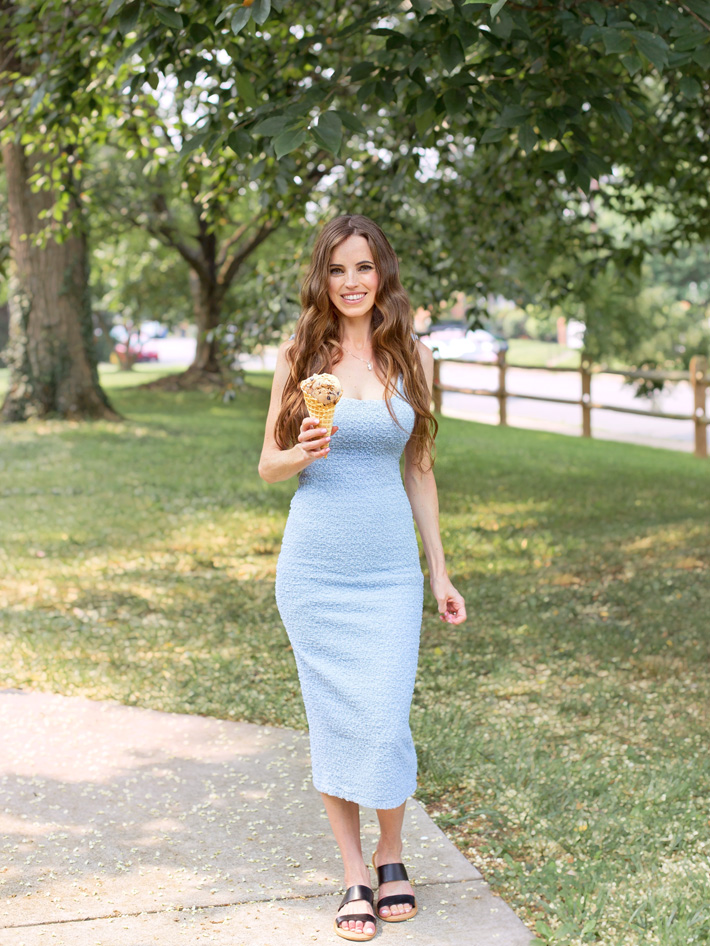 Plant based ice cream tips and tricks
For the most authentic ice cream presentation, I recommend using an ice cream scoop instead of a spoon to scoop the ice cream out of the blender and into bowls.
If you are using the ice cream machine option, keep in mind that many ice cream machines, including Cuisinart, require freezing the bowl for at least 48 hours prior to churning. If you have space in your freezer, you can store a bowl in there at all times, allowing you to make instant ice cream whenever you wish.
If you prefer to make the no churn ice cream with a carton of cashewmilk instead of raw cashews, use the following recipe for homemade Almond Milk Ice Cream, substituting cashewmilk for all of the almondmilk.
Due to the lack of preservatives and stabilizers in this healthy cream, it tastes best the day you make it. However, you can freeze leftovers for up to a month.
It is best to portion out the ice cream into individual bowls before freezing. Then remove a bowl from the freezer for fifteen to twenty minutes before eating. It will thaw back into a smooth ice cream.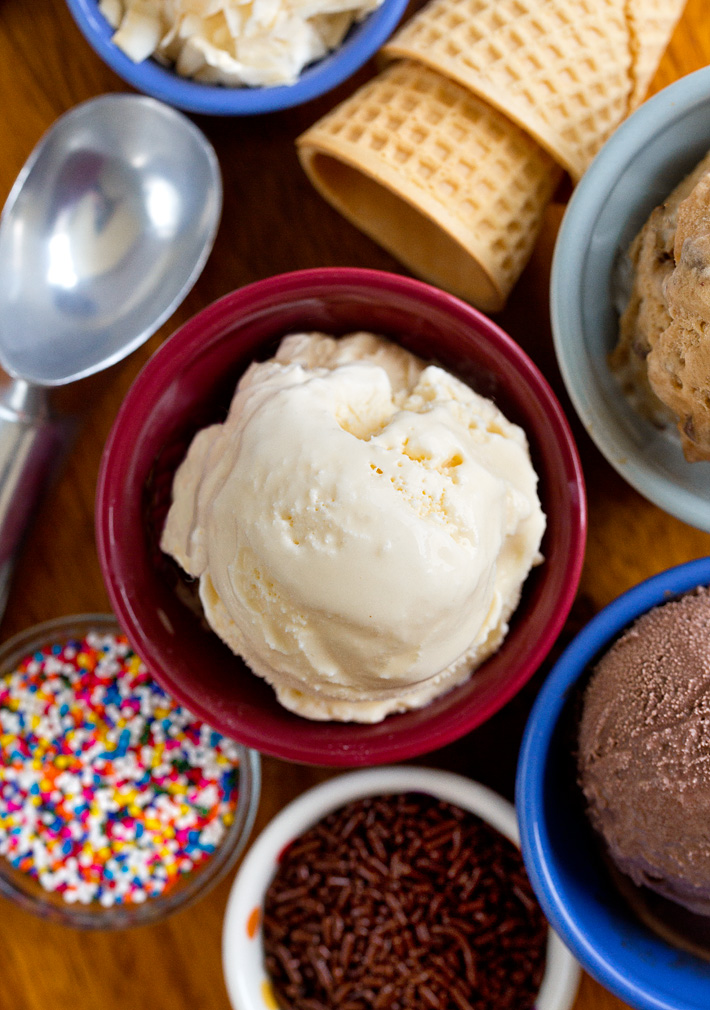 Cashew milk ice cream brands
Nowadays, you can find vegan ice cream in almost any grocery store.
This includes options from fully vegan companies like Nada Moo and Oatly, as well as from large traditional brands like Ben & Jerry's, Breyer's, Halo Top, and Haagen Dazs.
However, most of the dairy free options on the market are made with coconut milk, almond milk, or oat milk. And many of their ingredient lists include corn syrup, artificial flavors, and preservatives.
Buying plant based ice cream can also be expensive, with some pints selling for over twelve dollars each!
For these reasons, I recommend making your own cashew ice cream at home. The best part is that you get to control the ingredients to add and what flavors to make.
If you do want to buy cashew ice cream, both Van Leeuwen and So Delicious Dairy Free offer pints for sale in stores like Whole Foods, Wegmans, and Target.
I am extremely picky about vegan ice cream and dislike many of the options out there. But the So Delicious dark chocolate truffle cashewmilk ice cream is rich, creamy, and absolutely worth the occasional splurge, especially when it goes on sale!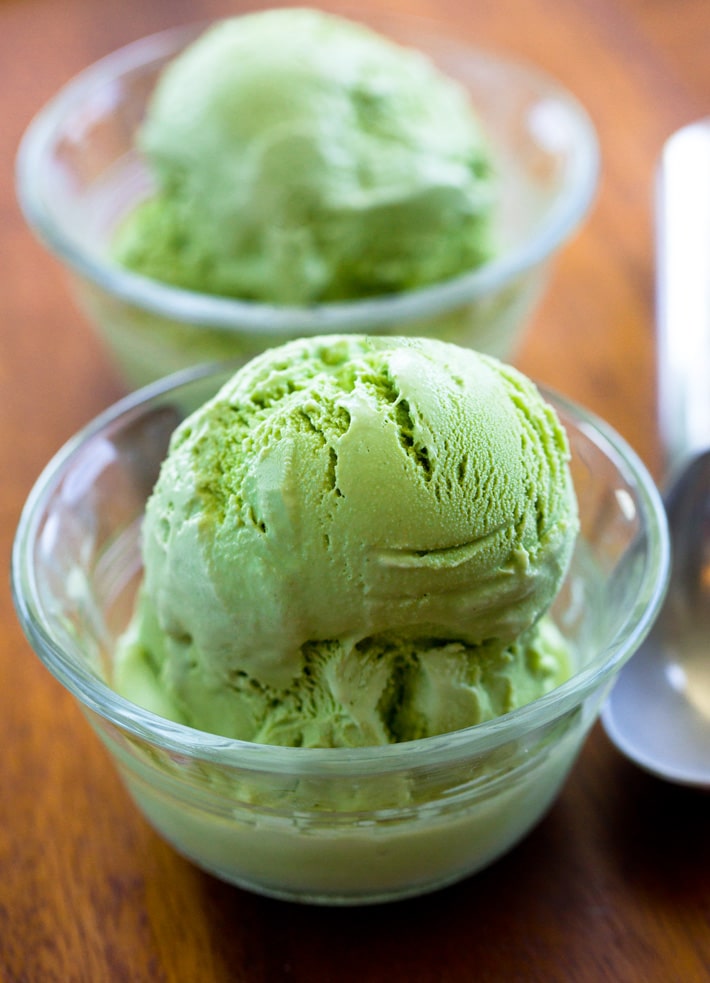 Other Vegan Frozen Desserts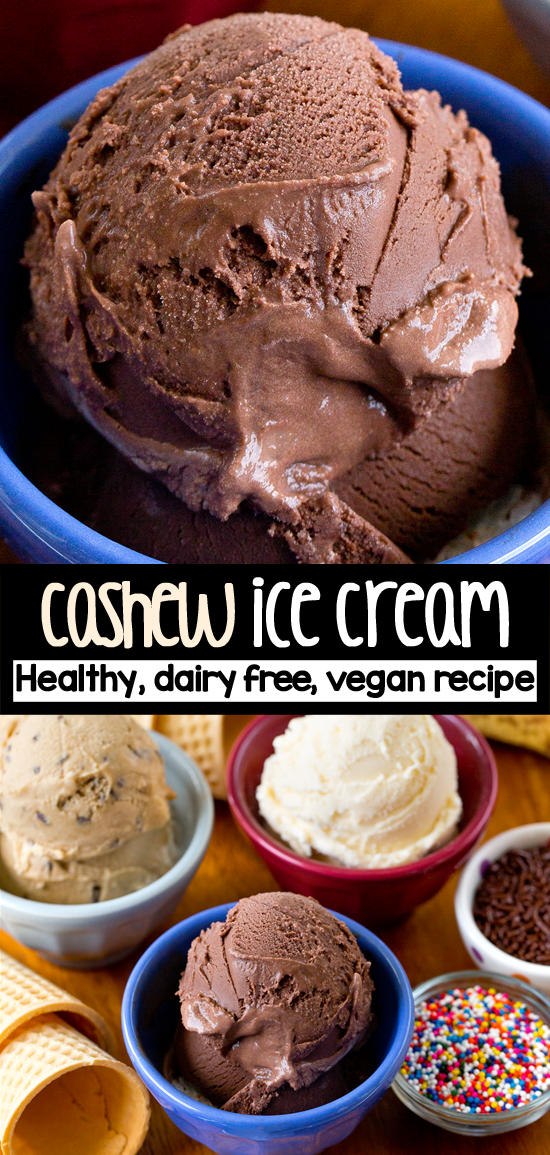 The recipe was adapted from Pistachio Ice Cream in my Hello Breakfast Cookbook.
Cashew Ice Cream
This homemade dairy free and vegan cashew ice cream recipe is super creamy and delicious.
Ingredients
1

cup

raw cashews

or macadamia nuts

1

1/3 cup

milk of choice

5

tbsp

sweetener of choice

1/8

tsp

salt

(heaping)

1

1/2 tsp

pure vanilla extract
Instructions
Cover the nuts with water, and let soak for around six hours. Drain and pat dry with paper towels. Blend all ingredients until completely smooth in a high speed blender. Pour the mixture into ice cube trays and freeze until solid. Once frozen, blend the frozen cubes on high, using the machine's tamper, until it achieves a soft serve texture. For authentic presentation, I like to scoop the cashew ice cream into bowls with an ice cream scoop. Eat right away, or freeze each bowl for up to an hour for a firmer ice cream consistency.

You can also make the recipe in an ice cream maker (see ice cream machine how-to instructions above). Or you can freeze the mixture in popsicle molds for delicious cashew ice cream popsicles!

View Nutrition Facts
More Nondairy Dessert Recipes