Creamy healthy cream cheese frosting…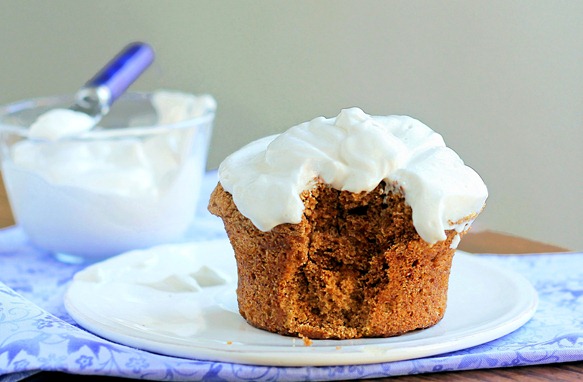 It's both fluffier and creamier than Pillsbury cream cheese. And if you're counting calories: you could eat the entire recipe for just 200 calories. Who wouldn't want to eat an entire container's worth of frosting in one sitting?
For more healthy frosting recipes: Over 50 Healthy Frosting Recipes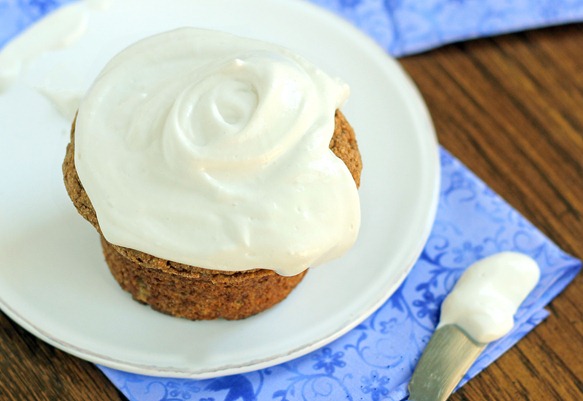 But the following recipe is better than store-bought frosting for a reason much more important than the calories: it's free of unhealthy trans fats. Many packaged frostings contain your entire day's worth of trans fats in just two tablespoons. I posted a similar frosting recipe—my Cheesecake Frosting—around three years ago (Yes, I've been blogging that long.), but I modified the recipe yesterday and I think this new healthy cream cheese frosting recipe is even better… even though the other one was already good!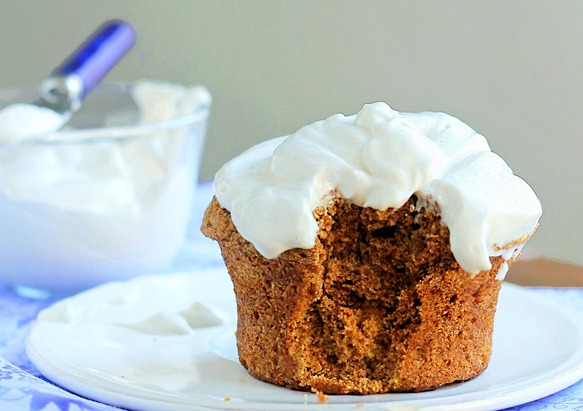 Healthy Cream Cheese Frosting
(makes about 2/3 cup)
1/4 cup plus 2 tbsp cream cheese, such as Tofutti or homemade cashew cream cheese
1/2 tsp pure vanilla extract
Pinch stevia, or 3-4 tbsp powdered sugar
1/4 cup Mori-Nu tofu OR more cream cheese – or try my Soy-Free Cream Cheese Frosting
up to 2 tbsp milk of choice, as needed for desired thickness
Blend everything together in a small food processor (I used a Magic Bullet). If you're using this recipe to top cupcakes, I'd recommend frosting them just before serving, or frosting earlier and then storing the cupcakes in the fridge, due to the perishable nature of the ingredients. Leftover frosting can be stored for a few days in the fridge, covered. Variation ideas: Add pumpkin, or shredded carrot and pineapple for a carrot cake dip, or cinnamon and walnuts…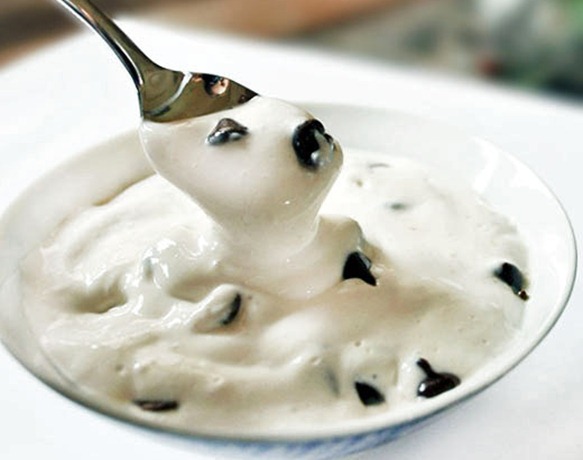 Or you can go crazy: Chocolate Chip Cream Cheese Dip.
Do you worry about trans fats?
Do you think they really are as bad as all the hype says they are? I don't "worry" about them, but that's pretty much because I don't have to—most of the foods containing trans fats are pre-packaged snack foods (often not even vegan) I wouldn't seek out anyway. Sure, every now and then I'll grab a handful of chocolate Teddy Grahams if I'm at a friend's house and they're sitting out. But for the most part, I don't buy anything with "partially-hydrogenated oils" listed in the ingredients (a really easy way to tell if a food has trans fats).
By the way, I just noticed: You can totally see my head and camera in the reflection of the spoon in the photo above

.