Soft and irresistibly fluffy pumpkin cupcakes, complete with homemade cream cheese frosting.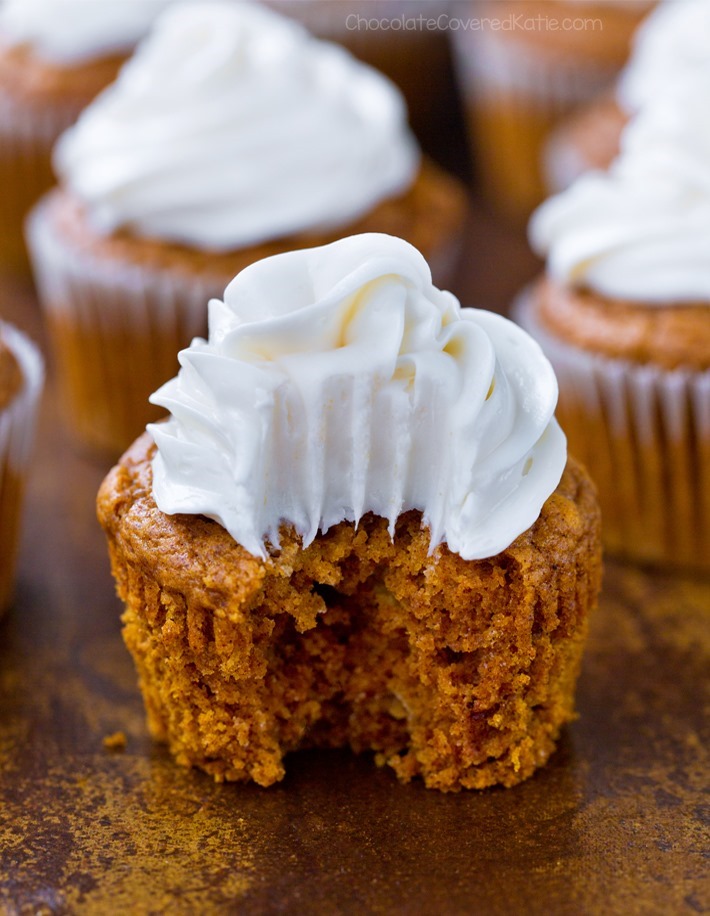 Easy Pumpkin Cupcakes
Pumpkin pie has met its match, with these simple pumpkin cupcakes perfect for any occasion.
Light, fluffy, and ultra soft… Once you see how easy they are to make, and how absolutely delicious they taste, you'll never want to buy a boxed cake mix again.
You Might Also Like: Pumpkin Banana Bread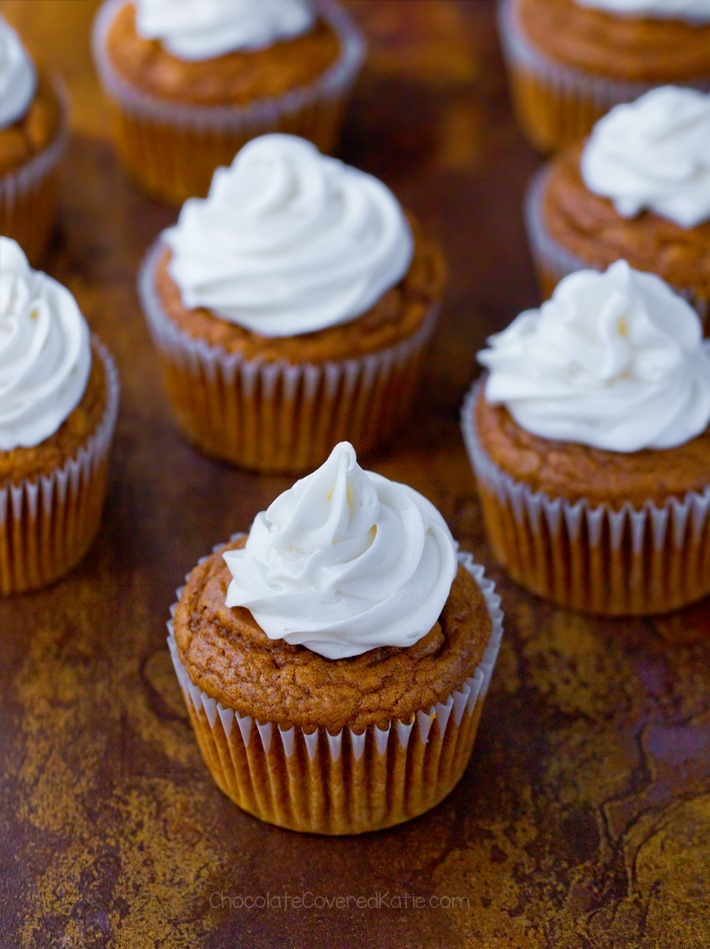 What Makes These The Best Pumpkin Cupcakes?
The trick to making the best pumpkin cupcake recipe is all about the spices; or more importantly, the amount you use.
In my years of baking, I've discovered so many recipes will underutilize spices because people are afraid to use them, and the recipes instead include extra sugar to mask a lack of flavor.
Chances are you've probably encountered some of these baked goods in your life. Their taste will be sweet but nondescript, and if someone asked you to pick out any distinct flavor notes, it would be very difficult to do so.
This pumpkin cupcake recipe calls for a full 2 teaspoons of cinnamon plus a 1/2 teaspoon of pumpkin pie spice for just a cup of flour, which is about double what many pumpkin desserts of similar size will tell you to use.
It's certainly more than you'd find in a boxed mix. And the difference in flavor is striking. So many people have told me these are the best cupcakes they've ever tried, and now you know the reason why!
I've always argued that anyone can make food taste good if they use enough sugar, oil, or butter. The real challenge is making food taste good without relying on these ingredients as a crutch.
Trending Right Now: Sweet Potato Brownies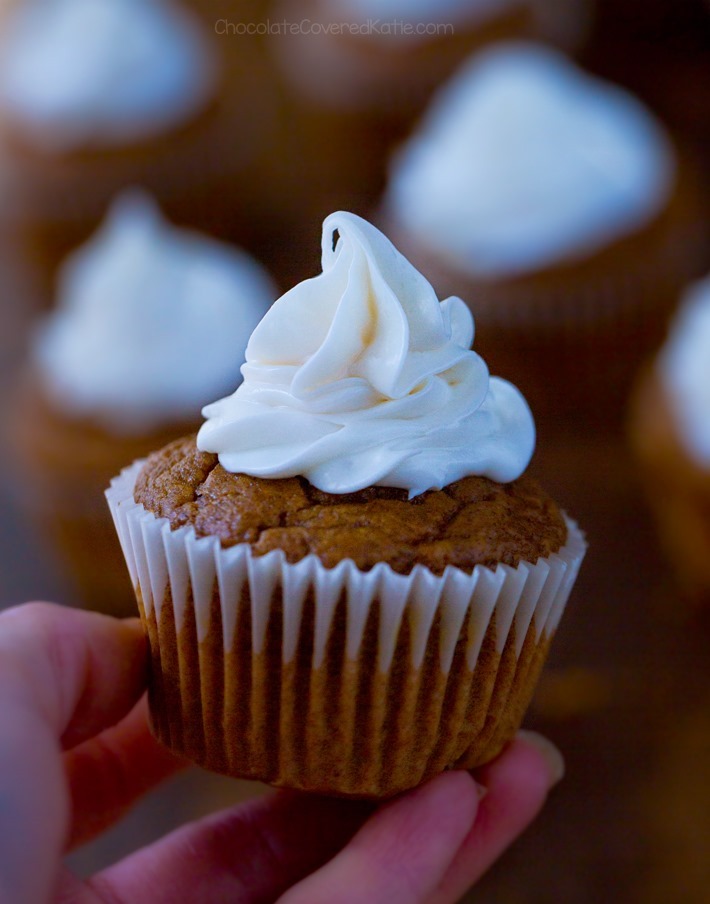 Cupcake Frosting Options:
Almond Butter
Powdered Sugar
Cream Cheese Frosting (recipe below)
Or you can totally eat the healthy pumpkin cupcakes unfrosted and call them pumpkin muffins instead, perhaps with some mini chocolate chips or raisins thrown into the batter if your heart so desires.
Leftover Canned Pumpkin? Make Pumpkin Oatmeal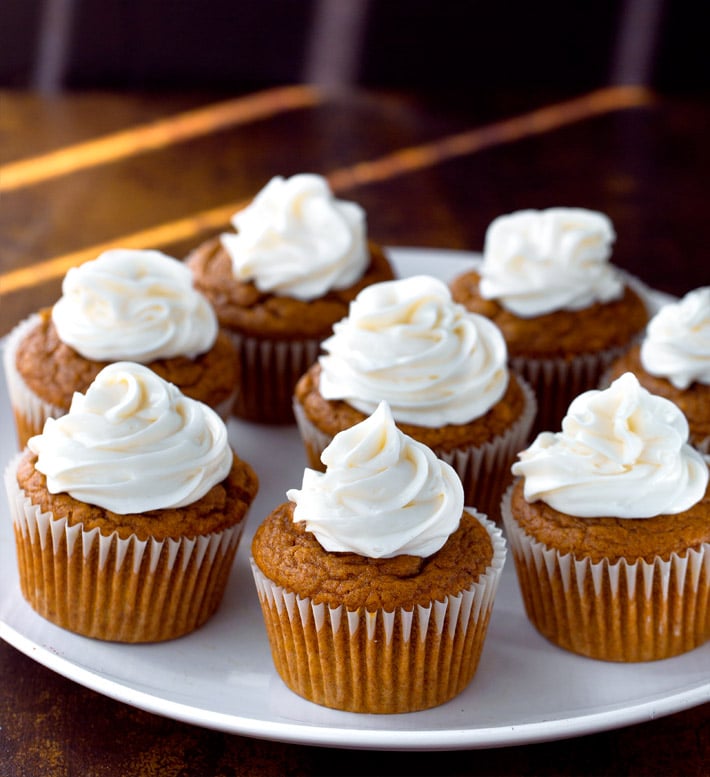 Pumpkin Cupcakes With Cream Cheese Frosting
There are thousands of recipes for basic cream cheese frosting out there. Below is how I like to make mine, and just use vegan brands of cream cheese and butter (available in many regular grocery stores nowadays) for vegan cream cheese frosting.
8 oz cream cheese
4 oz salted butter
2 cups powdered sugar (or sugar free powdered sugar)
1 tsp pure vanilla extract
optional sprinkle of cinnamon or a few drops maple extract
Let cream cheese and butter come to room temperature. Beat all ingredients with either an electric mixer or stand mixer (or by hand, which won't be as whipped and fluffy but still works). If too thick, very slowly add a little milk of choice; if too thin, add additional powdered sugar.
Spread on the cupcakes with either a knife or piped through an icing bag (I used a 1M icing tip). Cover and refrigerate leftover frosting for up to a week. The recipe makes about 2 cups of frosting.


Pumpkin Cupcakes With Cream Cheese Frosting
A soft and fluffy homemade pumpkin cupcake recipe, complete with cream cheese frosting.
Ingredients
1/2

cup

pumpkin puree

1/2

cup

milk of choice

2 1/2

tsp

pure vanilla extract

2 1/2

tsp

white or cider vinegar

3

tbsp

oil or additional pumpkin

1

cup

spelt,

white, or bob's gf flour

1/2

cup

sugar,

unrefined if desired

2

tsp

cinnamon

1/2

tsp

pumpkin pie spice

or additional cinnamon

1/2

tsp

each: baking soda and baking powder

1/2

tsp

salt,

just over level
Instructions
*While I prefer both the taste and texture of the oil version, many readers have written in to say they love subbing out the oil for additional pumpkin instead. So you can definitely try this substitution at your own risk and might still love the results.

Preheat oven to 350. Line a cupcake pan with liners. In a large bowl, whisk first 5 ingredients. Don't forget the vinegar. Let sit at least 10 minutes, and sift remaining ingredients in a separate bowl while you wait. Pour dry into wet, stir just until evenly mixed, and smooth into the liners. Only fill up 2/3 of the way, because they will rise and you don't want them to burst and then sink (although if that happens, just hide with frosting!). Bake 18-19 minutes on the center rack. Let cool. These taste even better the next day, and the liners peel off easily after a day as well. If desired, frost with the cream cheese frosting recipe listed earlier in this post. Or top with coconut butter or your favorite frosting of choice.

View Nutrition Facts
More Healthy Fall Favorites: