If you are a veggie lover, this recipe is for you!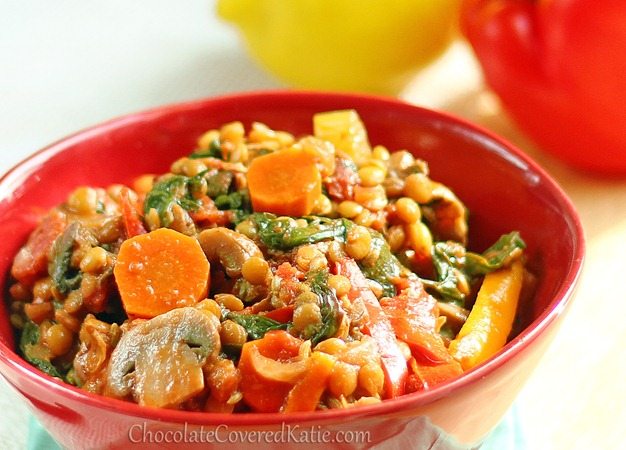 Lentil stew with a million vegetables in it!
This is one of those recipes where you feel super healthy and full of energy when you're done eating, not the slightest bit sluggish or weighed down. It's perfect for starting the new year off on a healthy foot… especially if your new year's resolution is to eat more veggies.
The stew has a million of them, remember?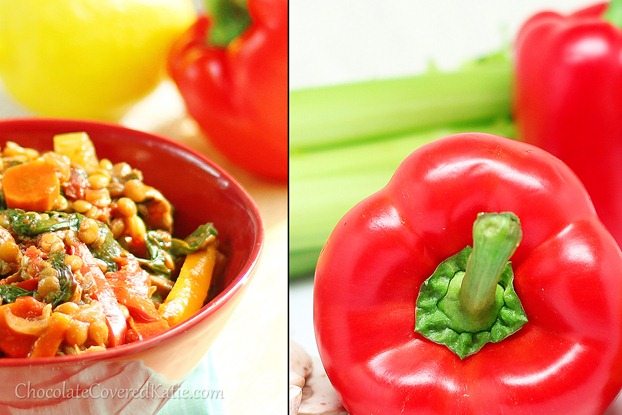 Eh, close enough.

A few days before Christmas, I stocked up on a million veggies (with an emphasis on mushrooms) from the Asian market, and this stew was a way to use them all up! The recipe is adapted from a lentil tagine recipe found in The Whole Foods Cookbook, and it's the same lentil-veggie stew pictured in the post about what I ate for Christmas dinner.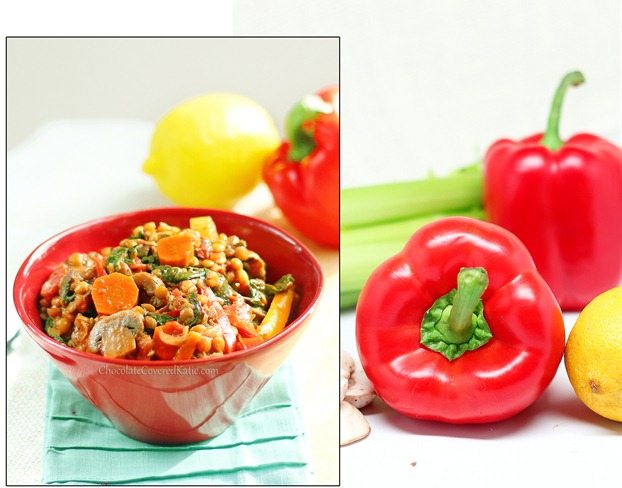 "1 Million Dollar" Vegetable Stew
(with an option for slow-cooker lentil stew)
1.5 cups onion, chopped (190g)
1 tbsp minced garlic (15g)
3 tbsp olive oil (If desired, you can get away with 1 tbsp. Technically you can omit; it will just be better and more flavorful with the oil)
1 1/2 cups bell peppers, sliced or diced (350g)
4-6 carrots, sliced (95g)
1 cup celery, chopped (140g)
6 cups sliced mushrooms (Any variety will do; feel free to mix and match. I used 300g button mushrooms, 150g portabellas, and 350g shiitakes)
2 tbsp apple cider vinegar or white vinegar (30g)
2 tbsp tomato paste (30g)
2 1/2 tsp fennel seeds
2 tsp paprika
1 1/2 tsp ground cumin
1 1/3 cup dry lentils (200g) (See nutrition link below for all substitution notes)
1 1/2 cups vegetable stock (360g)
2 15oz cans diced tomatoes (I used regular, not unsalted.)
1 tsp salt
1 5oz box raw spinach
1 1/2 tbsp grated lemon zest (important)
Heat a large saucepan, then add the oil and onion. Sauté 5 minutes, until onions begin to brown. Add the garlic, peppers, carrots, and celery, and cook 5 more minutes. Then add everything else up to the cumin, and cook 15 minutes over medium heat, stirring occasionally. Now add all but the spinach and lemon zest. (If you have a crockpot, you can transfer the ingredients to your crockpot at this time.) Cover and cook on low until the lentils are soft and have absorbed most of the liquid– it takes about an hour on the stovetop. Time will vary if you use a slow cooker, depending on the strength and size of your particular crock pot. Add spinach and lemon at the very end, and cook 2-3 minutes until the spinach wilts. This recipe makes 8 servings (or 6 larger "Katie-sized" servings).
View Lentil Stew Nutrition Facts
Also see above link for substitution notes.