For the past two weeks, I've been vacationing in an awesome location.  (My protective mommy doesn't want me disclosing said location.  I think she thinks I'm famous!)  The only downside to the place I'm staying is that it's quite close to a highway, and there's only one real running path that wouldn't have me dodging cars.  (True, I'm lucky there's at least the one path… and it's even grassy so I can keep up my no-running-on-pavement preference.)
For someone who likes exploring as she runs, pounding down the same trail day-in and day-out for two weeks has gotten pretty monotonous.  Luckily, I'm going back home next week, so I don't really have to worry about running boredom much longer.  (I'm so excited; I've been away from home for almost two months now!)  But to combat the monotony of the next few days—and to help out anyone else who's ever experienced a running rut—I thought up a few strategies:
Ways to Break out of a Running Rut
If at all possible, don't go the exact same way every day.  Take side streets, back roads, etc.  (But, for safety purposes, always be careful not to run in too remote a location.)
Don't always run at the same speed.  It can be so much fun to pick a landmark—such as a tree or house—in the distance and try to run as fast as you can to the landmark.  Or, if there are other runners around, turn your run into a speed contest.  I don't often see others out running in the mornings, but when I do, I get so excited!
As you run, watch out for other people. Make up stories about them in your mind after you pass them.
Find a running buddy.
Come up with a mantra.  Instead of thinking, "How many more miles," repeat: "Harder, faster, stronger" or "Never give up".
Download new songs on your ipod and don't allow yourself to listen to these songs unless you're running.  That way, you'll be excited to run because you'll be rewarded with your favorite songs.
Treat yourself to some new running gear.  No, I'm not one of those crazy girls who puts make-up on and curls her hair in order to go out running… but I do like cute, matching outfits!
Zone out.  In the past few days, with my path getting so predictable, I was starting to think things like: "Wow, I'm only here?" or "Gosh, I still have so far to go…"  To combat this, I try to ignore the space around me completely, getting lost in my thoughts.  It helps to brainstorm—before you leave the house—a few things you want to think about while you run.
Pick something specific to count during your run (I got this tip from the internet), such as red-shuttered houses or black cars.
Mix up your routine by adding in other forms of cardio, such as biking or swimming.
Run in the rain!  Sprint through puddles and pretend you are five.
Play the

running-and-imagining

game.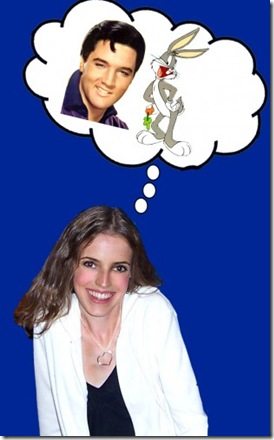 Okay, that's all I have.  Now it's your turn.
What do you do to break out of a running rut—or any rut in your life?
Oh, and there was no Photoshopping (aside from the coloring) involved in the picture in my last post. It's from the wax museum. You should've seen the line to take a picture with President Obama!