I've written about stir fry salads before, but lately they've been such a staple in my diet—due to the extreme summer heat—that I figured they deserved another post.
What is a Stir Fry Salad?
A stir fry salad ("SF Salad" for short) refers to any normally-eaten-hot vegetable dish that one eats cold over salad greens.  It's an especially-great technique for leftovers, and an easy way to add veggies to one's diet. For the stir fry salad below, I cooked various veggies (red cabbage lends such a sweet flavor) with garlic and shoyu.  Then I put the stir fry in the fridge to cool.  Next day: added a few cashews, served it over spinach, and called it lunch!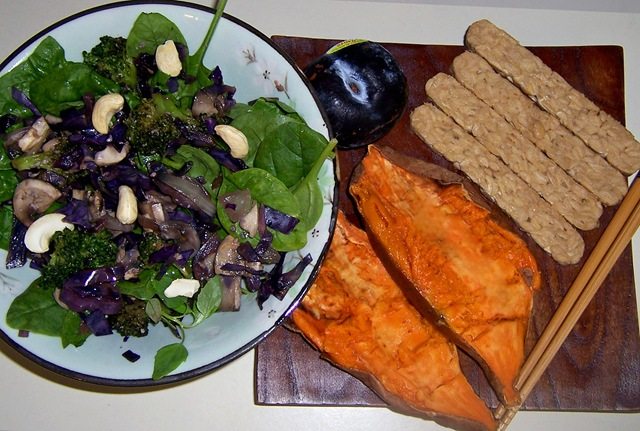 Above, with a roasted sweet potato, purple plum, and ginger-garlic tempeh strips
Below: an example of leftovers-turned-sf-salad
Fall's Favorite Curry—SF Salad-style, raw walnuts, and a little muffin.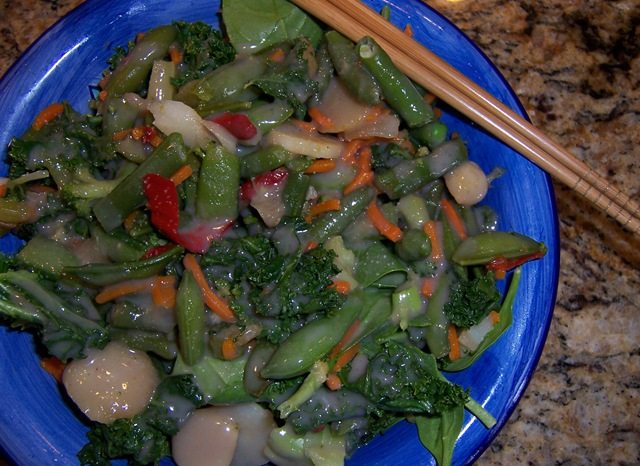 Do you ever use frozen veggies?  Even though I prefer fresh, I always keep a bag of frozen veg in the freezer for rushed days. The above stir fry salad consists of a bag of frozen veggies sauteed with kale, then served over raw spinach (with mushroom gravy).