Many people ask why many of my recipes have the option of being so low-fat (or fat free). I wrote the answer on my FAQ Page, but for the sake of convenience, I'll write it out again here. From the FAQ page: "Many of your recipes seem low-calorie.  Why is that?"
I know a lot of the people who read my blog are trying to lose weight or can't just eat as much as they want.  I strive to make my recipes relevant for as many people as possible.  Therefore, I try to give variations in the recipes so that everyone can make them.  That's why I say things like "Use sautéing liquid of choice" instead of just calling for oil.  That way people can make the recipe as high-fat or low-fat as they want.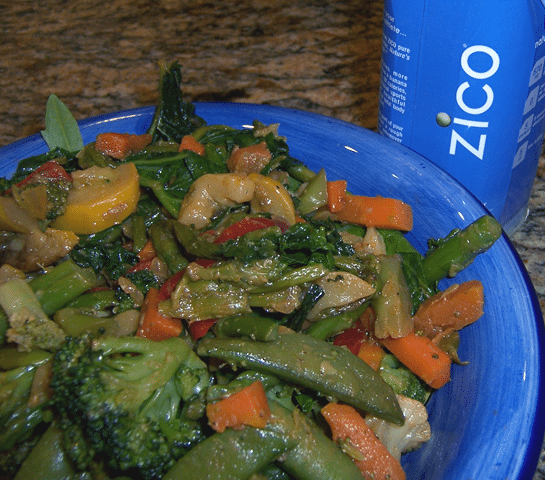 (You can make the Pumpkin Pie Stir Fry as oily or oil-free as you wish)
But especially lately, I've been bombarded with questioners demanding to know why I, personally, don't use any oil in my recipes.  Well, hmm… I never knew I said that! In truth, it depends on the recipe (and for whom I am cooking), but I'm not afraid of a little olive oil.  I'm not going to glug back a whole jar at once, but a bit in a recipe can really amp up the flavor.
Many people fall victim to the practice of always shunning all oils when cooking. This can be a mistake: A little oil helps sauce adhere to food, so without it, food can taste bland.  What happens then?  One might end up dousing the food in soy sauce (high in sodium), ketchup (high in sugar), or another condiment less healthy than oil.  This is especially sad for those watching their weights, because, often, the sauces added to get the food to actually taste like something end up being more calories than if one had simply used a little oil to begin with!  And the higher-in-calories (or sugar/sodium) food doesn't even taste as good.
Plus, healthy oils (olive, canola, flax, hemp…), when eaten in moderation, impart multiple benefits to those who consume them: shiny skin, luscious locks, lowered risk of heart disease and high cholesterol, and—oh yeah—delicious taste! One of my favorite "recipes" using oil (where the taste of the alternative fat-free cooking method DOES NOT compare) is a simple zucchini side dish.  Without the oil, this dish tastes bland and burnt, but add a little evoo, and you get something you could swear came from a gourmet Italian restaurant… all in just a few minutes' cooking time!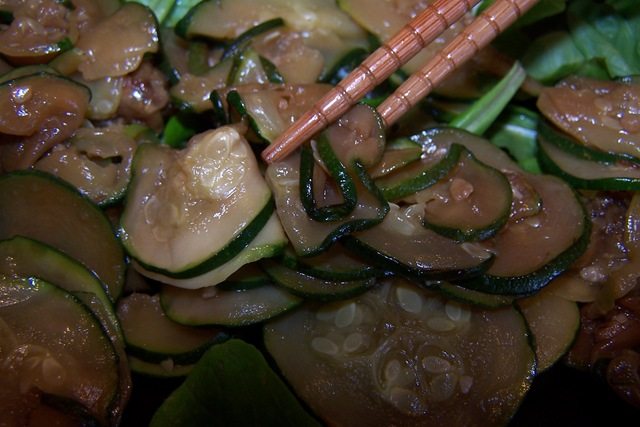 Italian side-dish Zucchini
(Boring name… I couldn't think of anything better!  Suggestions?)
however many zucchini you want, sliced into coins
a drizzle of high-quality olive oil (Be sure to store olive oil in a dark container. It loses health benefits when exposed to light.)
minced garlic
salt to taste (and pepper if you don't hate it like I do)
Heat a pan over high heat for about a minute before putting anything in.  Then add the oil, quickly followed by the garlic and then the zucchini and salt.  Try not to stir too often, and do not add any water.  That's it!  Once again, I'm not even sure I can really call this a "recipe" because it's so simple.  But hey, Rachael Ray has recipes with only two ingredients!  So, in comparison, this one's complex!
Question of the Day:
Do you use oils at all?  If so, what are your favorite ways to use them? And what's your favorite oil?
By the way, please don't be alarmed at some of the small-scale studies coming out that say cooking with healthy oils is bad for you.  First of all, they're small-scale studies; you can find a study to confirm almost anything these days (Yes, there are studies that try to tell you broccoli is bad!).  And secondly, look at the biggest study of them all: history!  As a rule, the Italians probably consume more olive oil than anyone, and they have one of the highest life-expectancies (It's way above the US's).
So, just like with the Japanese in the Soy and Processed-Foods Debate, I choose to trust a large-scale study, a.k.a. hard facts deeply rooted in history. Here's to a long, delicious life.