Hearty, filling, and wholesome mushroom barley soup – it's perfect for a cold winter's day, and really easy to make!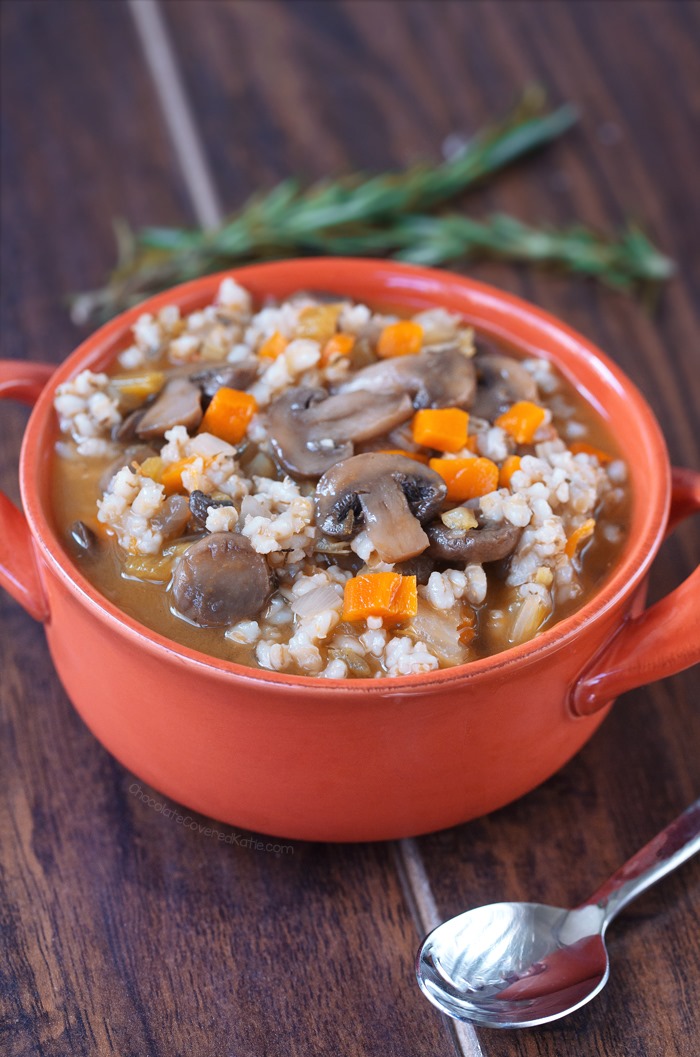 I wanted to start the new year with this super comforting soup recipe, for anyone who feels right now like you've eaten way too much sugar and are craving wholesome food to nourish your body.
This is basically my answer to those popular detox cleanses where the only thing you're allowed to consume is green juice or honey water with cayenne pepper.
If you do like cleanses, don't let me stop you; but as I mention in my Chocolate Covered Katie Anorexic post, they're not something I really believe in, and I prefer to combat that sluggish I've-eaten-way-too-many-cookies feeling with balanced meals like this healthy and nourishing mushroom barley soup.
It's also the ideal recipe for this cold weather we're currently stuck with in the Northeast and everywhere else with temperatures in the single digits (I see you, "feels like -3 degrees") that makes you want to pull the blankets up and stay in bed.
If you must venture out, it can be nice to know there's a hot bowl of homemade soup waiting for you upon your return.

This is one of my favorite soup recipes, and I've been making it for years, sometimes adding beans or lentils, or substituting rice for the barley.
The initial push to create a mushroom barley soup recipe came after I was no longer able to buy a version I'd loved in college, from Moosewood Restaurant in Ithaca, New York.
Their mushroom barley soup was a comfort food staple for me when I was living in the dorms without access to an oven or stove, and I'd often eat it in my tiny closet of a dorm room (which I loved so much), alongside whatever type of roll or bread I was able to get from the dining hall that day.
While it wasn't gourmet by any means, the meal was cozy, comforting, and extra delicious; perfect for a girl living on her own for the first time and missing a healthy, home-cooked meal.
(Watch me make the soup above)
As I wrote in the Buffalo Chickpea Chili recipe, I like to use Trader Joes mirepoix vegetable blend whenever a recipe calls for onion, celery, and carrot, because this way you aren't left with a ton of extra celery, and your eyes won't hurt from chopping onions.
So if you notice in the above video that a few pieces of celery show up out of nowhere when I say to add the onion, this is why!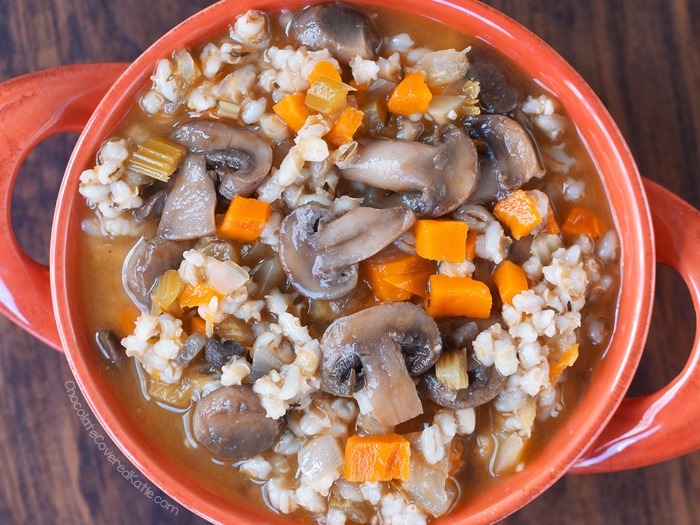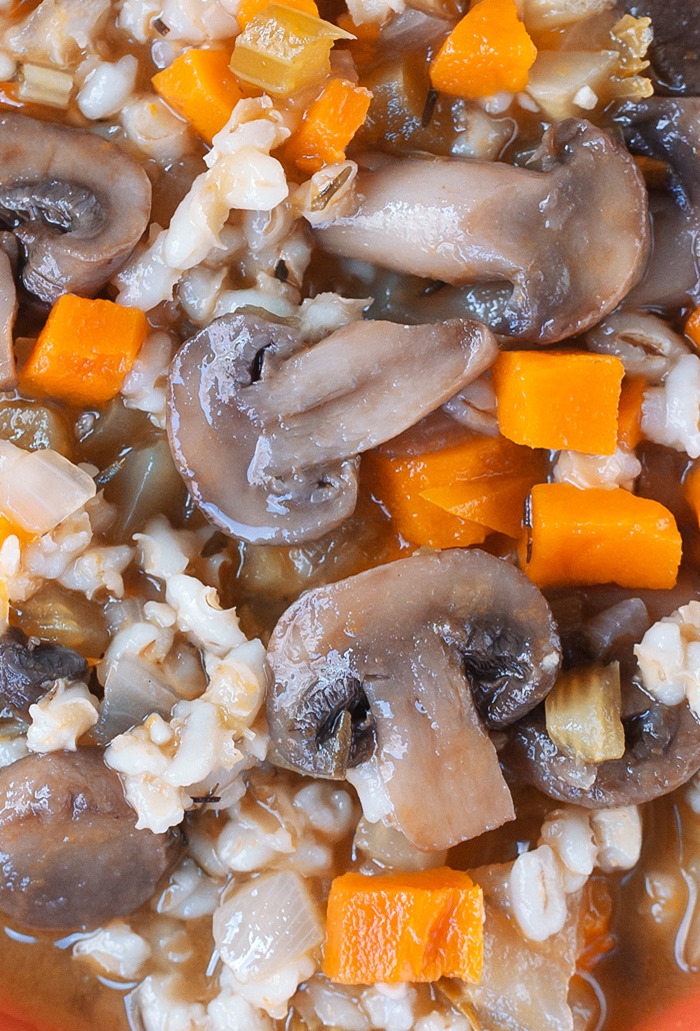 Also Try This Vegetarian Chili Recipe
Mushroom Barley Soup
This healthy mushroom barley soup is the perfect meatless recipe for a cold or rainy day!
Ingredients
4

cups

vegetable broth

1

tbsp

minced garlic

12

oz

sliced mushrooms

1

cup

diced onion

1 1/2

cups

diced carrot

1

cup

diced celery,

or additional carrot or onion

1/2

cup

pearl barley

(rice will also work)

2

tbsp

buttery spread or tahini,

optional for a richer flavor

3/4

tsp

dried thyme

1

tsp

dried rosemary

2

tsp

salt
Instructions
If desired, sauté the onion and garlic in the buttery spread or oil first, 5 minutes or until the onion begins to brown. (This adds extra flavor, but you can skip this step and simply combine all ingredients at the same time if you want.) Combine all ingredients in a medium pot, and bring to a boil. Once boiling, cover the pot and lower to a simmer for 1 hour. Or you can use a slow cooker if you'd prefer. The soup tastes much more flavorful the day after it's made. Leftovers can also be frozen.

Instant Pot Version: Cook the barley first (either in the instant pot or on the stove), then add everything to your instant pot and cook 3 minutes. Thanks to reader Jocelyn for creating this version and letting us know it works in an instant pot!

View Nutrition Facts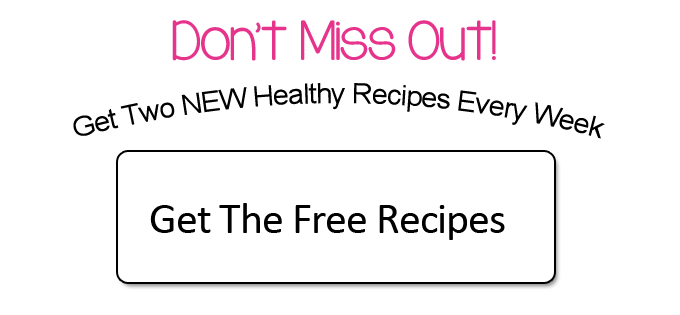 More Healthy Recipes For The New Year: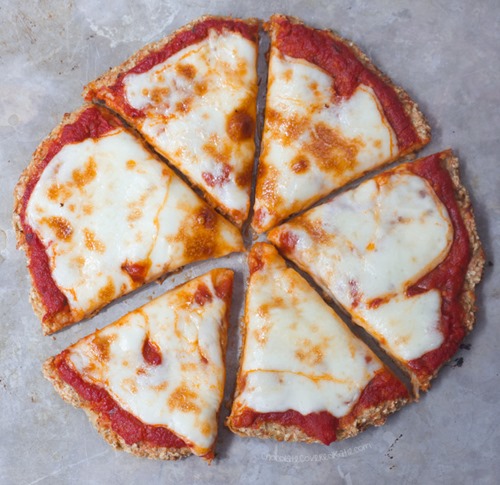 Cauliflower Pizza Crust – Just 5 Ingredients!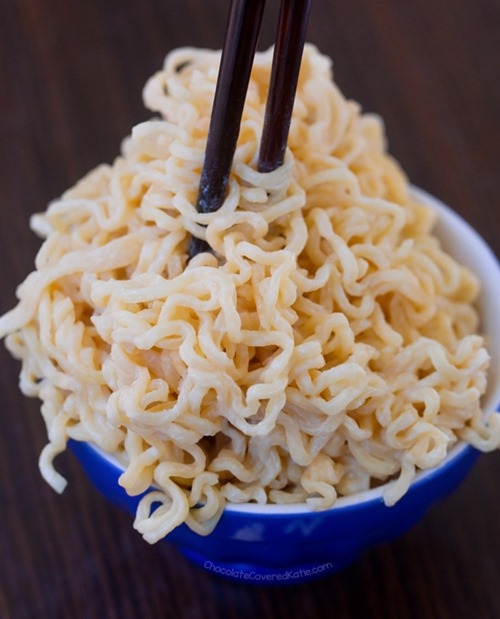 Chocolate Peanut Butter Nice Cream