"Chocolate-Covered Facebook"
I still remember where I was the first time I heard mention of the word "facebook."
My friends and I had just graduated from high school, and we were celebrating by being lazy. As we lounged around, the conversation turned to boys (as it inevitably always did). One of my friends kept going on and on about this guy she'd just met, while the rest of us rolled our eyes and said, "Yeah, whatever. He's probably way uglier and more boring than you're making him out to be." (What good friends we were…) But she countered, "No, I can show him to you! He has facebook."
Thus began–for me– the first of many hours spent on facebook.
Initially, I didn't think I wanted a facebook account. It sounded like a big waste of time. But as the application became more popular, I realized all of the amazing things it could do. For instance, I could reconnect with friends from China, stay in touch with friends from Texas, and even find out where my friends from Japan and Pennsylvania were going to college.
What are your thoughts on facebook and privacy?
I'm not dumb enough to post info or photos on my facebook page that I would mind anyone seeing. But still, I've turned down a lot of friend requests simply because I just don't know that I want strangers to have access to that much about information about my life. However, I'm betting that a lot of these "strangers" whose requests I've turned down are just bloggers and blog-readers. And I would like to be friends with them.
Therefore, yesterday, I created a facebook profile solely for the blog!
Chocolate-Covered Nail Art of the Day: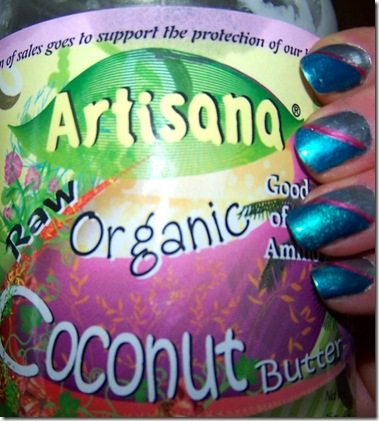 Hugging Squeezing a favorite fat: Artisana Coconut Butter.
Question of the Day:
Do you remember where you were when you first heard of facebook?
And what were your initial thoughts? I remember thinking, "What's the big deal? It looks boring, and why did he pick such a dull name? This is one trend that'll fizzle out pretty quickly."
Hmmm, guess I was really wrong. Sorry, Mark Zuckerberg!