I always knew it had to end, but when the time actually came to say goodbye, it hurt just the same. Oh gosh, you are probably all rolling your eyes at my mushy-gushiness! But I'm sad about a boy right now, and I don't care who knows it!
Who can say if this is the end for Sports Store Hottie and me…
We're certainly going to stay in touch, via email and facebook. Just another reason I'm grateful for technology. In any case, I'm getting all packed up and ready to leave, which means… muchos leftovers!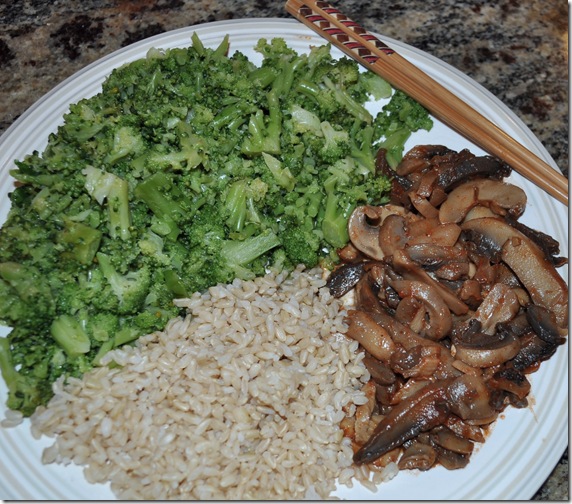 Brown rice, mushrooms with a new sauce (more on that later), and the favorite broccoli bowl
I'm such a good kid, I'm even helping to use up others' leftovers! 😉 In this case, others refers to my cousins, who ordered Chinese food at 3AM. For the shroomies, I tried a new sauce from Whole Foods: Spectrum Organic Cajun Barbecue Sauce. Verdict? This is good stuff! It has a taste reminiscent to Indian masala sauce, with a definite spicy kick to it. Besides the mushrooms, I've also tried it on grilled tofu, brussels sprouts (below), and okra.  

My cousins were apparently given so much extra rice that there was even enough for me to eat the next night! Normally, rice isn't my favorite thing. I prefer the taste of barley or bulgur. But I hate to see perfectly-good food go to waste (especially when I don't have to prepare it).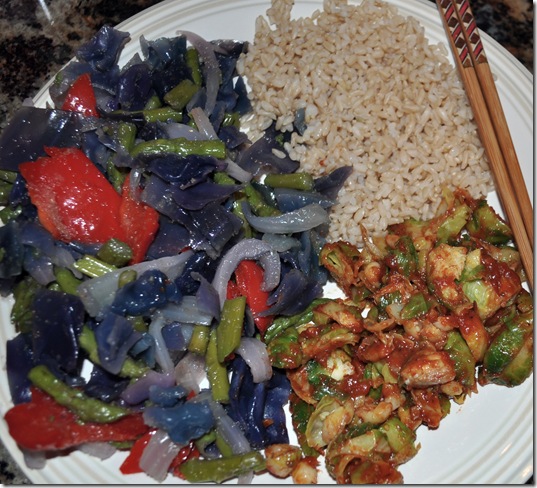 Ok, so it's not the prettiest mess. But I did warn you that—as part of my being real—I was going to start posting ugly meals, because my meals aren't always "perfect"-looking. Also, both of the meals above are a bit smaller than usual for me, but that's just because we really are running out of food! I'm supplementing with lots of nuts, nut butters, and other non-perishables we have lying around.
Question of the Day:
Have you ever been upset over a boy? I am a huge proponent of powerful women, and I balk at the idea of anyone who feels she "needs a man." I don't think I've ever cried over one, nor have I done the "ice cream pint-eating" thing. But if I'm being honest, I can't say I've never let boys get to me.   
.