High protein granola bars – they can be oil-free, flourless, + no high fructose corn syrup!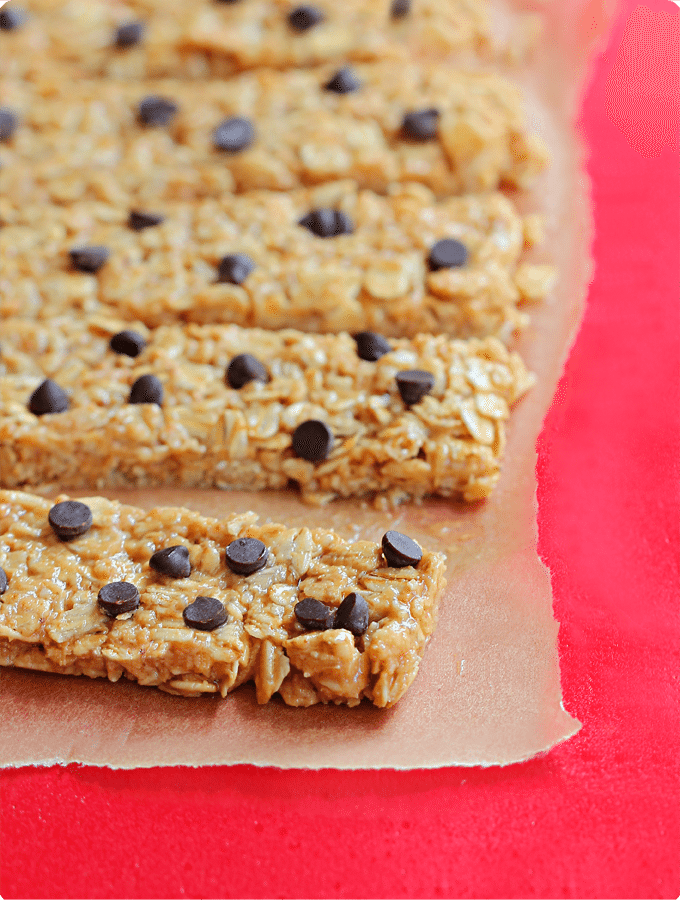 These granola bars could be your new favorite recipe.
In less time than it takes to read this post, you can have a batch of your own delicious and homemade protein granola bars fully prepared and ready to eat. Feel free to change up the flavor to match your mood.
Chocolate, vanilla, chai, caramel, cookies'n cream…
YOU get to choose the flavor!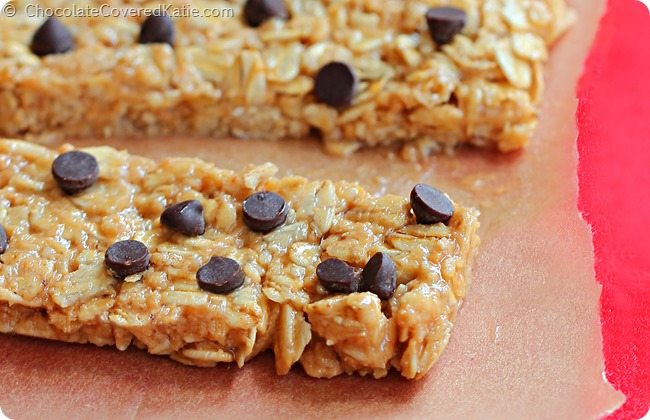 Only a few ingredients are needed, all of which can be found in regular grocery stores – and you can avoid the unhealthy processed filler ingredients and isolated soy protein so often added to packaged protein bars.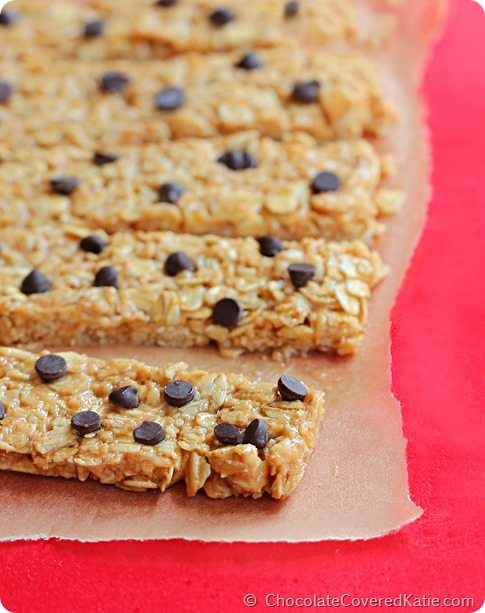 These granola bars need no refrigeration and can be packed into a lunchbox for a healthy snack.
Leftovers are best stored in the freezer, where they will keep for months!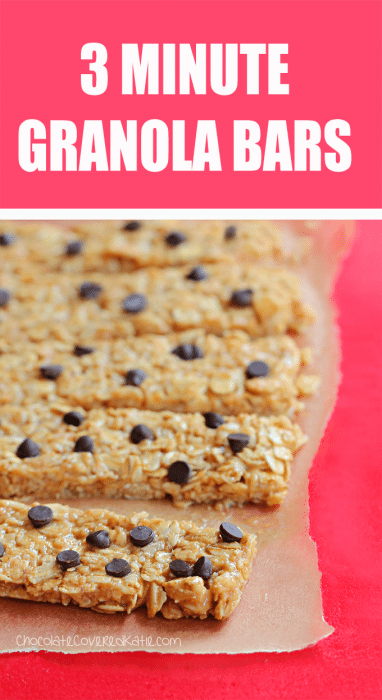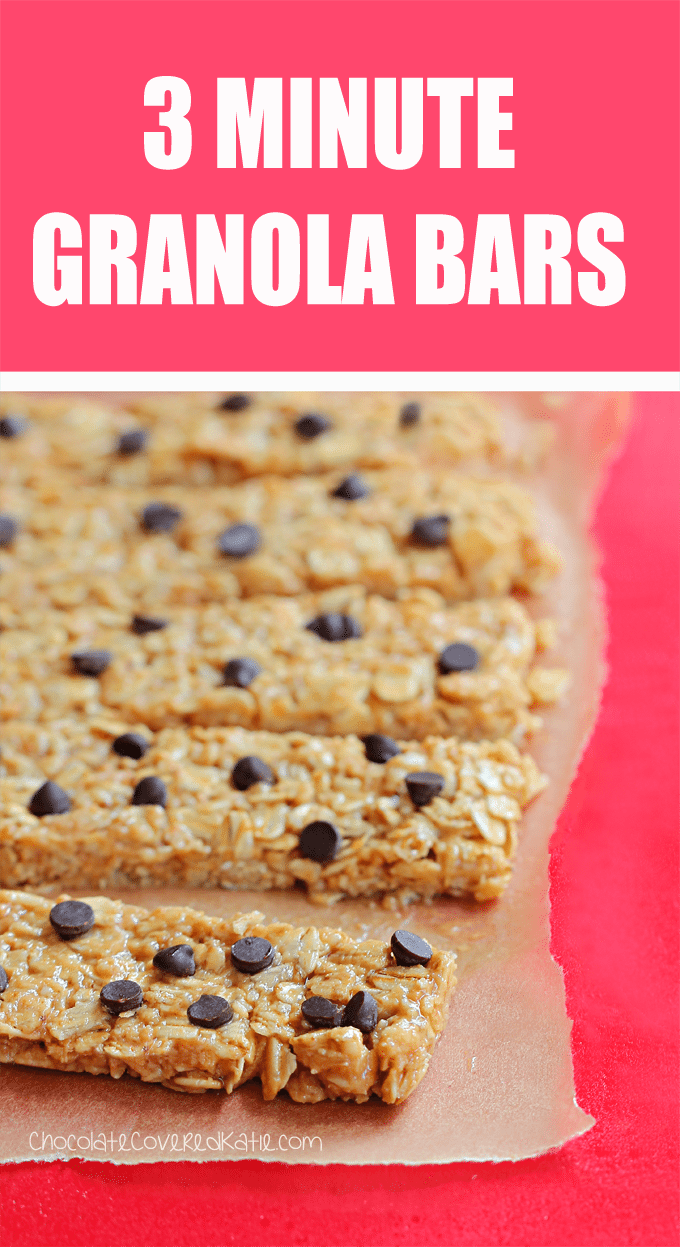 3 Minute Protein Granola Bars
Inspired by: Peanut Butter Homemade Protein Bars
"3 Minute" High Protein Granola Bars
Print This Recipe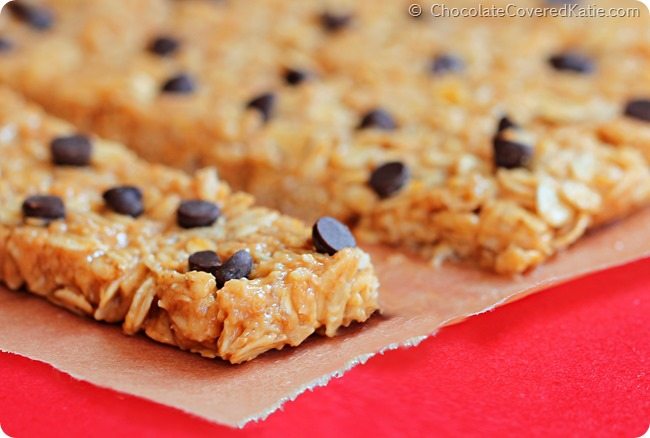 Ingredients
1 1/2 cups quick or rolled oats (120g)
1/4 tsp salt
1/2 cup peanut butter (or Sunbutter for nut-free)
1/2 cup raw agave or honey
2/3 cup protein powder - have fun with different flavors (70g)
handful mini chocolate chips, optional
Instructions
Stir all ingredients together until well-mixed. Transfer the mixture to a 9×14 pan lined with parchment or wax paper. (For thicker bars than the ones shown, you can use an 8×8 pan.) Place another sheet of parchment or wax over the top and continue to smush down and spread until it fills the bottom of the pan. Freeze until hard, then cut into bars. For optimum freshness, store leftover bars in the freezer for up to a month.
Link Of The Day: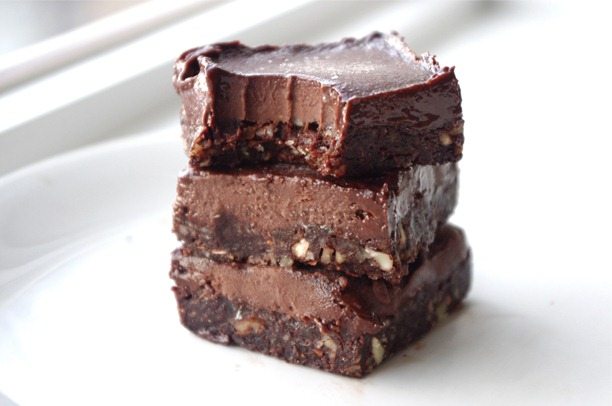 Healthy Eatmore Fudge Bars – From Christal @ Nutritionist In The Kitch