At a glance, each slice will have around:
 130 calories
0 grams of fat
0 mg cholesterol
Fiber depends on the flour you use
For a sugar-free version: The following sugar-free version was lightly adapted from a wonderful friend, Jennifer.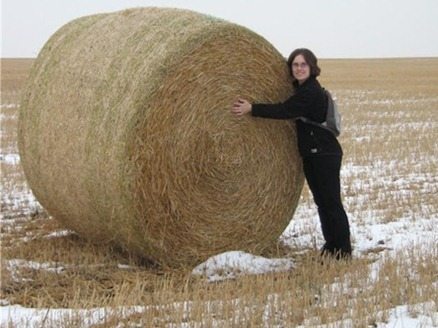 I "met" Jennifer through comments she's left on my blog, and she never fails to make me smile or laugh. (For example, the above photo was her submission to a "Hug-a-Carb Month" feature I wrote a few years ago. Apparently, hay is loaded with carbohydrates

.)
Around Eastertime, Jennifer sent me a lovely recipe for no-sugar-added banana bread. It's not very sweet, but it makes a good breakfast bread, especially if topped with apple butter or jam or something else of that sort. I really like it topped with peanut butter! (If you want it sweeter, you can always add in a little stevia. Or maybe even try upping the amount of dates?)
No-Sugar Banana Bread
4 bananas, peeled and mashed
heaping 1/2 cup pitted dates
1/4 cup melted coconut or canola oil
1 tsp vanilla extract
1/2 teaspoon salt
1/2 tsp cinnamon
1/4 teaspoon baking soda
2 teaspoons baking powder
1 and 3/4 cups whole wheat flour (or ww pastry or spelt or white)
optional: extra chopped dates and/or chocolate chips to mix into the batter before baking
Soak the dates in a little water, at least four hours. Then blend the dates (drained) with the bananas, vanilla, and oil. Preheat oven to 350F. In a large bowl, combine dry ingredients. Mix in wet (but don't overmix). Pour batter into a lightly greased loaf tin and bake 50-60 minutes.
P.S. Happy Thanksgiving to Jennifer and all the other Canadians out there!! 🙂