These super healthy strawberry oatmeal bars pack a naturally sweet strawberry filling between layers of buttery oatmeal crumble!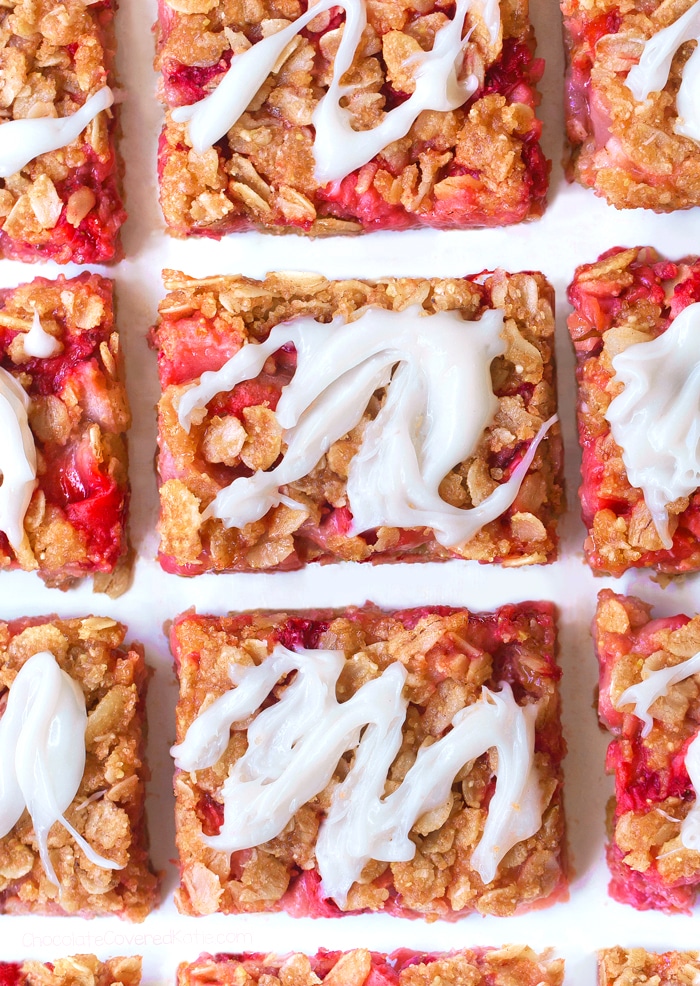 ❤ Soft and wholesome strawberry oatmeal bars, made with pantry staple ingredients.
The classic homemade oatmeal bars are perfect to serve for a healthy breakfast, snack, or a light dessert.
The oats give the bars a deliciously chewy texture, and the natural sweetness of the strawberries lets you use much less sugar than you'd normally use in a bar recipe.
Add a touch of cinnamon, and these strawberry bars are almost impossible to resist!
Also try this Vegan Brownies Recipe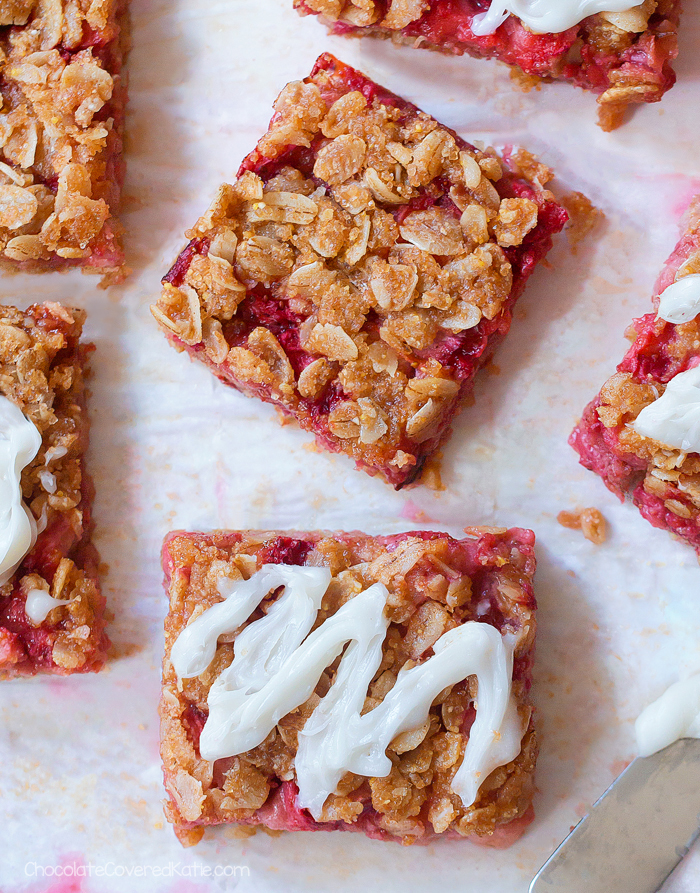 The bars are perfect for:
Potlucks
Barbecues
Book clubs
On-the-go snacks
Healthy breakfast
Birthday parties
Or for no reason at all!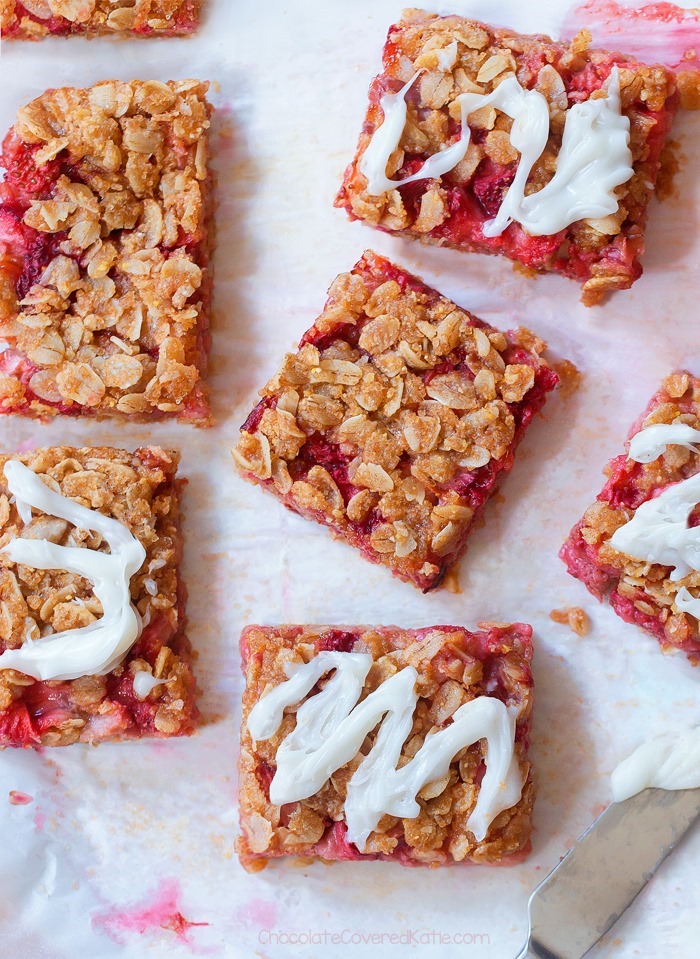 How to make strawberry oatmeal bars
Start by gathering your ingredients.
Preheat the oven to 350 degrees Fahrenheit, and line an 8-inch pan with parchment paper (or grease very well).
Stir the oats, flour, cinnamon, salt, sugar, and baking powder in a large mixing bowl.
Stir in the oil, then very firmly press 2/3 of this dough into the pan. Reserve the remaining dough.
Mix together the berries, cornstarch, and 1 tbsp sweetener, then press this on top of the mixture in the pan. Sprinkle the reserved dough on top, and press down firmly.
Bake on the oven's center rack for 35 minutes. Let cool, then refrigerate for an hour or more before cutting, during which time they will firm up considerably.
The bars are yummy on their own, but I always think strawberries go so well with coconut.
So since you now know how to make coconut butter, feel free to spread some on top of each oatmeal bar if your heart desires.
Above, watch the strawberry oat bar recipe video


Strawberry Oatmeal Bars
These healthy strawberry oatmeal bars have a sweet strawberry filling between layers of buttery oatmeal crumble.
Ingredients
1

cup

quick or rolled oats

1/2

cup

spelt,

white, or oat flour

1/4

tsp

each: cinnamon,

salt, and baking powder

1/3

cup

sugar,

unrefined if desired

1/3

cup

oil

2

cups

diced strawberries

1 1/2

tsp

cornstarch or arrowroot

1

tbsp

sweetener of choice,

or pinch uncut stevia
Instructions
Preheat oven to 350 F. Line an 8×8 pan with parchment. In a large bowl, stir together the oats, flour, cinnamon, salt, baking powder, and sugar. Stir in the oil, then very firmly press 2/3 of the dough into the prepared pan, reserving the remaining dough. In a separate bowl, stir berries, starch, and 1 tbsp sweetener. Press this on top of the dough in the pan, then sprinkle the reserved dough on top. Press down very firmly again. Bake 35 minutes on the center rack. Let cool, then refrigerate at least 1 hour before cutting, as they firm up considerably. Eat plain, or top with melted coconut butter, frosting, or a basic powdered sugar glaze.View Nutrition Facts
More Healthy Recipes: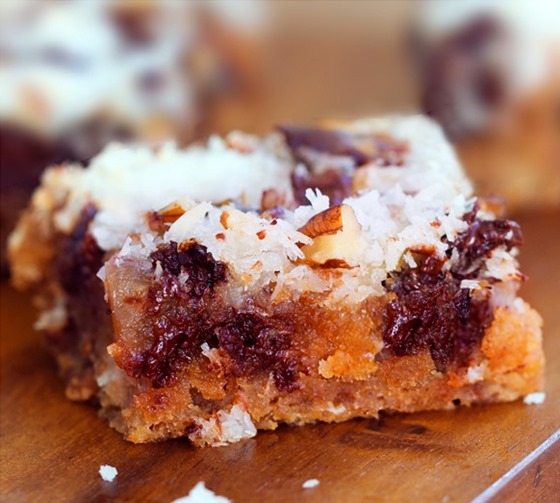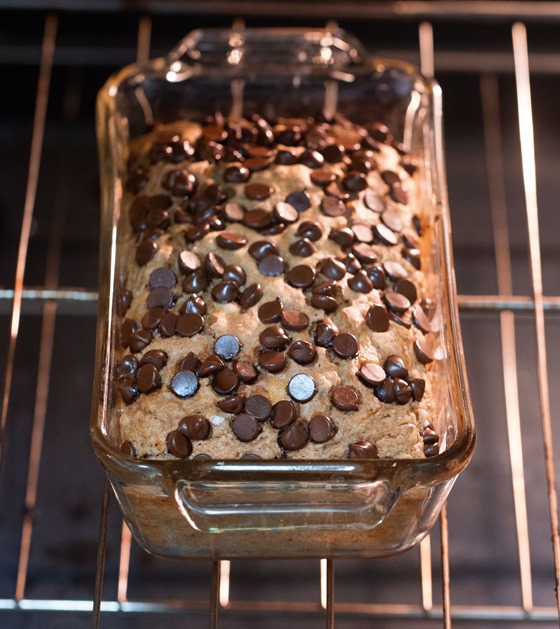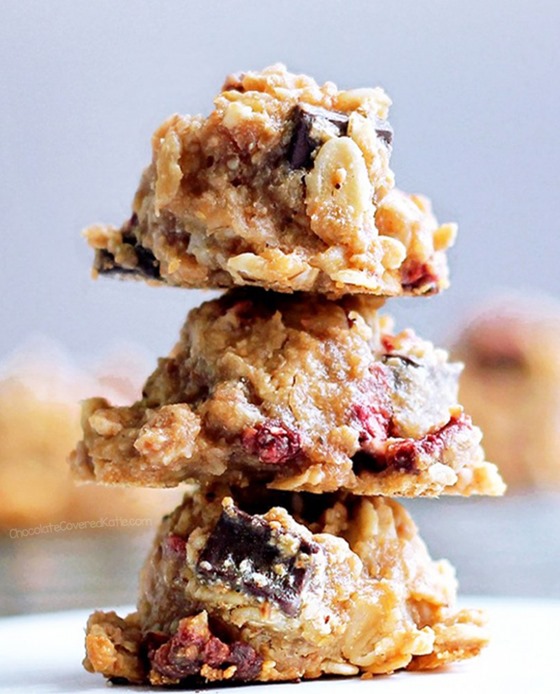 Breakfast Cookies (Vegan, Oil Free)