What's your New Year's Resolution?
It always seems to take at least 2 months before I stop writing the wrong date. Although I don't really make New Year's resolutions, I do like to have fun with New Year traditions, such as eating lucky foods. Lucky foods such as a bowl of Candy Cane Cream: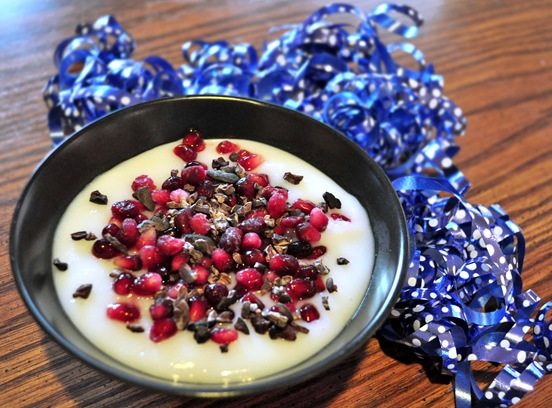 I don't like candy canes, but I do like cream… and peppermint.
What's so lucky about this bowl? It's not the cream, and it's not the peppermint. It's not even the chocolate (although anyone who has chocolate is pretty lucky in my book). No, the lucky food is the pomegranate. According to New Year lore, pomegranate is revered as a symbol of fertility, regeneration, and prosperity. It's commonly eaten on New Year's Eve in Greece and Turkey… and now at CCK's house too.
Candy Cane "Whipped Cream" Pudding
(Makes 1 1/2 cups: one Katie-sized serving!)
sweetener of choice
1/16th tsp salt
1 1/2 tbsp water (20g)
1/2 serving agar base (linked below)
5 drops pure peppermint extract
optional: cocoa or fruit (for flavored cream)
Instructions: First, make up the agar base. When it's cooled, put half of it in a blender (or Magic Bullet) with all the other ingredients and blend away.  Whip very well. I like to put it in the freezer for a few minutes prior to eating, so it's super-cold. Optional: add fruit, cacao nibs, cocoa powder, or other add-ins.
Nutritional Info: (for the entire bowl) Calories: 60, Fat: 3g, Protein: 2g, Carbohydrates: 3g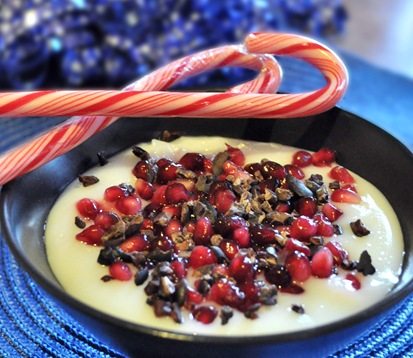 Other Lucky New Year's Foods:
In Spain and parts of South America, they eat twelve grapes—one to symbolize each month of the coming year. Sweet grapes stand for good months, and sour grapes foreshadow bad months.
In Japan, they eat soba. The long noodles symbolize a long life.
Sauerkraut is eaten in Germany, and in Brazil and Italy, lentils are considered lucky.
In the southern US, they eat cooked greens (green = money) and black-eyed peas, which stand for coins.
Aside from eating pomegranates on New Year's, I'm also planning to fill the menu with other lucky foods, such as my southern CCK Collard Greens as well as this black-eyed pea dish: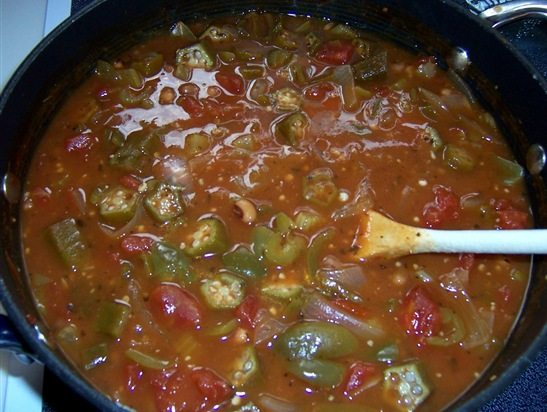 What're your New Year's resolutions?
And are you going to eat any lucky foods?