Per cookie dough bowl: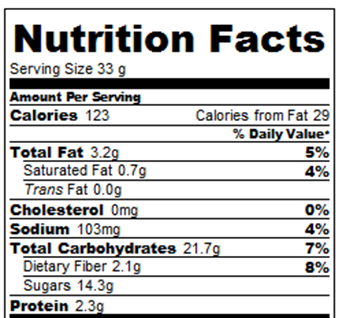 Weight Watchers Points Plus: 3 points per cookie dough bowl
(A similar cookie cups recipe from Nestle has 400 calories, 52g carbs, TWENTY grams of fat—almost half of which is saturated, NO fiber, and more than double the amount of sugar! :-?)
Note to those who plug my recipes (or any recipes) into free online calculators: Be careful when using a free online calculator, as they're often inaccurate. If you plug this recipe into caloriecount, for example, it gives you numbers based on a recipe made with dry beans, even if you specify cooked. (I fixed the error so that the label above is accurate; I just plugged in the amount of dry beans that would be equal in calories to 2 cans of cooked beans. For curious minds, I've attached a screen shot below. The numbers listed in the screen shot are for the entire recipe.)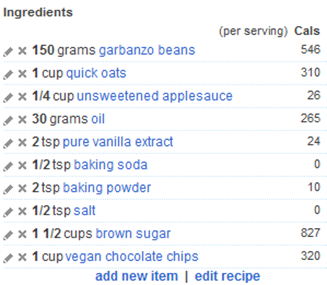 Substitution Notes:
I've only tried the recipe as written and therefore cannot tell you if a particular substitution will work. (I can tell you that I wouldn't attempt omitting any of the oil…) As stated in the post, you don't need to use my cookie dough recipe; you can try any chocolate-chip cookie recipe with the "macaroni" method.
Click to Return to the Recipe.