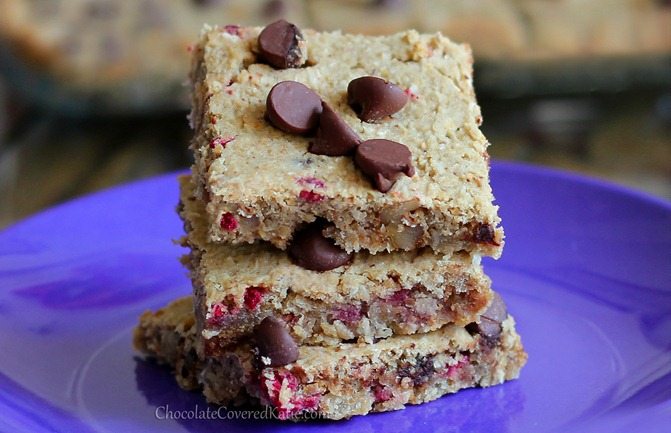 These bars have a little bit of everything.
Soft and gooey, delightfully chewy. And very chocolatey!
Filled with all sorts of delicious & wholesome ingredients, like oats and berries, and chocolate chips. These chocolate chip oatmeal bars are just the thing for people who don't want to choose; for people who want to have it all.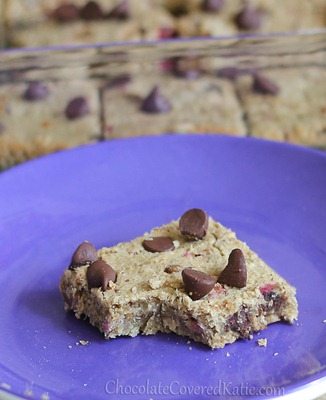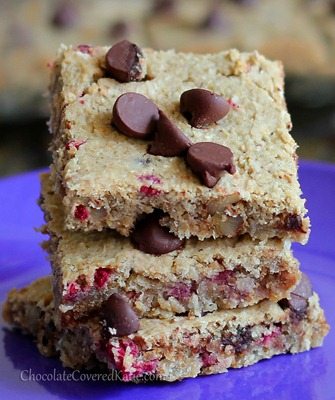 Chocolate Chip Everything Bars
(makes 12-16)
Adapted from White Bean Blondies.
1/4 cup rolled or quick oats (20g)
3/4 tsp baking powder
1/8 tsp baking soda
1/4 tsp salt
1/4 cup shredded coconut (regular or reduced-fat) (15g)
1 (15-oz) can garbanzo beans or white beans, drained and rinsed (250g after draining)
1/4 cup xylitol or sugar or evaporated cane juice (40g)
2 NuNaturals stevia packets, or omit and increase sugar to 1/2 cup
3 tbsp coconut or vegetable oil (30g) (I can't vouch for the resulting taste if you omit this or sub something in its place.)
2 tbsp applesauce (30g)
2 tsp pure vanilla extract (8g)
3-5 tbsp chocolate chips, plus more for the top
1/4 cup chopped walnuts or pecans (30g)
1/2 cup freeze-dried berries (28g)(or dry fruit such as raisins)
Preheat oven to 350 F and grease an 8×8 square pan. Combine the first 11 ingredients in a food processor (not a blender), and blend until completely smooth, scraping down the sides as necessary. Stir in the remaining three ingredients, transfer to the pan, and sprinkle some extra chocolate chips on top, very lightly pressing them down into the batter. Bake 30 minutes, then let cool completely before cutting into chocolate chip squares or chocolate chip bars. For troubleshooting, see the FAQ page at the top of my blog; and feel free to make changes to the recipe, but at your own risk.
View Chocolate Chip Bars Nutrition Facts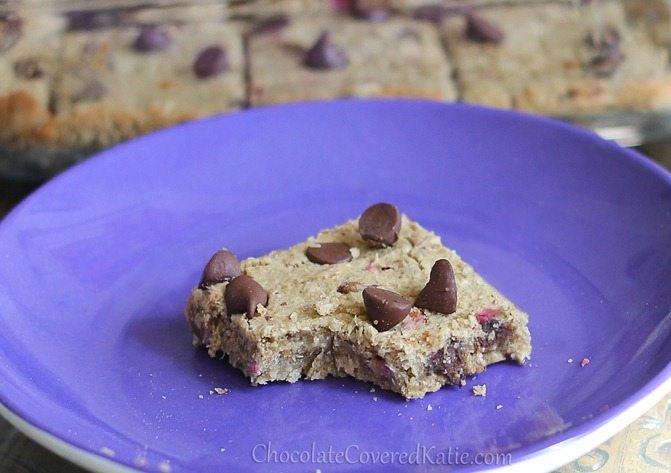 Link of the Day: