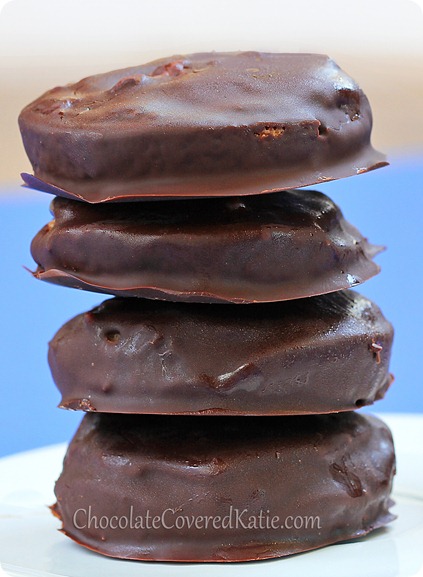 Taking chocolate and peanut butter to a whole new level.
Anyone who's spent an extended amount of time in Philadelphia will most likely recognize Kandy Kakes (or Tandy Kakes). Vanilla sponge cake topped with peanut butter and coated in chocolate, these cakes carry something of a cult following in the Philadelphia area. I remember opening my elementary-school lunch box and looking around at the lunch boxes of my friends… chances were pretty high on any given day that at least three of us would be eating something from the Pennsylvania-based bakery, Tastykake, be it a krimpet, a honeybun, or their über-popular Kandy Kakes.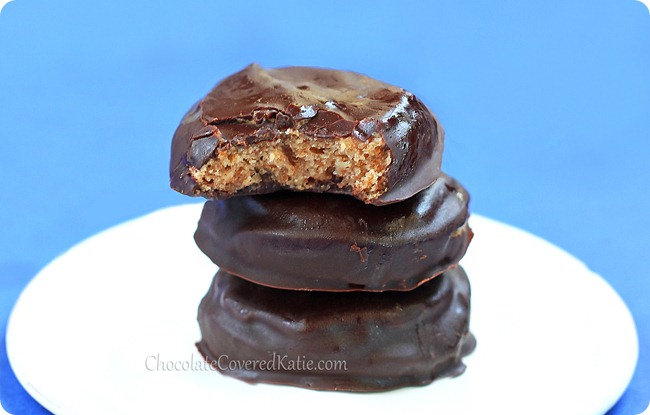 Today's copycat Kandy Kakes recipe is MUCH healthier than the Kandy Kakes you can find in stores, with:
1/2 the calories
1/2 the fat
1/3 the sugar
NO trans fat
NO high fructose corn syrup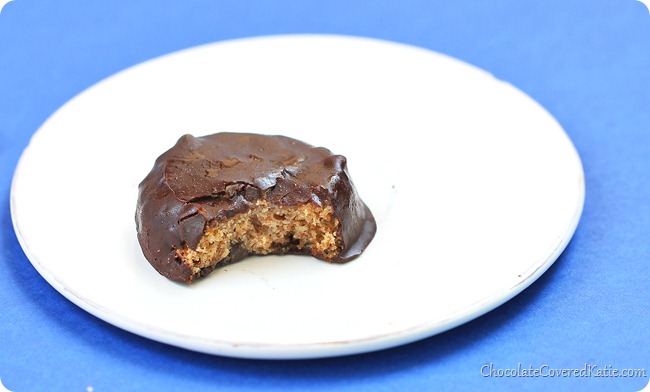 Peanut Butter Kandy Kakes
Peanut Butter Layer:
1/2 cup peanut butter (110g)
1/4 cup powdered sugar or Sugar Free Powdered Sugar (30g)
1/4 cup milk of choice (add an extra tbsp if using a natural peanut butter)
Beat all ingredients together until smooth, using hand beaters. (If you must, you can just stir everything together with a fork using maximum effort and patience.)
Cupcake Base (or you can use your favorite vanilla cupcake recipe):
1/2 cup plus 3 tbsp spelt flour (90g)
1/4 tsp baking soda
1/4 tsp salt
1/2 cup sugar of choice or xylitol (90g)
1/4 cup mayo-style spread such as Vegenaise (58g)
1 1/2 tsp pure vanilla extract
1/3 cup plus 1 tbsp water (95g)
Preheat oven to 350 F. Grease 7 cupcake tins and set aside. In a large bowl, combine first four ingredients and sift very well. In a separate bowl, combine remaining three ingredients and whisk until the mayo spread is completely smooth. Pour wet into dry, and stir until just combined. Immediately divide among the cupcake tins. Bake 21 minutes, then let sit 10 minutes before removing from the pan. Cut each cake in half, lengthwise, to make 14 cupcake tops. Place a sheet of wax paper on a large tray (or a few small plates). Spread a thick layer of peanut butter frosting over each cake—about 6g per cake. You won't use all of the peanut butter frosting, but it's a good idea to make a full batch for smoothest blending… I'm sure you can find something to do with the leftovers!
Chocolate Coating:
6oz chocolate chips (1 1/2 cups)
1 tbsp plus 2 tsp virgin coconut oil or non-hydrogenated shortening (15g)
Carefully melt the ingredients together, either using the double broiler method or microwaving in 30-second intervals and then stirring until a chocolate sauce is formed. Using two forks, cover each cake in chocolate. Be sure to let all excess chocolate drip off, or you won't have enough to cover them all. Set each on the tray, then freeze 30 minutes or until chocolate shell hardens. Once hard, store leftovers in  the fridge. Makes 14 kandy kakes.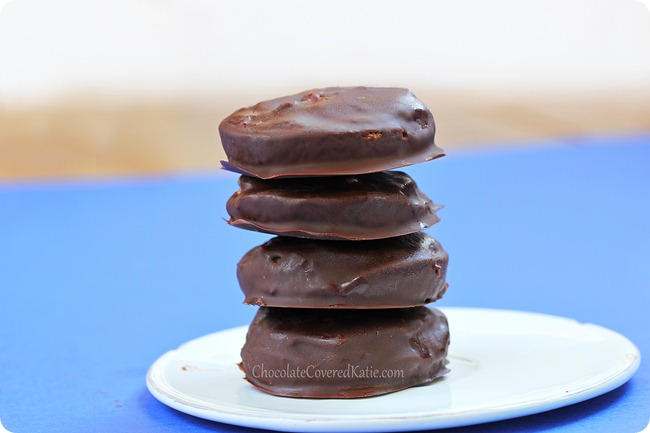 Question of the Day:
Do you remember any of the snacks you'd get in your lunchbox as a kid?
Aside from the TastyKake pastries, I also remember opening my lunchbox to find Mounds bars, Dunkaroos (anyone remember them?), pudding cups, chocolate-filled koala bears, and Pocky (a Japanese snack). I distinctly remember once finding gummy bears in my lunchbox and going home to tell my mother to please not send those anymore… I was only interested if it was chocolate!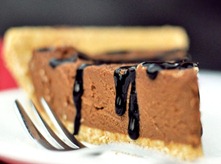 Link of the Day: Chocolate Pumpkin Pie